How can SMEs increase business with Progressive Web Apps (PWAs)?
For many Startups and Small and Medium Enterprises, Progressive Web Applications (PWAs) have become the go-to technology.
In 2015, Google coined and announced the PWA concept and technology. They recognized then that the ever-increasing millions of mobile users around the world want and need memorable and natural experiences. Today it is for this reason that Google, Microsoft, and other companies are leveraging PWAs to encourage businesses to create better mobile experiences. In simple terms, a PWA is an app that is in the browser and is displayed as a website without having to be installed from any app stores. PWAs offer a full-screen experience and are easily installable and stay on the user's home screen.
Being mobile-first is vital, and PWAs play an essential role in driving business for SMEs across the globe. These benefits extend to business owners and customers alike. So let's dive into these brilliant benefits that the technology can offer with its highly advantageous functionality.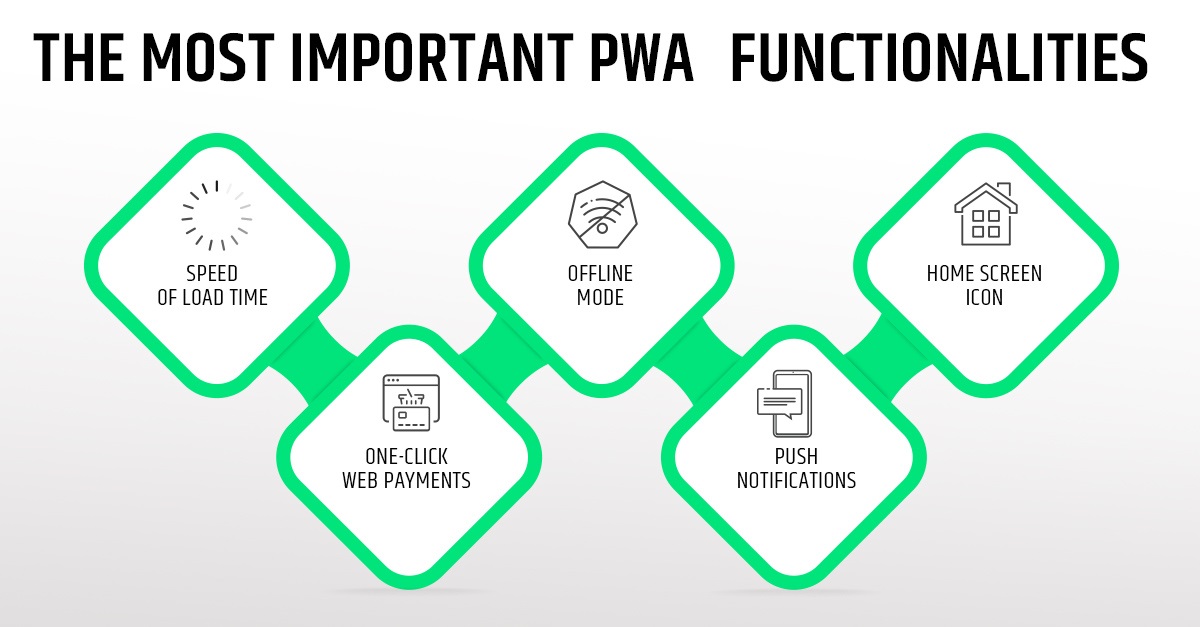 The Prime Functionalities of PWA
Speed of Load Time – in the blink of an eye
Being progressive is the core principle of PWAs. These technology enhancements enable apps to essentially load better on repeat visits to a page. The advantage of device-level caching means that users are not burdened with large data transmissions, and their interactions are greatly enhanced.
Therefore when a returning user makes multiple visits to a PWA, they get immediate loading via cached content, and the rest of the content is displayed progressively. This modern-day web technology makes the mobile web experiences rival that seen on desktop.
No connection, no problem - Offline Mode
Who needs a network? Another of PWAs powers is a reliable caching mechanism to manage offline requests and then send them across when the connection is available again. It allows businesses to provide better levels of performance irrespective of connectivity. It also means that poor network or data connections are less likely to harm the business brand as users will always have access to the site.
Now you are on the customers Home Screen
PWA also has the 'Add to Home Screen' prompt in its arsenal. Users are able to install the applications straight on their device. After a tiny instant download, users are treated to a native-like app experience right on their home screen.
This functionality drives the PWA business case as these offer the same scope of accessibility and visibility than that sen with Native Apps.
Here is one of PWA best features; businesses can customize the web app's appearance to users, allowing them to define the home screen icon, splash screen, and theme color of the address bar in modern browsers.
The power of this personalization means that businesses benefit from their icon residing on the home screens of millions of customers. The users, in turn, enjoy a customizable immersive app-like experience.
Get your message across with Push Notifications
Native apps always had the upper hand over Web apps with the significant feature of Push Notifications.
Not anymore. PWAs allow your business to use web push notifications for personalized communications with website visitors. The notifications are similar to that seen with native app notifications and enable businesses to engage with web audiences offering higher value.
One-click Web Payments
Many studies show that users want a simplified yet secure payment process. Here is where PWAs also shine. PWAs are equipped with highly secure yet straightforward web standards making purchasing a breeze for users.
The web payment functionality uses stored address and payment details rather than demanding the users to fill in all the details in a check-out form. Since this is a developed standard that is native in the web browser, the check-out experience is quick, consistent and secure for all users. Businesses also benefit from offering a variety of different payment options that operate on various devices and browsers.
These functionalities listed above mean that PWAs have revolutionized the revenue models of several household-names globally. Here are some well-known business cases that have used PWAs to elevate their performance: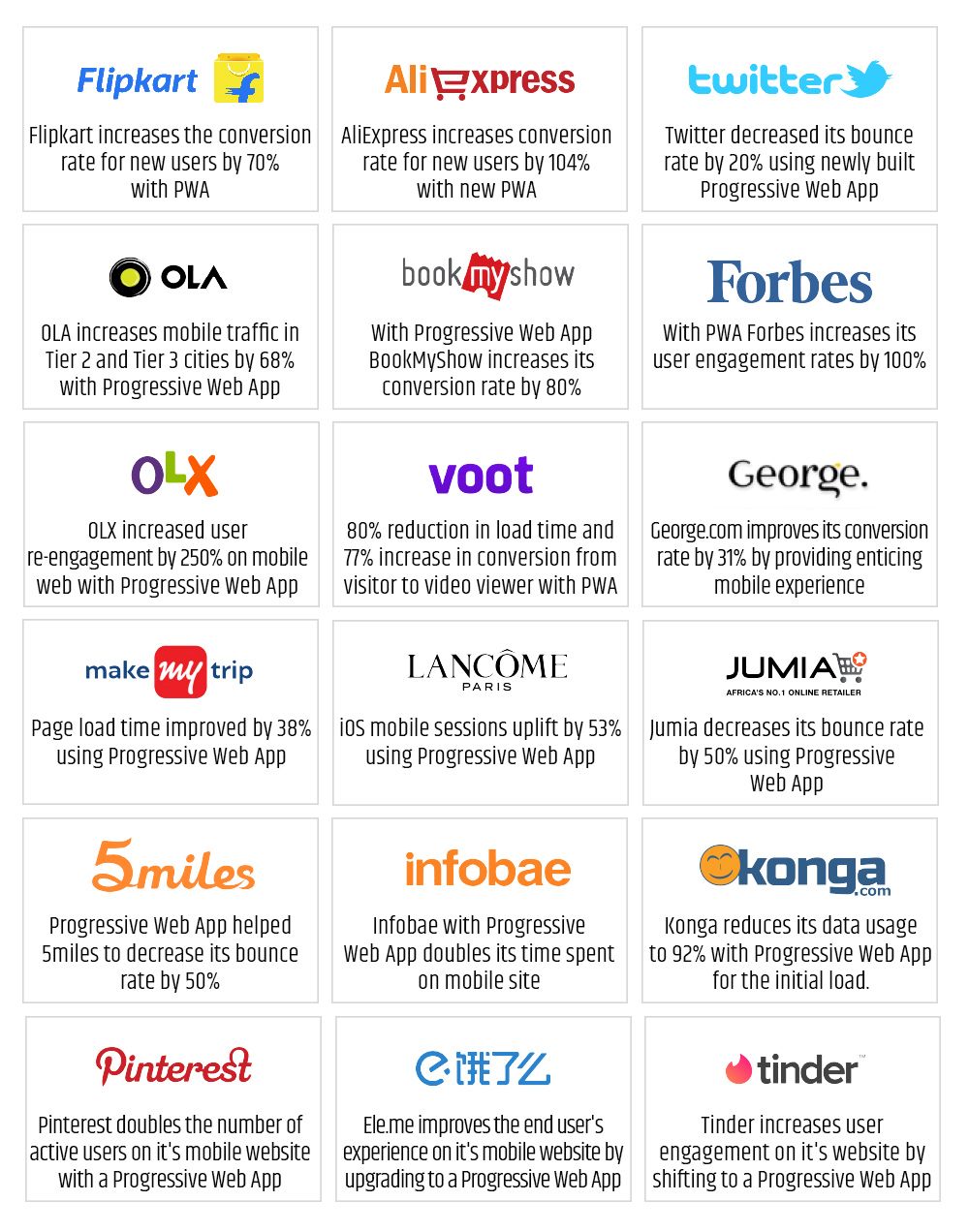 See the broad spectrum of business cases for Progressive Web Apps, and how the technology has proved itself for a range of various industries?
Google Progressive Web Apps are not only about bringing the features of Native Apps to the web, but they have also been conceived and implemented to solve real-world issues that businesses face – something we are going to look into now.
What Startup Development Problems do Progressive Web Apps solve?
A. Lower development cost and maintenance
Developing and maintaining an app for iOS and Android devices is time-consuming and expensive – two critical issues startups encounter. Your project team needs to consist of two teams of developers with different skill sets. This translates into a more expensive project. PWAs means that you effectively get one app for the price of two. Once built, a PWA has just one code base to be maintained.
B. Unshackled dependency. No need to play by rules of App Stores - meaning Easy Discovery
Forget about jumping through hoops to get your app on the App Store or Google Play store. Apart from the stiff competition in the app stores (over 1.8 million apps in Apple's app store and 2 million apps in Android app store), Apple or Google could reject it for any number of reasons or pull it from their store altogether for not continuing to meet their "quality guidelines." Another soul-sucking realization is one in four users will open your app once and never open it again. Also, the majority of people don't download any apps -they are clearly taking a conscious decision to avoid doing so.
With PWA, your app gets discovered when users intentionally come across it by frequently visiting your website or social media page. That means your app is always on, always updated, and can be easily saved on the mobile desktop, affording the same access enjoyed by any mobile app.
C. Retain all the Revenue and gain loyal customers?
The Play Store and App Store have rules that stifle the creativity of your business and simultaneously demand a chunk of your revenue through a share of revenues earned on the app-based purchases. PWA gives you full freedom and independence, and you are not sharing your income with anyone. And then you are faced with App Retention, the plague of the mobility world across all industries. By receiving the full revenue benefit from purchases, you can send customized push notifications informing customers of new product offers, keeping users engaged, and in turn increase sales and customer satisfaction.
Now that we have looked into the different problems that the PWAs solve, it is time to look into how the technology fits in with a Startup or Small and Medium Business Ecosystem and the benefits of progressive web apps for businesses.
Why are PWAs perfect for Small Businesses?
In the modern world, being mobile-first is a priority. From millennials to Generation Z, more than a billion mobile device users have the ability to visit your website. They want a fast and seamless experience. Statistics show that 47% of users expect a webpage to load within 2 seconds or less. This can be a daunting task for any eCommerce startup when you are trying to earn money and create a brand. That in itself can become difficult when the big marketplaces like Amazon, Alibaba, and others already have highly responsive websites and dedicated apps. They have also made considerable investments in new trends and technologies. Progressive Web App Development could level the playing field.
Let's see what it can do for startups and small and medium enterprises.
1. Affordable Mobile Presence
PWAs are an affordable alternative to a costly native app (up to 75% cheaper). With over 50% search queries coming in from mobile, Google has shifted its focus to mobile-first websites. Here is where PWAs help startups drive higher mobile traffic by providing users features that use less data usage, less storage, with much faster load time.
2. Keep Visitors Hooked Even with no Network
Native Apps require you to have network connectivity to be operational. PWAs, on the other hand, allow your users to interact and browse even when the connection is cut. They have the same native app experience under all network conditions.
3. Attract more visitors and keep them coming back
One of the most challenging tasks is getting consumers to know your brand exists, and a limited marketing budget compounds it. Having them return is even more challenging. By just visiting your website, users need only add your PWA after ensuring that your website has everything that they need. After that, being on the Home Screen of their devices makes it easy for the users to access your site every time they unlock their device.
4. Boosting the Brand
PWAs can improve your organic search presence (SEO). PWAs are still webpages that can be crawled and indexed by the major search engines like Google, Yahoo, and Bin, unlike native mobile apps, which can be found only in app stores.
PWAs also enable SMEs to place their logo on the home screens of millions of users, thus promoting the visibility of the brand and boosting awareness. It can be advantageous for SMEs to take advantage of the specific splash screens and full-screen experiences that PWAs provide.
5. Effortlessly gain New Leads
PWAs help you gain valuable insight into your customers' needs. From the moment users install your app, you can send them info on the latest products and services with an instantaneous notification. All this can be based on the number of visits, pages visited, and their location.
The lead refining process, which results from PWA development, is much easier and direct, making it more convenient for the sales and marketing team to direct their efforts.
6. The Best of both worlds - Websites and Mobile Apps
PWA technology takes the best of both websites and mobile apps and provides one solution for startups to begin their journey in the best possible way.

7. Keep Content Updated
PWAs enable businesses to provide real-time updated content to end-users. This is convenient for eCommerce businesses and others that rely on information which is being constantly updated. Essentially consumers get real-time information every time they launch the application.
By now, you should know the various benefits that PWAs can bring to your business. Unfortunately, it is not a magic bullet that can solve all the requirements for a startup or SME. So when should consider it for your business? Let's explore it further.
When is a PWA right For Your Business?
To put it simply, "Right now!" Over the last few years, mobile commerce has seen an astronomical rise, and according to a report by Statista, it will be accountable for 72.9% of all retail eCommerce sales in 2019. Magento store merchants should consider that over 40% of their sales and 70% of their overall website traffic comes from mobile. If you want to grow your business, then PWAs is the catalyst you need, especially if your users are regular visitors, need real-time updates, and work on Chrome, Opera, and Firefox browsers.
You could easily migrate your current website into PWA with the help of experienced and dedicated professionals. By opting for our headless e2m Storefront, you can stay ahead of the competition. Our technology can be integrated with any platform, and our PWA experts are ready to help you develop your e-commerce so that your customers experience best-in-class buying journeys with your brand; building long term loyalty and making your business truly mobile-first.