B2C commerce accelerator for furniture industry
To build an effective e-commerce, you need to know your customer's journey. In every industry it is slightly different.
For example, the optimal purchase path of the furniture industry customer begins with the "Inspirations" section, where the products are presented in ready-made arrangements, thanks to which the user can see them in a natural setting. While searching for their dream furniture, customers also need a list of searched products with the ability to filter criteria and preview different versions of the product without going into details. The advanced configuration of the purchased product with a visual presentation of individual variants also plays an important role in subsequent stages.
We implement this idea with our technology solution: B2C Commerce Accelerator for the Furniture Industry for the SAP Commerce Cloud framework (formerly "Hybris"). This is the application code as well as configuration and test data that allow to quickly launch an online store dedicated to the furniture industry.
Key benefits:
World-class Customer Experience - custom features designed specifically for the furniture retail business to create a state-of-the-art online shopping experience.
Internationalization - accelerator can be easily implemented for a multinational environment. e-point has vast experience and competencies in managing large-scale and international e-commerce projects.
SAP Suite Ready - the accelerator is fully compatible with the SAP Commerce Cloud platform & other SAP backoffice systems.
Fast Track to Implementation- ability to implement a B2C pre-configured online store for a furniture business even within 3-4 months.
RWD by Default - the accelerator fully supports responsive web design (RWD) to provide customers with a seamless shopping experience across all devices.
Affordable Pricing Model - costs of licences start as low as 1,000 Euro net per month. Discounted implementation costs
Customizable for any industry.
Key features:
---
Product Customization

The accelerator comes with a built-in functionality that allows a website manager to set up a required number of product customization options, e.g. sizes, fabrics, leathers, legs, finishes, and embed them into the product detail page.
---
Inspiration Gallery Builder

A powerful but still easy-to-use feature that allows a content manager to rapidly add new images to the inspiration gallery and link them to products shown, using interactive hotspots, e.g. the "+" icon.
---
Colour selection in the product listing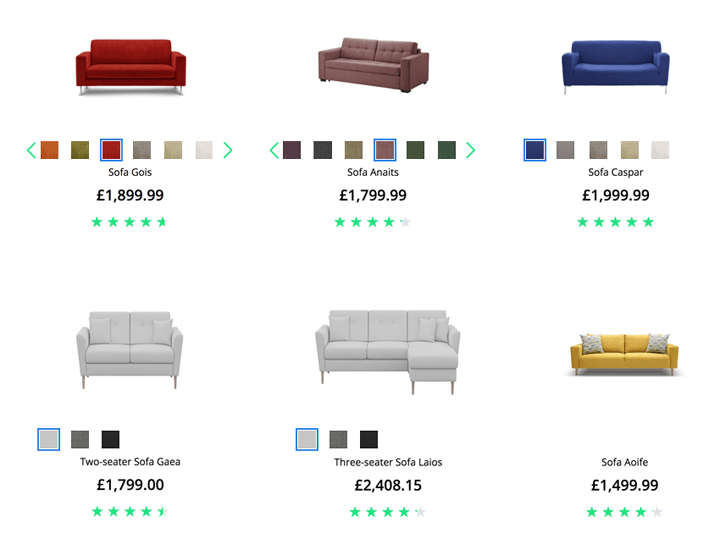 Colour swatches or other customization options can be shown directly on the product listing page. Customers may interact with swatches to see immediately how the product looks in various options.
---
Interactive content

When looking for inspiration, customers can easily check out what product is shown in the image that attracted their attention. They simply click the hotspot corresponding to the product and receive the necessary information without leaving the page being viewed.
---
Finding inspiration by room, style, colour

Customers can use filters to limit or modify the list of images shown in the inspiration gallery. Pictures can be easily filtered by the desired rooms, styles or colors.
---
Quick views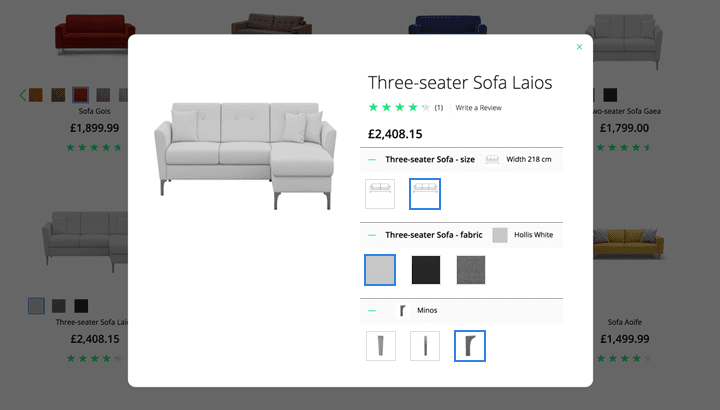 The option allows customers to preview the most important product information or even add the product to the shopping cart without having to leave the page they are just exploring.

e-point solutions come together with SAP Commerce Cloud​ as one bundle. We offer to our clients' full e-commerce implementation + accelerator Usage License​.
Full SAP Commerce Cloud implementation (back end integration with ERP, product & user mapping) starts from 150K Euro net one-time plus 12K Euro annually for usage license fees (for a 24-month contract).​ SAP Commerce Cloud license starts from 240k Euro annually.