4 technological trends in furniture e-commerce
More and more often furniture is sold online. For this reason, new technologies are becoming increasingly important in the buying process. Furniture shops use them in a variety of ways to establish and maintain relationships with their customers. In this article we present an overview of some of the most exciting and inspiring solutions.
1. Tools for designers / end user collaboration
An e-point research study, "Customer Journey in the Furniture Industry in Poland", showed that carpenters, architects, and designers play key roles in consumers' purchase processes. End customers trust them and follow their direction.
Interior designers deserve special attention - while professional assistance is currently used by only 7% of Poles, already 16% indicate a desire to take advantage of such services in their next renovation or furniture selection (TNS Polska's survey commissioned by Agata SA). One of the barriers to the use of an interior design professional is the popular belief that the services are expensive. Western furniture shops respond to these consumer concerns by themselves providing their customers consultations with an "in house" designer or architect.
Although Howdens does not serve retail customers, the company provides them with a free kitchen design service by a professional interior designer. An interested customer must contact the local Howdens storehouse to request a home visit. The storehouse will schedule the visit, and on the arranged day, a designer will visit the customer's home to make measurements, get to know their requirements, and choose appropriate products from the company's product portfolio. Next, the customer, together with the carpenter selected for the project, must visit the designer at the local Howdens Joinery storehouse to discuss the design and agree on final details.
Finally, the customer receives a code to the "My Kitchen" site, which enables previewing of the project through the use of high quality visualizations, 3D views, video walks, and 360° panoramic views, which can be viewed online or sent by email.
The solution described above combines online and offline channels. The SpaceCraft application launched in May 2017 by HomeLane, on the other hand, looks different. It is the world's first online platform for remote cooperation between the customer and interior designer. It works 100% online - in the browser window, so it does not require download and installation of any additional applications.
An apartment owner interested in the services of the architect or designer fills in the application form and sends the apartmen layout. This action results in generation of an e-mail invitation to the SpaceCraft platform. At the agreed time, customer and architect/designer log on to the platform and start a video or teleconference during which customer presents their expectations and discusses them with the architect/designer. The latter, in turn, makes changes (reflective of design suggestions/revisions) to a previously prepared 3D virtual layout of the apartment. The customer sees all changes in real time on the screen of their computer, so she can make comments and see how the architect/designer applies them to the apartment's interior design. A great advantage of SpaceCraft is that it displays up-to-date project valuation during the entire interior design process.
According to HomeLane's architects and designers, with SpaceCraft they are able to work 5 times faster than before, finalizing customer orders within just 7 days rather than the 30 to 45 days previously required.
2. Engaging applications for end-customers
We must not forget in all of this, however, that today's consumers are very independent and prefer to navigate the purchasing process mostly on their own. That's why they look with great interest at applications and tools that help them to choose - for themselves - the best solution, in a convenient, interactive and engaging way. Design wizards allow them to select and preview styles they might want to apply to their apartment and try various colours and products. This kind of visualization helps them better understand and address their needs.
Schmidt, one of the largest kitchen furniture manufacturers in Europe, has launched on its portal an application to inspire customers while they're browsing the company's website. A user can choose one of four (most typical) provided kitchen shapes. Having selected one of them, the user may experiment with the configuration of individual elements of the decor. This means making decisions about styles, colours, and types of fronts, handles or countertops. Users can also try a variety of wall colours and floors. Each change is immediately reflected in the full-screen 3D visualization, which can be rotated and viewed from various angles.
3. Personalization based on data
Personalization is one of the most important trends in e-commerce and has a great influence on the furniture industry as well. The purpose of personalization is to provide each individual user with communication tailored to his or her needs at a given moment. Such communication may include any helpful information relevant to the current stage of a customer's journey; offers matching his tastes and wallet and aligned with what he has already bought; promotions corresponding to her specific buying style; and emails or push notifications in the mobile application scheduled specifically for her convenience. Matching the message not only increases the likelihood of a purchase but it also helps build positive brand associations, fostering customer loyalty and encouraging long-term customer relationships.
Once registered with Houzz, a user completes a survey indicating personal preferences for particular styles and interior themes. The survey is visually attractive and easy to use: a user has only to choose from among the provided photos those which most appeal to him or her. Once the selection is made, the home page content immediately adjusts to the user's preferences. Only the content that meets the criteria specified in the survey is displayed. Full site access is available, of course, but what is served on the main screen is tailored to a user's specific needs and tastes.
Jerome's Furniture perfectly personalizes its email marketing. The company assumes that, when it comes to furniture, buyers do not buy on impulse and therefore need time to reflect on their selections before completing a purchase. If a customer adds a product to the shopping cart but does not finalize the purchase, therefore, the company gives them a few days for consideration, and only then sends an email reminding the customer about items left in the shopping cart. Jerome's also uses email to remind customers about the products they viewed during their recent visits to the online shop.
The company employs cross-sell mechanisms as well: after the purchase, it sends an email with a range of complementary products. For example, if you bought a bed but have not ordered a mattress within a month of the purchase of the bed, the company will send you an offer of a discount on the mattress.
For customers who have the mobile app, the company also gets information about products viewed, purchased or added to their shopping list in offline stores. This capability considerably broadens the possibilities for personalization of communication to these customers, as the network has for them a complete set of information from two complementary channels: traditional and digital.
The free Jerome's Smart Shopper mobile app allows customers to scan QR codes on plates located next to all items displayed in Jerome's showrooms. Scanning the code allows a customer access to online resources about the particular product , including customer reviews, detailed description and specification, and a product video.
In addition, a user can create a shopping list of scanned products. When the list is complete, it can very quickly be displayed by a shop employee who can then finalize the order.. The application also supports tracking of order status and delivery.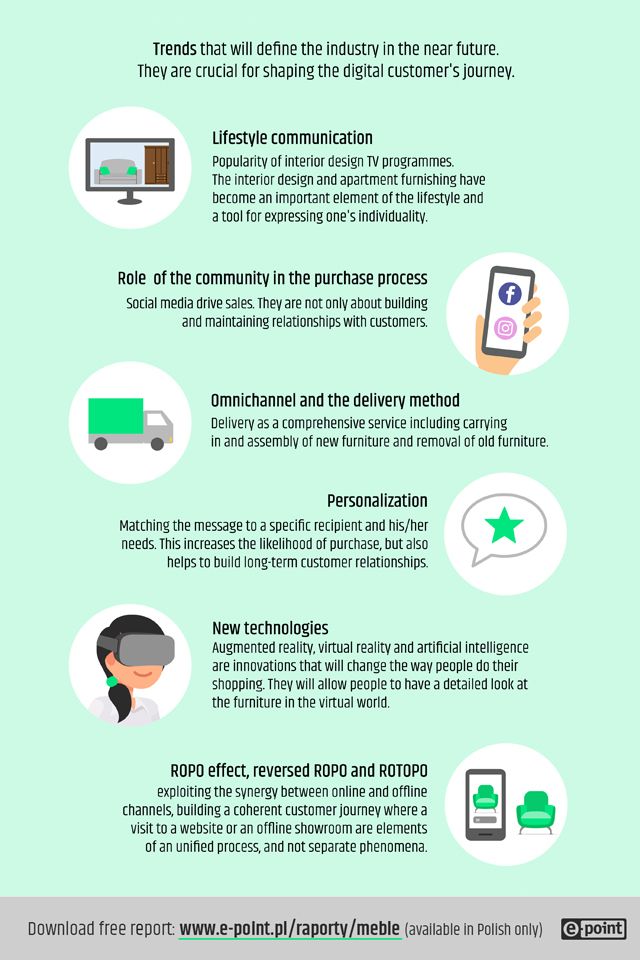 4. Augmented reality, Virtual reality
Tale of the future? Science fiction? Of course not! Furniture stores are already testing advanced technologies to engage their customers and make shopping easier. Augmented Reality is already being successfully employed by IKEA, Wayfair, Williams-Sonoma, Pepperfry and Houzz, among others. Its unquestionable advantage is that it does not require the user to have additional hardware - just a regular smartphone or tablet with a camera.
A much more advanced technology, which unfortunately is still under development, is Virtual Reality. While augmented reality combines the real world with computer-generated elements, in virtual reality we are dealing with a completely fictitious world in which everything, including the user, is a computer image. The barrier to using this technology is the need for expensive equipment: usually VR goggles, laser sensors and motion controllers. It is expected, however, that with the development of VR technology and its popularization, the prices of hardware will decrease significantly.
In April 2016, on the Steam game distribution platform, IKEA released the free "IKEA VR Experience" application, which takes users to a full-size IKEA kitchen that exists only in virtual reality. In order to experience this adventure, the user needs HTC Vive goggles (the current price is about PLN 4.2 thousand).
Upon entering the virtual world, a user is free to move around the room and interact with various objects, using two controllers. For example, a user can change the colours and materials of cabinets, fronts and countertops in order to find out which combinations are most pleasing. She can also carry out simple kitchen activities: open drawers and remove items from them, throw biodegradable trash into a suitable container, or take a frying pan off the shelf and fry traditional Swedish meatballs (while mixing them with a spatula pulled out of the drawer).
An interesting option is the ability to customize the user's height. In IKEA's virtual kitchen, the user can become a small child who barely reaches the tabletop or learn what it is like to be an almost 2-metre person trying to prepare a meal in a standard equipped room.
The application was prepared by IKEA in cooperation with the French company Allegorithmic. It uses the latest version of the Unreal Engine 4 produced by Epic Games.
Source: MEBLARSTWO Komponenty i Technologie, edition: 11.2017