Banking portal that increases sales. Conclusion from e-point's report
Today boards of executives in every bank expect its website not just to store information or build brand awareness, but to sell, like e-commerce does. Butis it possible to use exactly the same e-commerce mechanisms on a banking website?
Banking website should sell banking products
In order to increase sales, banks started to present their offer on the website as a catalogue of products divided into customer segments, and then, further subdivided into product categories. Customers can buy them either directly online or start the purchase there and finish it, for example, via a hotline. . Such solution constitutes the main method of communication on the website. Banks have been using, to an increasing extent, the mechanisms primarily utilized by online shops and marketplaces.
However, one should not leave this matter without giving thought to it. The Canadian bank, ATB, introduced an interesting solution. Namely, products presented on its website may be 'added to cart' and then compared, even if it is a comparison of a deposit and a mortgage. Obviously, you can simply purchase a product after adding it to a cart – the process of taking out a loan looks exactly the same as with buying a watch or a book. It rises another question:
Does user desire a deposit (as he desires a new watch)?
Let us contrast a shopping experience on fashion e-commerce sites and banking websites. Buying clothes is not associated with risk-taking decisions or huge investments, and choosing an inappropriate product does not entail any serious consequences. At worst, we have to deal with a quick complaint process. Let's be honest. Browsing such products is a pleasure, especially due to marketing automation mechanisms, like suggesting suitable product ranges, special offers or prizes. It doesn't require going into details and reading complicated descriptions, but admiring colorful pictures. In fact, it is a pleasant journey rather than a challenging excursion.
Those feelings cannot be translated into purchasing banking products. Although, customers need them, they do not desire them. Thus, understanding the differences that occur in approaching an e-commerce and banking customer is the key to introduce efficient selling mechanisms.
Undoubtedly, looking for an appropriate deposit or a bank loan doesn't result from a customer's inner desire, but it is motivated by the external factors. It is similar to buying tires. We just want to get things done. Quickly and painlessly. In fact, we don't even have enough knowledge to recognize some subtle differences between various optyions products, and therefore, we care only about convenient solutions.
57% of banks' customers claim that convenience is the decisive factor when it comes to choosing a solution concerning financial management.
Source: Sektor finansowy coraz bardziej #fintech. Raport PwC
If we look closer at the shopping experience of banking customers, the character of banking products is more similar to tires rather than to watches, and consequently, adopting e-commerce mechanisms by banking requires careful deliberation.
While looking at the banking from the customers' point of view, products are strongly associated with needs and depend on one's life circumstances. Nobody likes the process of choosing mortgage credits – we are forced to do it due to our life position.
Many banks understood it and changed their approach, takinginto consideration customers' perception of a particular banking product. For example, when taking out a loan, customer is focused not on the loan itself but on the reason why is she taking it out. In the case of deposits, she would think about what is she saving for. Therefore, the communication with customers should be based on their experience and the way they perceive banking products.
For example, Barclays links its products with so called 'Moments" – crucial stages in customers' lives, like:
First job
Buying the first apartment
Starting a family
Travelling
Such approach, focused on people's needs, may be very demanding, especially for universal banks. The situation is quite different when it comes to FinTechs due to the fact that they target their offer to specific groups.
Banking website means content
How to sell intangible objects which, in fact, cannot be presented in the picture? This very feature of banking products suggests that content plays here an essential role. You must create a story, emphasize the benefits of such product and attract people's attention. Without a proper communication flow as well as preparing a specific copy or microcopy, it is, undoubtedly, troublesome to convince a customer to purchase the goods.
The content needs to convey a clear message. In today's digital world, people do not read the whole text but rather scan looking for interesting information. 17% of tabs in our browser are opened for less than 4 seconds whereas less than 4% of tabs – for more than 10 minutes. When there are 111 words or less on a website, the content is read at 50 %. When the number of words is increased up to 593 (what is considered to be the average number), only 28% of the content is read by users.
How to communicate effectively with customers, then? How to convey the information about complicated banking products without forcing them to read a huge amount of text? Banks meet their clients' needs and invest in new digital and audiovisual formats. They try to simplify a language as well.
"Simple language is like the water by the Maldives – crystal clear. Simple language means communication that consists in exchanging our main thoughts and emphasizing the essence of the message. It is an art that requires unusual courage".
The website is ready. What's next?
We should remember that creating a website is the beginning of a long journey. Banks perform most of their sales as a cross-sell in trading systems. CRM applications need to become the fundamental tools while preparing a content, which is further distributed by other communicative channels, such as leaflets, mobile apps, social media or ATMs. The rules mentioned before should be applied here as well. Namely, a content, which is supposed to be coherent and easy to assimilate, should be appropriately placed, so that a user could find it without any effort.
Furthermore, the party begins when all guests arrive. In other words, a website's life starts when it's visited by real users, and monitoring their behavior as well as collecting some data is necessary to optimize the system in the future. Services should constantly develop and adjust to clients' expectations and needs.
Gallery
Conference presentation - Wawrzyniec Hyska i Michał Waszkiewicz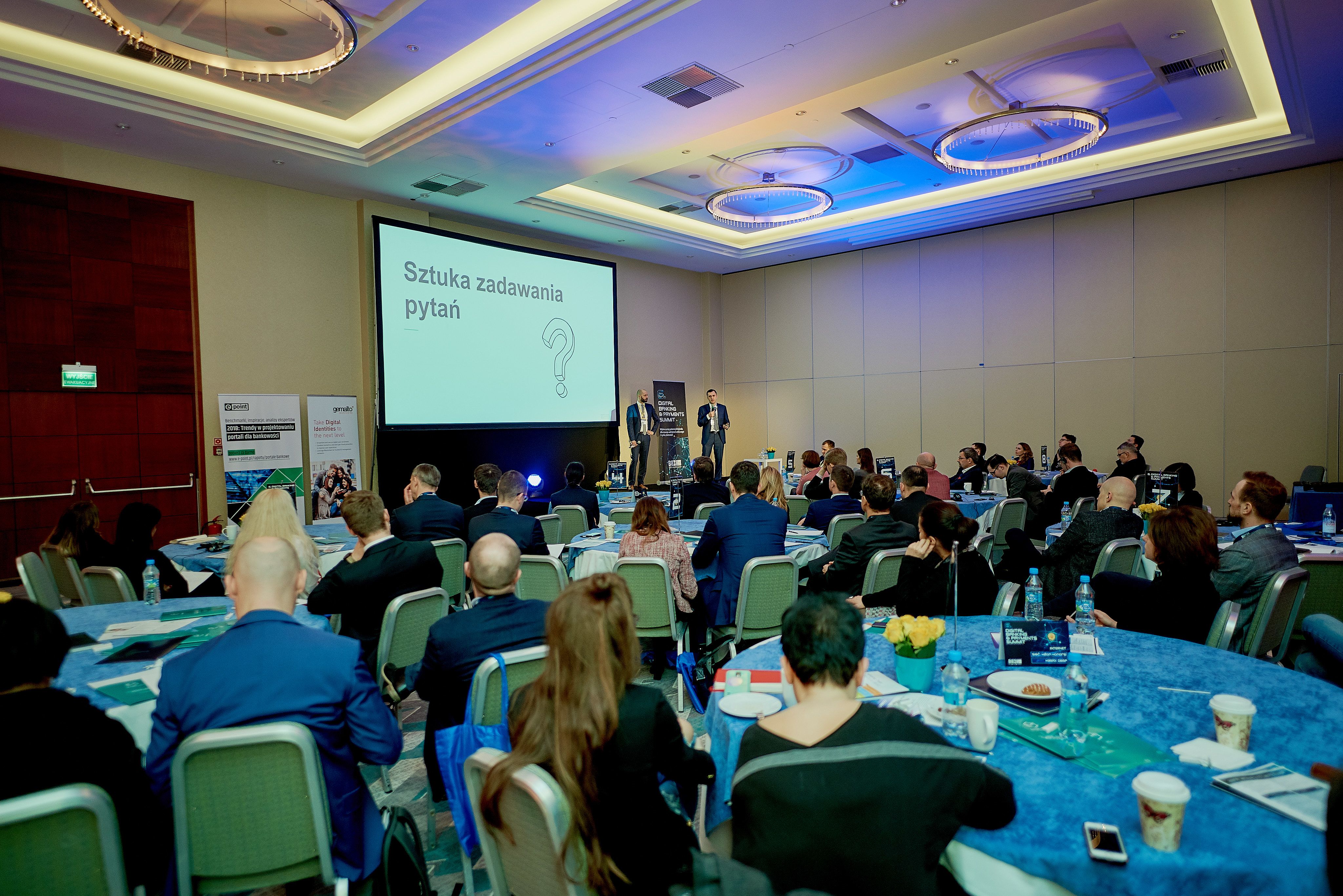 Conference presentation - Wawrzyniec Hyska i Michał Waszkiewicz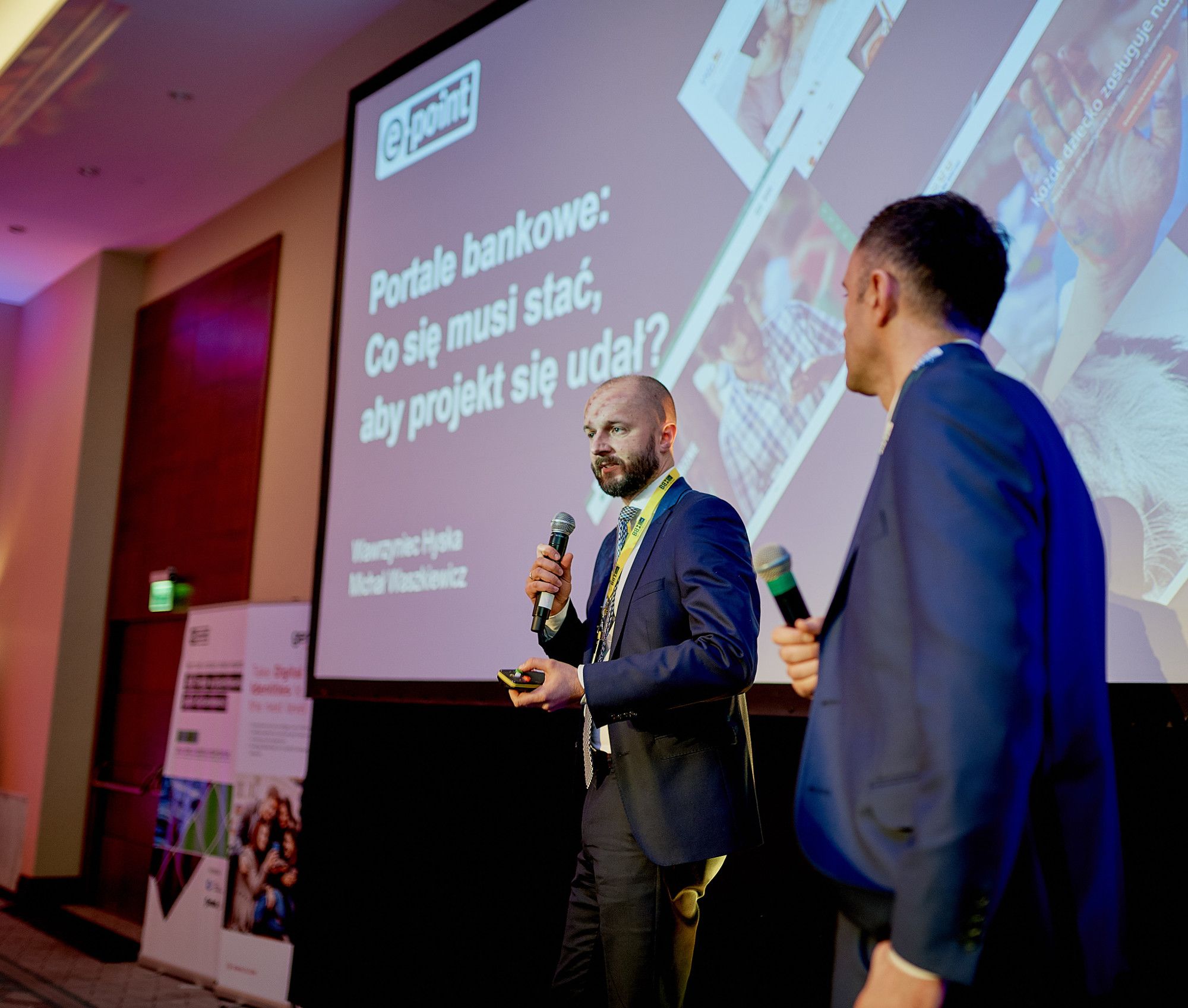 Digital Banking & Payments Summit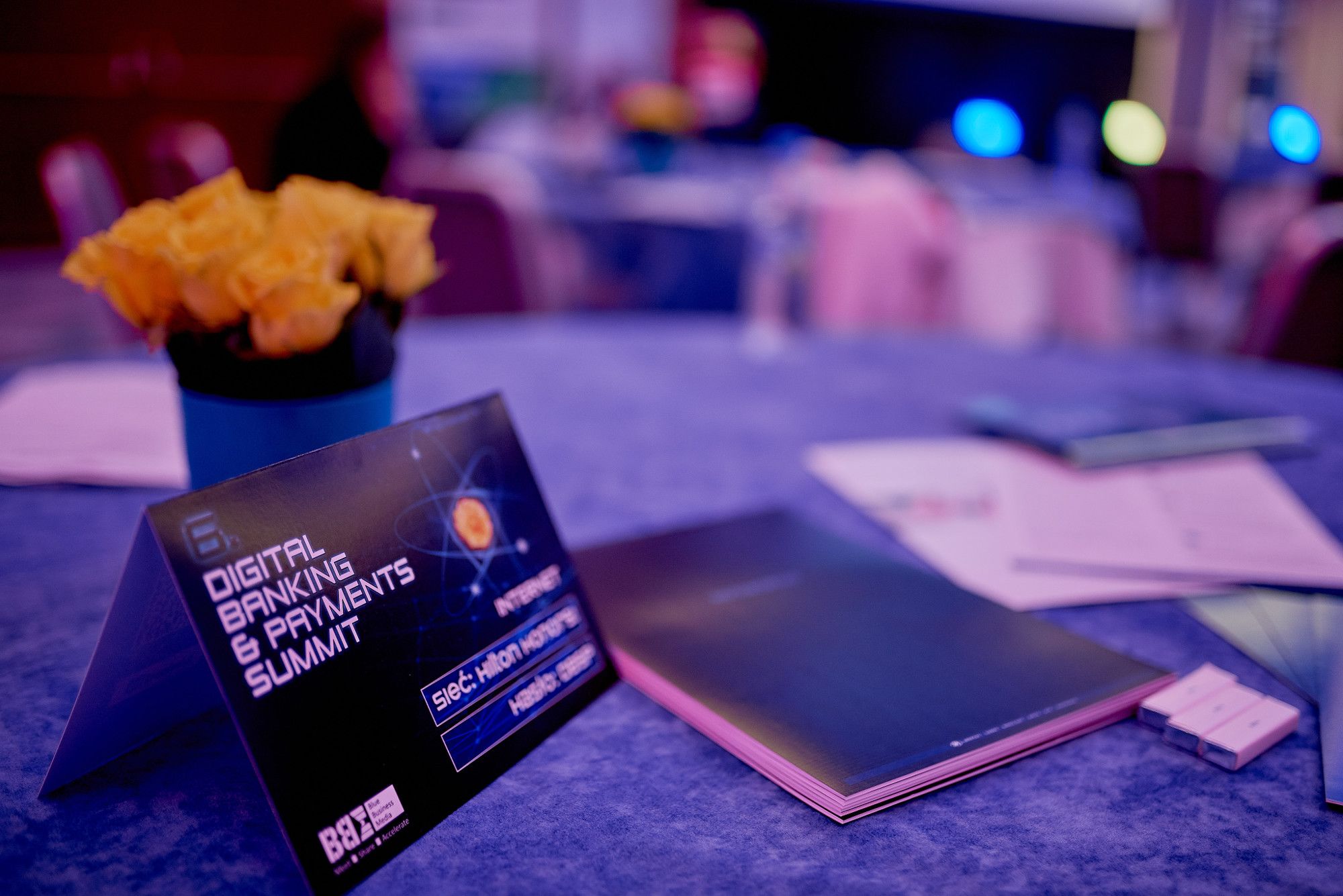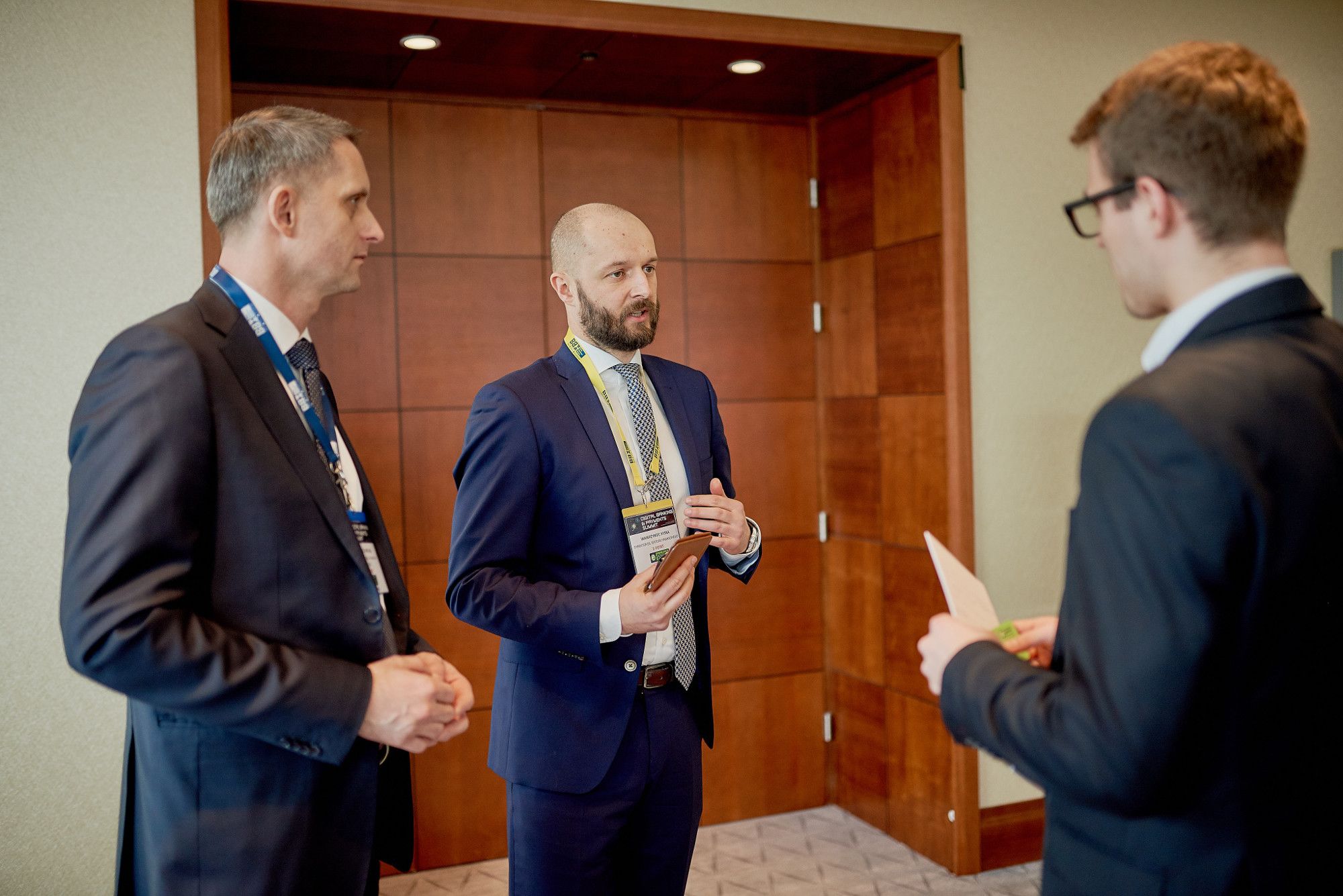 Conference presentation - Wawrzyniec Hyska i Michał Waszkiewicz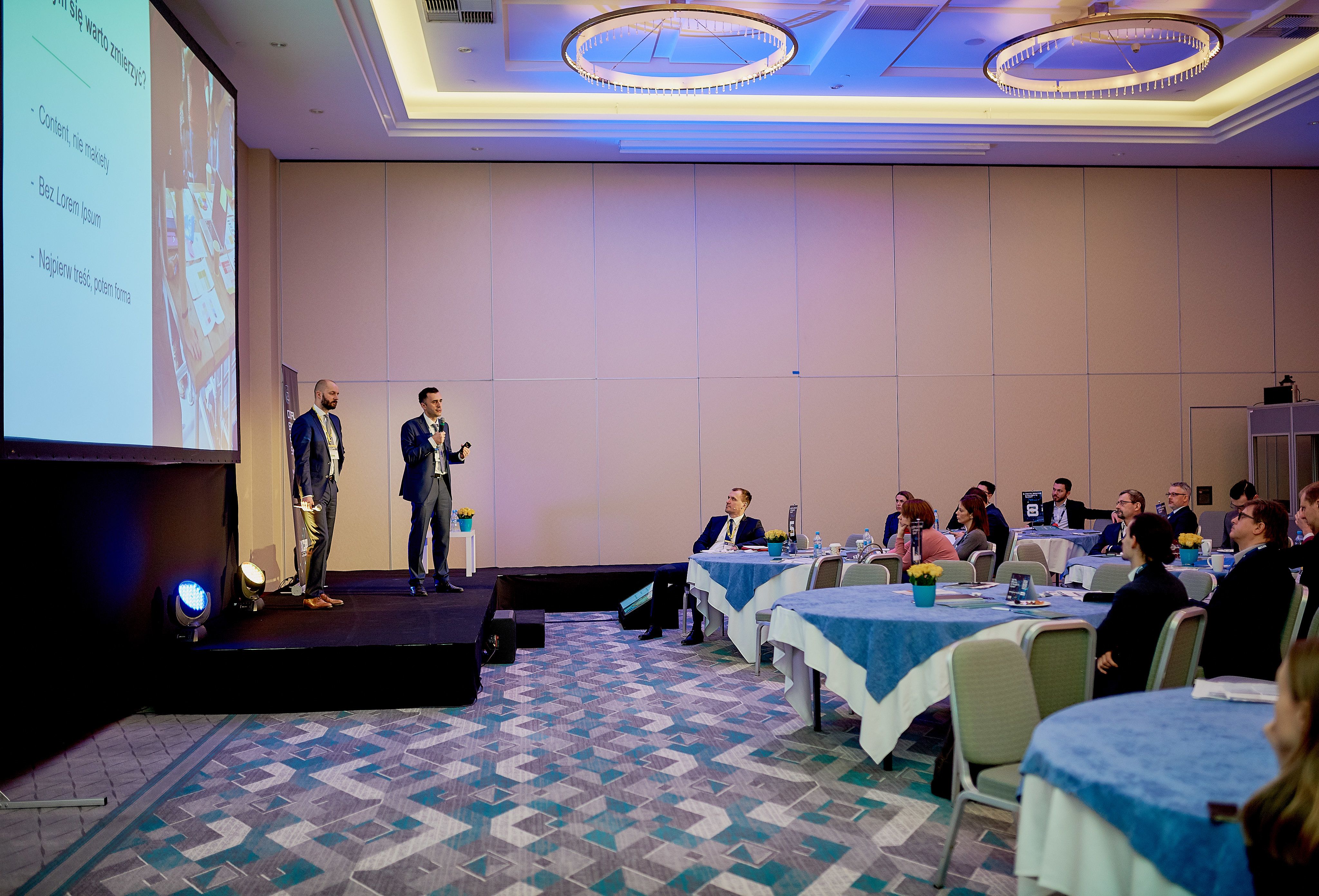 Digital Banking & Payments Summit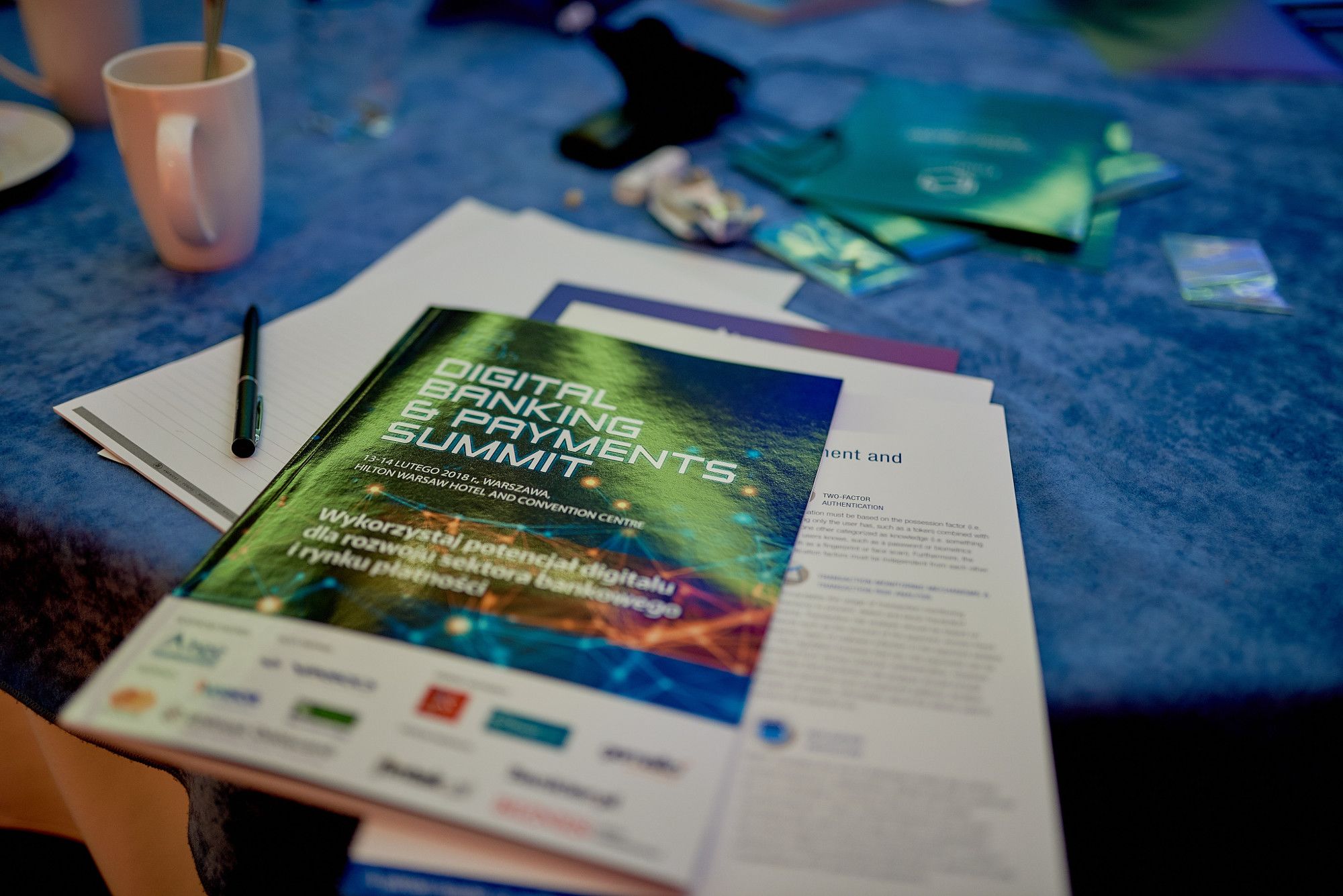 Digital Banking & Payments Summit