B2B
article_categories.separator
Omnichannel – a business philosophy. Towards the B2B2C model
What is omnichannel? For some it's an issue that falls under marketing and sales, for others – technology and big data use in business, for others still – Customer Experience.
I would like to propose another definition: omnichannel is a customer-oriented business philosophy. It's adopted by companies that have a deep understanding of their consumers' journey, needs, and decision-making process. This knowledge leads to the transformation of the business model.
B2B2C model: what does it mean in practice?
The "Customer Journey in the furniture industry" study conducted by e-point allowed us to observe an interesting phenomenon: the time where B2B and B2C models functioned separately has passed.
More and more frequently companies apply them side by side, addressing offered products and services to final consumers, partners and distributors alike. This model is called B2B2C (Business-to-Business-to-Consumer, often also referred to as B2X or B2E – Business-to-Everyone). We'll explain how it functions based on an example from the aforementioned industry.
In order to maximise profits, a wood-based panels or furniture manufacturer focuses its communication along two channels: to business consumers (architects, carpenters, distributors) and to final consumers (persons buying furniture). Therefore, it's important to ensure synergy between those two channels. To present an example: a furniture manufacturer attracts consumers interested in purchasing custom-made kitchen furniture to visit its website through digital marketing actions. When the manufacturer has successfully engaged those consumers and encouraged them to choose specific products, they are directed to a partner (e.g. a carpenter, a brick and mortar store, a distributor, etc.), where the consumer may finalise the transaction.
This requires an informed infrastructure connected with the final consumer's path and based on understanding their customer journey as well as the role played in this process by the company's business partners.
Read more about B2B2C: All Roads Lead to B2B2C.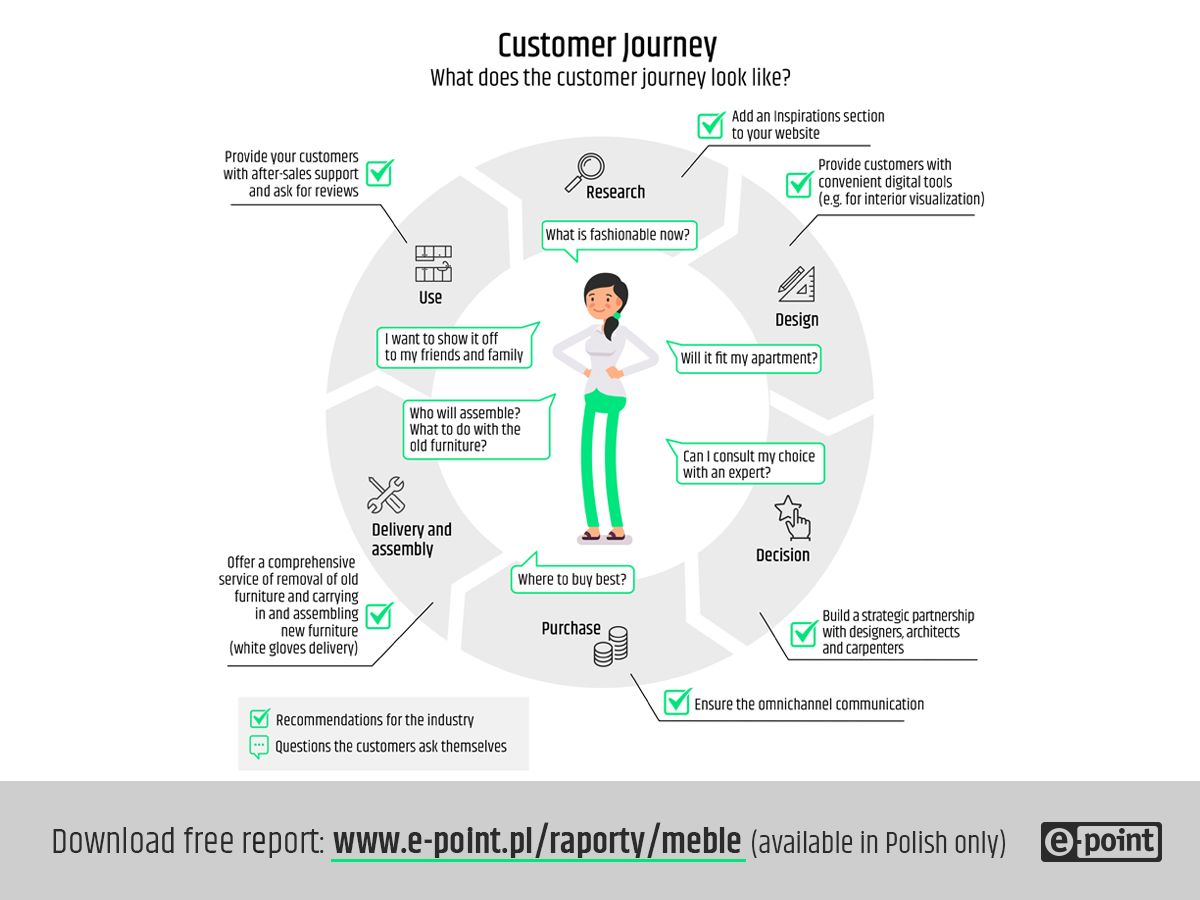 Product = product + service
The product's status changes as well – more and more often it becomes closely connected to the service. It's particularly visible in the case of furniture: furniture purchase is combined with the design service and, at times, carpentry services, whereas after the purchase has been made – with door-to-door delivery service, installation service or old furniture removal service. For this reason, many furniture manufacturers, particularly in the West, decide to start offering those services to build the final consumer's loyalty to the brand, among other reasons.
A good example is Howdens Joinery, a company that, by definition, operates in the B2B model and does not provide customer service to retail consumers. It does, however, provide them with a free design service – the final consumer contacts the nearest Howdens warehouse and schedules a meeting. The, a designer measures the rooms and picks out products from those offered by Howdens. Designs (visualisations, 3D views, video walkthrough and panoramic 360° view) can be accessed via an online portal. A carpenter chosen by the consumer can also participate in this process.
Therefore, Howdens not only supplies products, but also introduces the final consumer to a designer, saving the consumer a long search. As regards specialists, its business partners, Howdens provides them with a steady supply of customers and practical tools to communicate with the customer.
A traditional, inflexible division into B2B and B2C makes no sense in this case – we're dealing with a new model that we call B2B2C. The company (Howdens) communicates simultaneously with a business partner and the final consumer, as it understands what the Customer Journey looks like and what consumers need.
But this does not apply only to furniture – in the fashion or cosmetics industry, products are combined with the consultation service, custom matching service or advisory service.
Importance of Customer Experience
These changes (a growing trend of switching to the B2B2C model) is connected with the fact that Customer Experience plays a key role in today's business world. It's no longer only about objective product characteristics or the quality-to-price ratio, now it's also about subjective, emotional factors related to the customer's feelings during the customer journey. Mariusz Serafin, Head of Marketing and E-Commerce, Lancerto SA, summarised this phenomenon accurately in the report:
"I remember a time when product + characteristics = benefit. Today it's all about how consumers feel. It's feelings and related emotions that are gaining importance, rather than products themselves".
Combining products with services is a part of this trend. For this reason, certain furniture companies offer the so-called white gloves delivery: a delivery model that entails a comprehensive service, i.e. door-to-door delivery, furniture assembly and old furniture removal. It's about providing the best possible Customer Experience – a brand must take care of everything for the customer, whereas the customer must feel comfortable above all else.
Digital consumer
The business model shift towards B2B2C that we have observed results from changes in the behaviour of modern consumers.
The Digital Economy and Society Index prepared by the European Commission shows that human capital in Poland (network use, digital skills) is at a twice higher level than the digital technology integration (enterprise digitisation and e-commerce). This means that Polish companies are not prepared to service e-consumers, whereas Polish consumers have already become digital consumers.
Digital consumers want to know more: they seek information, wish to control the customer journey and proceed at their own rate. That's why such digital tools as wizards and creators are so popular, as they allow to create an initial interior design and better understand own needs. Customers also like it when they are able to schedule a meeting with an architect via an online application or track the package delivery status online. In other words, they want to be able to do things that once required contacting a company representative on their own. Self-service becomes increasingly popular.
Customer Journey context
The customer's decision is affected by more than just information obtained from various sources or brand loyalty, it's also affected by other people. The e-point report shows the important role played by carpenters, architects as well as family, friends and influencers in the kitchen design process.
Customer journey takes place in the following context: consumer functions within an environment, among loved ones, specialists or company employees, who have an impact on the consumer's decisions. What conclusion can be drawn from this for business? Furniture companies we've analysed decided to create dedicated online tools for carpenters and architects (thus incorporating their brand into the customer journey) and to implement solutions that allow final consumers to conveniently share designs with family and friends.
A new definition of omnichannel
Omnichannel doesn't end with technology or marketing, it's not an issue that falls under the purview of a single department or project. By placing the customer and their journey in the centre, it aims to ensure tools and communication methods appropriate for a specific customer on each stage of their customer journey, with particular focus placed on self-service.
Placing a modern, omnichannel customer in the centre often entails the need to re-model the business. On the one hand, consumers want to know more about products they purchase (hence they visit manufacturers' websites, even if they don't purchase goods directly from them), while sometimes – motivated by convenience – they want to choose a product combined with a service. That's the reason for the growing popularity of the B2B2C model: companies want to be ready to provide service to a customer in every mode, depending on the customer's needs. According to studies conducted by Ecoconsultancy, the number of manufacturers who changed their business model and began offering their products and services not only to business customers, but also to retail customers (in other words, who transitioned to B2B2C) grew by 71%. Retail businesses have shown a similar trend, as they are entering the B2B market: they believe that business partners may add significant value for the final consumer (Sana).
A true omnichannel includes a multitude of channels and points of contact, but also focuses on the multi-channel customer journey itself and various actors that affect it. It means a true customer-oriented approach.