24CodING Hackathon:
e-point

hacking team report
Hackathon is an extreme adventure: it requires concentration, departure from known standard procedures and discovering new talents in yourself. It's also a huge challenge. That's why we just knew that e-point couldn't miss out on 24CodING Hackathon.
What is 24CodING?
Hackathon, organized by ING Bank Śląski, was held on May 12-13 in the historic zinc mill in Katowice. 400 participants from 11 countries, forming 58 teams, were tasked with developing an application that responds to new business opportunities related to the PSD2 directive. The task was to present a working prototype of an application (not the idea itself) and convince the jury within a 3 minute pitch, i.e., a short presentation that outlines the application's business benefits.
Team
The gauntlet thrown by ING Bank Śląski was taken up by ten e-point daredevils: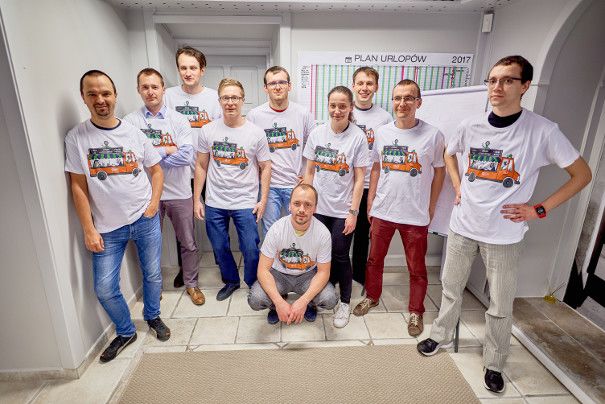 Karolina Zaorska, Project Manager
Zbigniew Barczyk, JEE Application Engineer
Mateusz Dziurdziak, JEE Systems Engineer
Michał Hryszczyk, Senior Systems Architect
Kamil Murawski, JEE Systems Engineer
Przemysław Piórkowski, JEE Application Developer
Wiktor Rotuski, Senior Front-End Developer
Michał Szynwelski, J2EE Systems Engineer
Krystian Szczegielniak, JEE Application Developer
Piotr Wolny, JEE Systems Engineer
We are proud
"During Hackathon itself, we managed to write 85% of the code. We did not come there with a finished app, but we were writing the code during the event according to the on-site rules. It took us about 10 hours to write the code that fulfilled the business purpose. We spent the remainder of the time refining the prototype and adding extra functions, " says Michał Hryszczyk.
e-point's application not only worked well, but also distinguished itself as being in line with the Hackathon's theme - the app was to take advantage of the PSD2 directive's potential and offer the bank a business advantage.
More about the EMA app's business potential
The challenge was not only to write the code but also to prepare a compelling pitch. Ours was based on the Customer Journey and talked about the application from the perspective of an end-user who was travelling with friends.
What was it like at 24codING?
Hackathon requires not only a different way of working (continuous work for a prolonged time), but also employing other types of skills - such as building a pitch, presenting business goals or responding quickly to new circumstances.
Przemek Piórkowski says that the event gave him a picture of how much can really be done within 24 hours. But the team is not only proud of the effect and pace of work - they also had great fun.
"I'm pleased with our team's fantastic atmosphere. It turns out that we at e-point can do much more than we can probably imagine" says Krystian Szczegielniak. Wiktor Rotuski nods in agreement: "Each of us supported other members of the team with his or her attitude, enthusiasm and knowledge. Despite being tired and staying in the same company for 24 hours nonstop - each of us exuded engagement."