e-point CMS is an advanced tool for creating portals whose goals are sales and customer service at the highest level.
Instantly build pages in What-You-See-Is-What-You-Get mode
In e-point CMS, page editing is done in the visual editor (What-you-see-what-you-get), and the editor can instantly see how the page will look on your computer, tablet and phone. Each element of the page can be modified without involving programmers.
Towards mobile users: RWD and PWA
Users use smartphones for 69% of their time on the Internet. That is why we care about the needs of this group of customers by designing a unique mobile experience.
e-point CMS fully supports Responsive Web Design. The visual components on the pages fit correctly on mobile devices, and the photos are framed according to the designers' guidelines.
The editor can determine which parts of the page are visible on the computer, tablet or phone. The top menu automatically folds into a hamburger, and the photo gallery turns into a carousel with a sliding finger.
Portals built on e-point CMS can also act as PWA applications.
PWA allows you to provide users with an experience previously reserved exclusively for mobile applications. The benefits of pages built in PWA:
They display instantly regardless of your internet connection
They can run in the background and behave like native applications
They can send push notifications.
The user can add their icon to the home screen of their device.
CMS for large projects
Managing multiple websites in one CMS: for individual markets, brands, affiliates, Landing Pages
Multilingual support and advanced tools for translating content
Versioning of pages, documents and attachments - along with scheduling publication and version change tasks
An extensive model of permissions, administrative groups and activity tracking of editors
E-commerce features
Personalization - integration with Marketing Automation class tools to match the content of the page to the user's segment
Support for A / B tests
Full support for on-site SEO and edition of OpenGraph metrics
The mechanism of publishing Landing Pages visually independent of the main portal
Convenient for editors
Rich RWD page builder - using drag & drop, you build a page from ready-made components, checking its appearance on all devices
Full configuration of aliases, menus, headers and footers, CSPs, contact forms
Dedicated modules for creating News, FAQs,
Possibility to edit page templates (access to HTML, CSS, JS)
Lots of ready-made tools
Dedicated modules for the financial sector: presentations of stock quotes and funds, exchange rates, loan calculators
Job advertisements database - "Career" section
The base of branches / departments and other objects presented on the maps
Integrations and dedicated functions
We have created this system which we can modify, customize or expand it to your needs.
In the course of projects, we usually build CMS integration mechanisms with internal client systems, e.g.
Import of data presented on the portal (listing of shares, funds, exchange rates)
Import base of branches, export of this base to Google maps
Invoking computing services for calculators
Sending data from contact forms to call-center systems
Integration with chat tools, videochat
Import job advertisements from recruitment tools
Single-sign on for editors and administrators
Single sign-on for users - for intranet sites
Exporting content to other systems (eg Electronic Banking)

The portals we run use most of the built-in CMS functions, but each project also means creating dedicated code fragments. The final diagram of the implementation effect is represented graphically in the following diagram: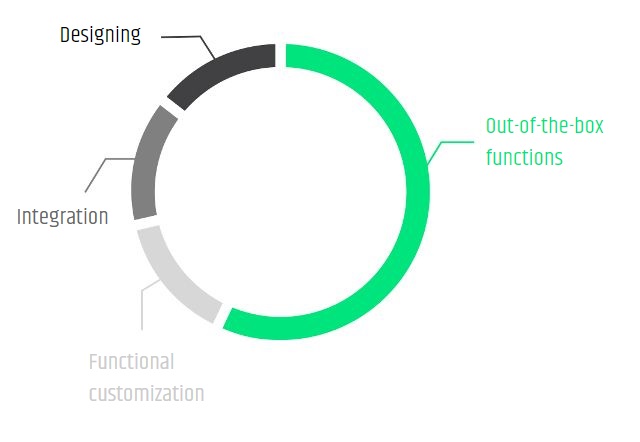 What is under the hood?
e-point CMS was built for the demanding banking and insurance industry. This meant very demanding requirements regarding the performance, reliability and security of the application.

e-point CMS is built on the Java Enterprise platform, and the visual part is based on the Twitter Bootstrap framework. The solution is hosted in clusters, which makes it scalable, secure and fault tolerant.

In a nutshell, the technology stack of e-point CMS looks as follows:
Database server: PostgreSQL 9.6
Application server: WildFly 9 or JBoss EAP 7
Http server: Apache 2.2
OS: Linux - e.g. Debian or RedHat
Search engine: SOLR
Other components used: Gradle, HazelCast, EHCache, ZooKeeper, Clojure

In the model hosted by e-point, we can guarantee SLA even at 99.9%. We guarantee security in accordance with OWASP Top 10 Level 2.
License and design model
Cooperation is possible in several models:
We only deliver CMS or we make a full portal design with UX design
We adapt and implement the solution for the client or provide source codes for custom modifications
Customer support (on-premise), e-point or AWS cloud