Interview with Norbert Pabiś, new e-point CEO
On the 20th December 2017, Norber Pabiś, who used to be a Managing Director, became the CEO of e-point. He tells how it happened and what this change means for the company.
How did your journey with e-point start?
My journey with e-point started in 1997, when I was a student of Warsaw University of Technology. I was asked to write an online game in Java, what was considered a novelty at that time. It had been present in the market only for a year. I bought probably a first book in the Polish market about Java, written by Jan Bielecki, and then, using my favorite text editor and a command line, I made my first program in Java. Thus, the beginning of my cooperation with e-point was as well the beginning of my journey with Java. And today, most of our projects are based on this language.
"Start-up" was not a common word in 1997, yet e-point, which was called "Point of View" then, was a start-up company, actually. A few students from the well-known universities in Warsaw, an office in a dorm, two computers, a fax, and a passion for technology.
I started as a full-stack developer and then, I moved smoothly to managing the IT team. After that, something interesting happened. I didn't plan it, but my life challenged me. I was supposed to take care of the management of hosting services. It was a deep dive. I knew services based on Linux and TCP/IP only from school. Fortunately, I had a pleasure to work with great people. One of them was Mariusz Sawicki. Along with him, we managed to create the second most essential element of e-point's activity - hosting services and administration. Consequently, we have been able to offer a full service: application designing, programming, and finally, providing a system with high SLA.
Then, e-point converted into a joint-stock company, in which, except for our investor and CEO, Marcin Żuchowicz, the most devoted and long-term employees, including me, became shareholders. The subscription of shares bounded me and e-point for good.
And what happened next?
In 2007 I became a Deputy Director of Implementation Services, the equivalent for Vice CTO. I trained for a few years by CTO's side, Jarosław Błąd, who taught me how to work on this level of organization. We used to employ 50 people then.
When Jarosław became the CEO of our subsidiary Vertabelo in 2014, I became the CTO of e-point, and then, the Managing Director. Now, after over three years, I have the honor to assume the position of CEO.
"Performing different tasks is a fascinating opportunity. I've never felt bored. I don't even have time to think whether doing something else would be better".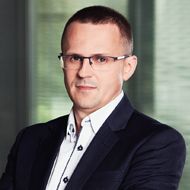 Before such idea appears, something new comes up: another challenges, another tasks or new skills to acquire.
What is your agenda as a CEO? What will change at e-point?
e-point is growing very fast. We became experts in some fields, and thus, the range of our services is enhancing.
My purpose is to enable the further development of our company. To do this, we need the optimization of our current activities and codification of procedures. The company is fueled by commitment of its employees. Therefore, keeping and hiring such people will be still our priority. 95,5% of our them answered in a survey in 2017 that they are pleased with the atmosphere prevailing in the company as well as with relationships with other coworkers. And we want to keep it that way.
Still, to keep growing, we need to focus on systematization of processes. In fact, it is already happening. An excellent example is the Code of Honor, the list of principles and values, which creates the spirit of e-point. Writing them down has brought many benefits. We could systematize the rules, implement them effectively, and communicate better with new potential employees.
I want e-point to grow constantly so that we could provide our clients new possibilities, and at the same time, to preserve agility, typical for smaller companies. We will not become a corporation. We want to be an efficient organization, available for clients and enabling employees to develop their skills and cherish their talents.
e-point defines itself as a "software house programming in Java". Is it going to change?
It has already changed. The range of services for our clients definitely exceeds this definition. We are partners in Digital Transformation processes. We share our knowledge, offer consulting services and support, help to create Buyer's Journeys and provide the best Customer Experience.
As far as Java is concerned, we've always been a company basing on the ecosystem of this platform, which is still growing and enabling various opportunities. At the beginning, it was simply a programming language, which converted into a platform for creating safe scalable web applications (I mean JEE, not applets, which can be considered an unreasoning result of evolution). There are other paradigms, for example functional programming in Scala or Clojure, which are basically new languages, but they exist in a safe Java Virtual Machine.
Another two languages, which our services are based on, are JavaScript and TypeScript. We use them as well as frameworks, such as Ember or Angular, to create SPA and PWA apps. We should also remember the fact that e-point does not only mean creation and development of systems. What makes us unique is a great contact with customer. Every e-point's client has its own account manager, who understands his or hers business context and needs.
Besides, we offer an efficient project management, UX/CX competencies, specialized knowledge about different industries and customers' needs. We want to provide complete services: complex solutions along with the highest level of support.
How about business perspectives?
We are still going to develop into two particular directions which determine the area of our activities: e-commerce and financial industry. Due to our experience, we can help not only with technological issues but also offer consulting services. We are going to continue a cooperation with SAP, for whom we implement the biggest projects in Poland.
And what role will Marcin Żuchowicz play now?
Marcin Żuchowicz is going to be the Chairman of Supervisory Board. He will focus on developing our company's strategy on the constantly changing market and support out clients in Digital Transformation processes.