Portal or website: What's the difference? Which is best for your company?
Our clients keep asking us to explain the difference between websites and portals. For the end user, the distinction between the two doesn't matter, but it is vital that business owners understand the differences.
Designing and managing a portal is a completely different task than setting up a simple business-card-type website. In this article, we'll clarify the differences between portals and simple websites and specify how each translates into the implementation of business goals. This information should enable you to understand which use cases will do fine with a simple website and which instances require the more complex portal.
Let's start with the basics.
How is a portal different from a website?
A portal is a complex ecosystem that is seen as a coherent whole by the end user. A website's information architecture is simpler and does not require complex support mechanisms to manage its content.
A portal offers a wide range of topics and is targeted at various audiences, whereas a website is focused around one topic and serves a narrower target group.
Due to this multitude of goals and their complexity, designing UX for a portal is far more complex than for a website.
Portals offer more stability and higher levels of security. They combine many tools and are supervised by various groups of administrators.
Creating portals is definitely a more sophisticated process than building websites.
Portal vs. Website: 5 Key Areas
Scale
Portals' size and multi-layered nature sets them apart from websites. A website is devoted to sharing content of a particular thematic scope. It is primarily informational, and users can access the material offered without complex interactions. Some examples of this type of website include business-card-type websites, blogs, and landing pages for individual products.
Portals, on the other hand, have a much broader scope. They offer a wide range of content addressed to various groups. They frequently include interactive elements (such as calculators or application forms) and may require users to log in to access all the site's relevant (to them) functionalities and content types.
Because of its many options, portals have a modular structure. This means they combine many tools in a way that is invisible to the user. We all use information portals (such as Yahoo or CNN); big corporate or public services sites may easily be called portals as well.

Designing User Experience (UX)
Websites, with their simple information architecture, can be created almost overnight. This approach works best for straightforward implementations, e.g. launching a landing page for a company event. In this case, UX design is also pretty straightforward.
Things get a bit more complicated when we want to launch an expanded platform that will be used by many different stakeholders. Portal UX design is much more time-consuming. Research must be carried out – either by the research department or in cooperation with people experienced in the customer's field of operations – to account for all user needs. The design team will analyze the portal's functional elements during workshops with experts and stakeholders, making sure these needs will be met.
To be able to better serve various users, UX teams must run utility tests, which can guarantee that the paths created will allow every user to achieve their goals. Also, the content writing process for a portal may be quite complex; in large organizations, every page or article must be approved by many people and must comply with the recommendations of the legal department.
Languages
Simple websites are often in one language. However, large organizations usually need to present material in several languages, e.g. to international investors (in investor relations areas) or to immigrants who have settled in the organization's country of operation.
In such cases, the CMS must be able to fully support a multilingual portal. Each page, document, article, or any other piece of content should have several language versions; in terms of editing, this requires support for the translation process and for copying content between various language versions.
Authorization
In simple websites, managing access policies is basic. The largest group are average users, who just consume content. On the other side there are administrators, sometimes supported by moderators who may make small changes that have no impact on the overall shape of the website.
This model is not sufficient for portals, with their complex projects supervised by various specialists. In large portals, content management may be the responsibility of several teams from different departments (e.g. marketing, PR, product management, compliance, HR, investor relations, etc.). Simultaneously, technology experts, customer support staff, or even external partners such as creative agencies may be carrying on some type of work involving the portal.
This means that authorizations must be more granular; this is only possible because of the modular structure of portals. A multi-layer structure facilitates service management by various groups of administrators.
Legal regulations and security
Large organizations have many information duties that they carry out through their portals. Stock listed companies may serve as an example here, as they are obliged to regularly run and update investor sections. In compliance with regulatory rules, banks are obliged to present their currency exchange rates and mutual funds must publish their funds' performance (i.e. the client should always be able to see their portfolio value).
Additionally, strict regulations on the processing of customers' personal data must be met. And any disruption to the platform may cause the company substantial damage and make them liable to various penalties.
Unlike simple websites, portals are designed from the ground up to deal with these challenges. That is why they have embedded technological security measures and can ensure procedure compliance. They offer the aforementioned multi-layer access policy and allow for an audit path analysis (i.e. a chronological event record in the system). Should an error occur, it is easy to locate the source of the problem.
Furthermore, all user-facing content (articles, web page content, current news, attachments, contract templates, rules and regulations, etc.) is versioned. This allows the editor(s) to:
Easily recover the previous version of a document.
Create a new version of a document and establish the date for its automatic publication.
See when which client saw which piece of content, down to the day and hour (e.g. if a dispute over offer terms arises).
A high level of accessibility (i.e. a Service Level Agreement, or SLA) is implemented by maintaining portals on a redundant infrastructure, where each hardware and software element is duplicated. If, for example, an application server goes down, backup components will take over and the breakdown will not be visible to the end user. Such infrastructure may be built in the customer's server room (i.e. on-premise) or in the public cloud (i.e. AWS, Azure, Google Cloud Platform).
Is WordPress enough?
Open platforms like WordPress offer great functionality, thanks to the wide range of plug-ins provided by various suppliers. However, there's a hidden cost involved in so much variety, and that's converting a portal into a patchwork website over which nobody has full control. Plug-ins come from various sources and nobody can be fully held accountable for the whole system.
For many companies, even a short-term break in system accessibility to clients or business partners can cause a serious financial loss.
As a result, the savings achieved from using an open platform can over time become a source of new spending. In this light, a portal designed by an experienced team, with custom-built functionalities and the option to create additional tools and functions from scratch, seems a safer option.
This increases system reliability, as the team who implemented the service knows all the solutions employed and can be held fully liable for them. A reputable supplier will implement a portal and then provide 24/7 support.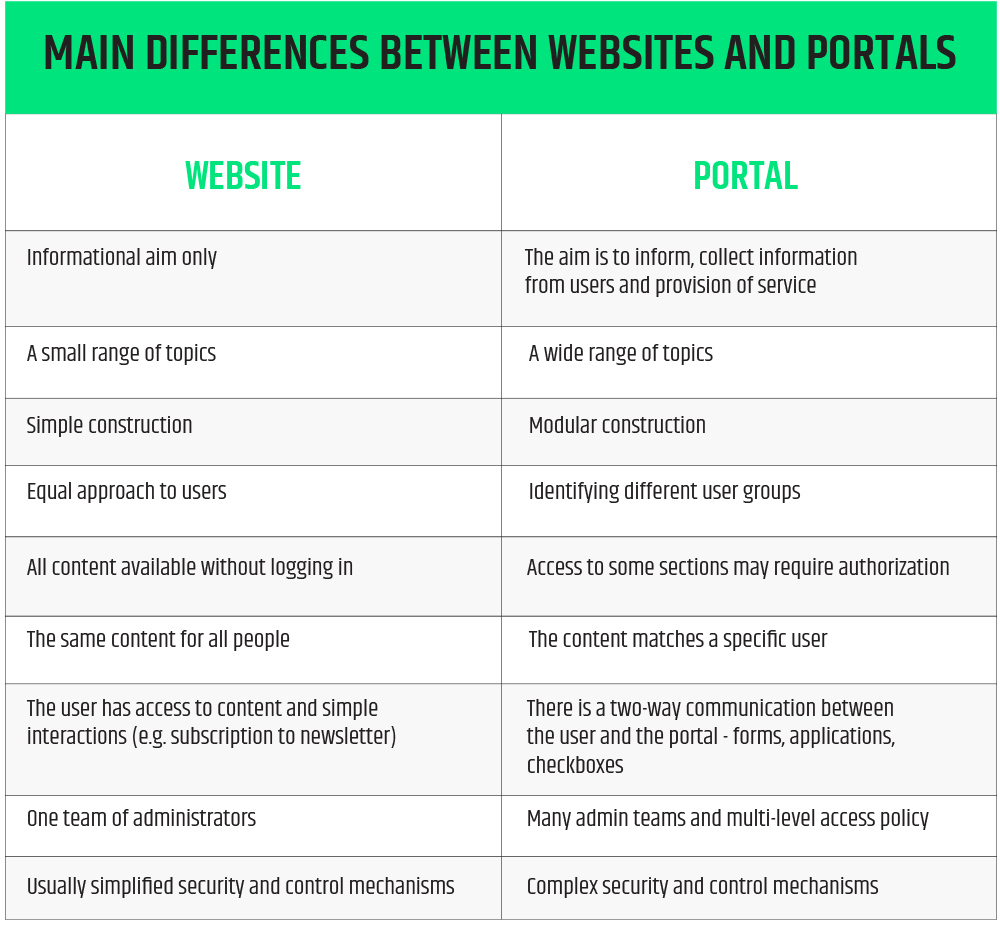 What does your business need – a website or a portal?
To arrive at a correct estimate of your needs, you must first carefully analyze your particular situation. As a rule – and taking market expectations into account – large companies usually require an expanded portal. It is a solution that efficiently supports customer interaction and helps control the knowledge held by that company.
Implementing a portal does not mean completely giving up simple, dedicated websites (e.g. those used in a similar way to landing pages). We have often seen our portal clients approach us again for smaller projects. Sometimes they live a life of their own, but most often these projects revolve around the 'big brother' portal.