The need to do e-commerce
What do medium-sized companies need to become leaders in their target markets? This article talks about the critical importance of e-Commerce as a sales channel.
If you own a medium-sized business, or you're responsible for its sales, consider this: e-commerce turnover surpassed 2.3 trillion US dollars in 2017 and is expected to reach over 4.8 trillion by 2021 - that's 100%+ growth in just 4 years!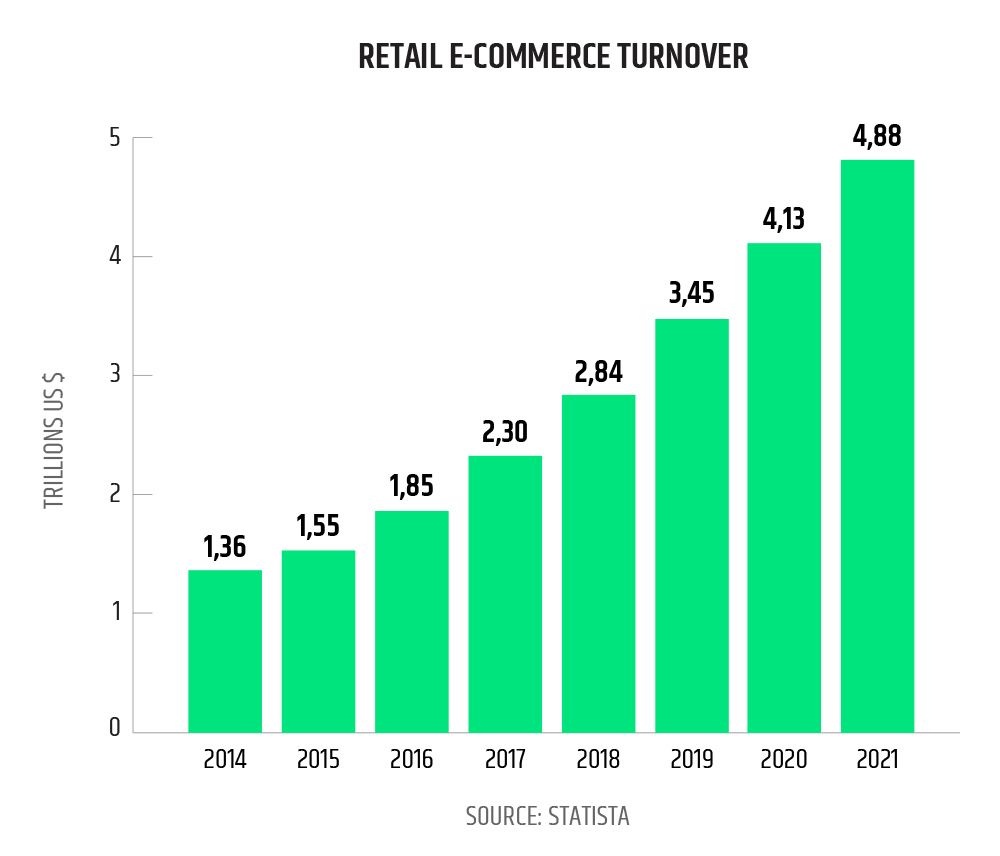 What's the key take away?
Any company which doesn't yet sell online, needs to get into e-Commerce as quickly as possible. Here's what's going on. Instead of using the traditional methods, such as going to a retail outlet or placing paper-based purchase orders via a salesperson, more and more buyers are starting to do purchases 'online', meaning that they are using a vendor's internet-based transactional platform or, put more simply, their online store.
So this means that not only should big corporations with large product portfolios and significant financial resources be doing e-Commerce, but so should medium-sized companies, with smaller offerings and more modest means. It's an absolute must, otherwise they risk losing the ever-growing number of internet-savvy customers that fall within their target audience.
Crucially, whoever ignores this trend has to realize that in the long run they even risk being driven out of business- because the swing towards online commerce is that strong.
But what If a company doesn't do e-commerce yet and isn't sure where to start?
No worries. Here are 5 top platforms worth considering:
BigCommerce - a platform that lets you readily create storefronts for Facebook and Amazon with good features for payments and shipping
Shopify - considered one of the more affordable options for smaller businesses, but can become costly as the business grows.
WooCommerce - a customizable, open-source plugin for WordPress. Lots of feature support available from the developer community, but costs can add up here too.
Squarespace - flexible and easy to use with a focus on brand building and selling.
Magento - comes with a product and payment platform, cloud commerce capabilities (this is important!) and flexible features.
Considered a solution that can grow along with your needs, and readily used by some of the biggest market players.
The appropriate selection of the right platform for your business, will depend on whether you sell directly to customers (you do 'B2C') or strictly to other companies ('B2B'). You also need to take into consideration a number of other factors such as the amount of money you can invest upfront, and where you expect your sales revenue to be in the next couple of years. So check with your IT provider to determine which of the above platforms could work best for you.