The State of Augmented Reality (AR) in e-commerce in 2020
Augmented reality (AR) is a technology that smoothly introduces 3D models into real environments. Thanks to AR, we can see how furniture will look in our apartment before we make the actual purchase. AR now works on smartphones, which means the number of customers who can use it is huge and constantly growing.
For this reason, Grzegorz Miśta, CEO of e-point.design, met Jakub Kosmala, an AR expert and founder of FALAR, to talk about the business applications of this technology.
What is the state of AR in 2020?
Augmented reality is not a recent thing. The first attempts to display images in real environments date back to the 1960s. But the dynamic development of AR for commercial applications, which is currently taking place, began about two years ago. It was then that Apple and Google expanded the capabilities of their mobile operating systems – iOS and Android – with some features associated with AR.
In the beginning, only selected devices supported augmented reality. This was due to the high computing power required for smooth camera image processing. Today, however, most modern smartphones support AR. According to my estimate, 30% of Polish smartphone users can use AR on their devices. And this percentage is growing rapidly. I expect AR to become widely available within two years.
We've recently gained the option to provide AR content without first building and publishing dedicated applications. We can now visualize individual items using a web browser and specially prepared websites. This translates into big opportunities for brands; they no longer need to redirect customers from their websites to dedicated applications when the customer wants to visualize the product. AR has become simple, easy, and fun.
Where does AR work best? In which industries?
AR has many applications today. It initially gained popularity in games and various types of one-off marketing campaigns. Again, this was due to the small number of compatible devices. But as the technology has become widely available, global brands now recognize that augmented reality adds value as an effective way to present their offer. As a result, AR can be beneficial to any industry that has physical products whose appearance makes a difference to customers.
One good example is the furniture industry. An increasing number of brands are focusing on selling their products online. One of the main factors hindering the development of this sales channel is that customers are uncertain about how the furniture will look in their own home. Since AR visualizations allow customers to virtually "place" furniture in a space, we can see why AR is said to perfectly match the needs of furniture brands that want to develop an online channel.
Automotive brands have also begun to use AR so customers can visualize and configure cars. On a side note, seeing a virtual car in your own driveway is quite impressive – try it for yourself!
In the fashion and beauty industries, AR allows customers to see clothes in 3D, try on shoes, and "use" makeup products. Construction companies can use AR to visualize a customer's future home. There are so many applications of AR that it would be easier to mention the industries where this technology is not suitable.
What is more, we are seeing local companies with a growing interest in the possibilities of AR. They want to promote their products and also distinguish themselves from the competition.
What are the most interesting examples of using AR?
The obvious one is IKEA Place – probably the most well-known AR application in the world. It allows users to see how a given piece of furniture will fit into their environment. Interestingly, IKEA has achieved a significant increase in online sales in recent years. The development of its online channel was largely possible due to this smartphone app, which is one of the world's first AR implementations. It's a reference point for other brands.
We can also mention a Polish company with the unusual name of Tylko (that's "only" in English). They offer custom-made furniture, and the configuration is carried out with AR mode. This helps adjust the size and appearance of pieces to their target environment. The brand has gained recognition in Western countries and, at the same time, is perfectly in line with the latest trends about presenting customers with an individualized offer.
There are also other interesting AR applications. For instance, AR can replace traditional printed user manuals or assembly instructions. It can help us quickly find out what a button in a car or home appliance does. Mercedes and Hyundai already have such apps. I think that we will see more of these solutions in the future, as image recognition techniques develop.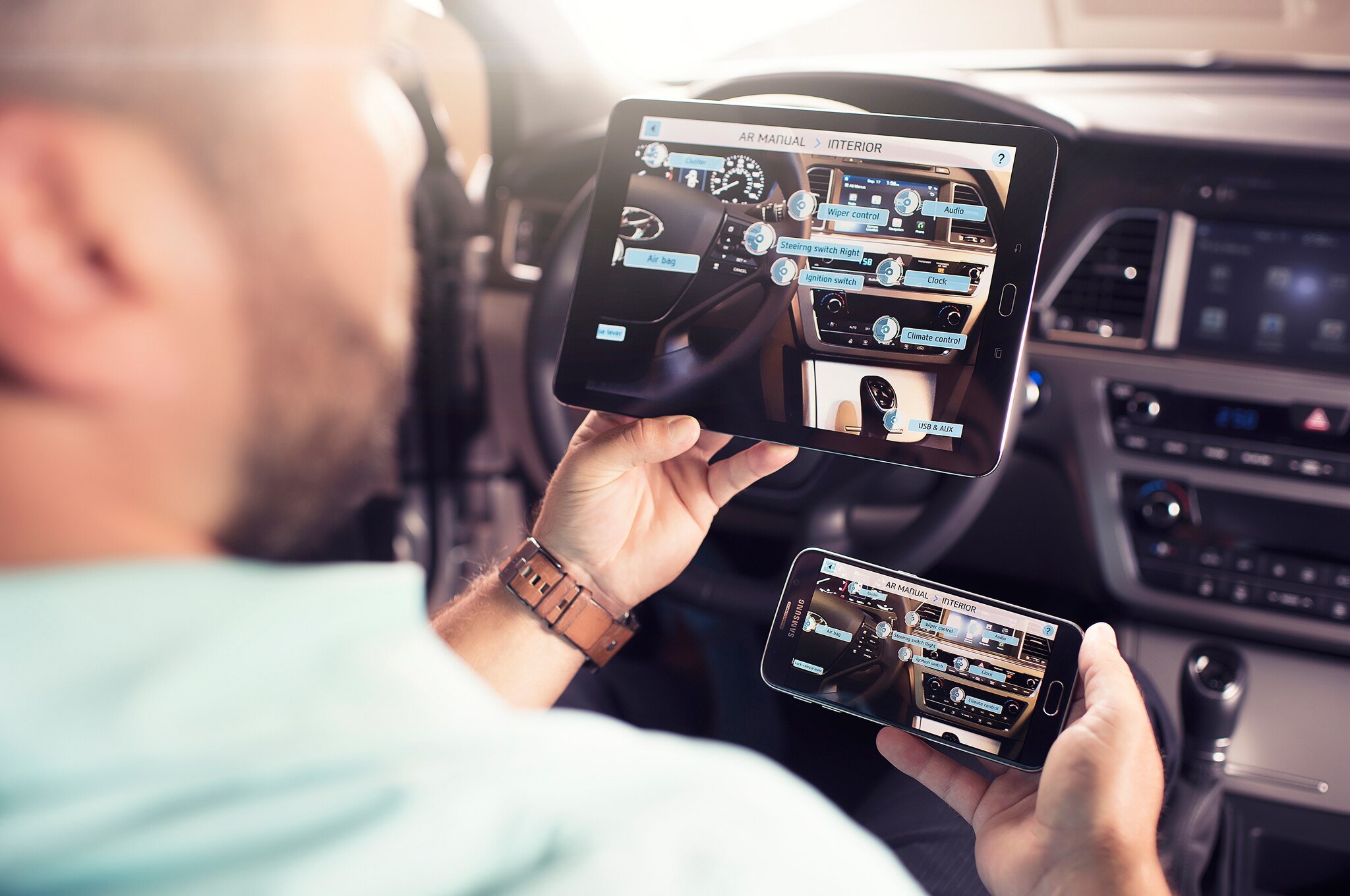 We can also name some universal examples that aren't tied to any single industry. Leading e-commerce platforms – such as Amazon, Wayfair, and Shopify – provide customers (through suppliers) with AR visualizations of various products. In this way, we can visualize a bicycle, lamp, home appliance, or pet bed before buying the actual product.
Shopify + Pure Cycles (web-based):
Amazon:
Wayfair:
The very popular camera image overlays shared via Facebook, Snap, or Instagram are also worth pointing out as examples of AR. They are often introduced in cooperation with large brands that use overlays for their own promotions.
What does AR bring to e-commerce and the customer's shopping path? Why is AR important for e-commerce development?
The development of new technology usually means new customer expectations – they expect their favorite brands to use the latest technologies to make every interaction comfortable and pleasant. AR is a new, interesting way of interacting with customers. It brings a unique added value, namely better item presentation against the background of the customer's individual environment.
Thanks to AR, the customer gets to know a product better before making a purchase. Later, they may be less willing to return it. The U.S. department store Macy's is a good example of this; customers who tried home furnishings virtually using AR or VR prior to purchase showed a threefold decrease in product returns.
A customer's AR experience can be smooth and convenient when brands use the dominant internet channel (mobile) and the default (mobile) web browser. Initiating an augmented reality experience is very simple and can be done directly from the product page. It's important for the customer to return to the item page after viewing the item in AR.
In addition, customers tend to remember products experienced with AR. This is thanks to its interactivity, which positively affects the brand image and customer loyalty. Customer satisfaction and commitment are also enhanced by the context given by the user's environment, which makes the experience much more personalized.
What would you recommend to companies that are considering using AR in e-commerce?
Brands that are already active in e-commerce should consider expanding their current customer path with experiences related to AR. The basic condition is to create digital content, i.e. 3D models or 3D animations that can be displayed in AR. The format of these models and their weight, and thus the number of displayed details, should be adapted to mobile devices' graphic capabilities. It should have a relatively short download time on mobile devices, too.
For many applications, appropriate extensions to a PWA-type website can provide such content. Interestingly, these extensions offer attractive results even when the page is not opened on devices supporting AR; for example, laptop users can use them to "view" an object from all sides.
Naturally, e-commerce companies should first think about their target customers. The implementation of AR may be more important for brands that target customers who are more likely to have AR-supporting devices.
Let's assume that I am an e-commerce manager who would like to invest in an AR pilot project. How should I go about it? How much does it cost? What return on investment (ROI) can I expect?
First, find out the product scope for the pilot project. Companies with a diversified offer that serve various customer segments should use their knowledge of their customers to determine this. The pilot should include products or collections for which AR visualization can translate into greater customer interest.
The cost depends on the number of products to be developed and the availability of reference engineering models that can help build 3D models. For the web option, we will also need to modify the website. When we launch the pilot project, we could additionally support it with a marketing campaign that will encourage customers to try the new visualization option. Therefore, it is difficult to talk about specific figures, but the total cost of a pilot project should not exceed the capabilities of small- and medium-sized companies.
As for the expected results, the American online furniture megasite/e-retailer Houzz shared data that claims an eleven-fold (11x) increase in customers' desire to buy a piece of furniture after trying it in AR. (This was compared to customers who only viewed photos.) Today, Houzz has tens of thousands of furniture models that can be seen in AR. Despite the relatively short time since its foundation (2009), Houzz currently has a huge market share and is valued at around 4 billion USD.
What does the future hold for AR?
AR has so far been treated as an additional feature, especially in the Polish market. We expect this to change, and the research company Gartner shares this opinion. It estimates that in 2020 as many as 100 million customers will shop using AR. Therefore, we predict an increase in the number of simple yet effective AR implementations on websites. In particular, we expect "AR-first" e-commerce implementations, where AR will no longer be an add-on but a basic stage in the customer journey.
This is even more the case because we can already see the growth of smartphone capabilities slowing down. Successive generations of smartphones add less and less value to the average user – internet browsing speed, screen resolution, and internal memory have long ceased to be a limitation.
AR glasses (not to be confused with VR) may be a breakthrough, as in the future they may replace smartphones and become a new universal interface to the digital world. The huge expenditures incurred on the development of such devices seem to confirm this opinion.
Microsoft already offers AR glasses under the name HoloLens. However, their cost makes them intended almost exclusively for business customers. The next generation of these devices, which premiered this year, has significantly increased their capabilities and potential professional applications.
Many eyes are also on Apple, which has been employing AR experts for a long time and is acquiring companies with expertise in this field. I believe that AR glasses, looking like the regular glasses we wear today, will be the next "big thing" in the digital world.