Win-Win: how to leverage employees' talents for organizational success
We all have our natural talents, our inborn predispositions. Being aware of these talents helps people achieve goals and lets them proactively develop their potential. And for businesses, investing in the talent potential can lead to great results.
At e-point, we strive to be the kind of workplace where everyone can become their personal best, fully exploring their talents. And we try to manage teams by focusing on individuals' strengths, not their weaknesses.
This approach was praised by the experts at Pracuj.pl, who awarded our original management system the top spot in their HR Dream Team contest.
"As contest organisers, we see companies focusing on enhancing their staff's weaknesses. However, the e-point team has been successfully focused on identifying and boosting staff strengths. The project was able to prove that individuals' natural talents may be used to create value for the whole group. The project reach is highly business-oriented and synergistic; also, the KPIs speak for themselves. Once more, we wish to congratulate you on the success of this project!" - says Karolina Sapińska, Contest Coordinator of HR Dream Team 2019.
The beginning of e-pont's talent adventure
In 2016, we launched the Talent Development Programme. It converged with one of the points in our Code of Honor – "Discover your talent and strive for mastery in it". This created a work environment in which employees' individual predispositions are used to achieve business goals. This environment encourages everyone to adopt a proactive approach to developing their own natural potential.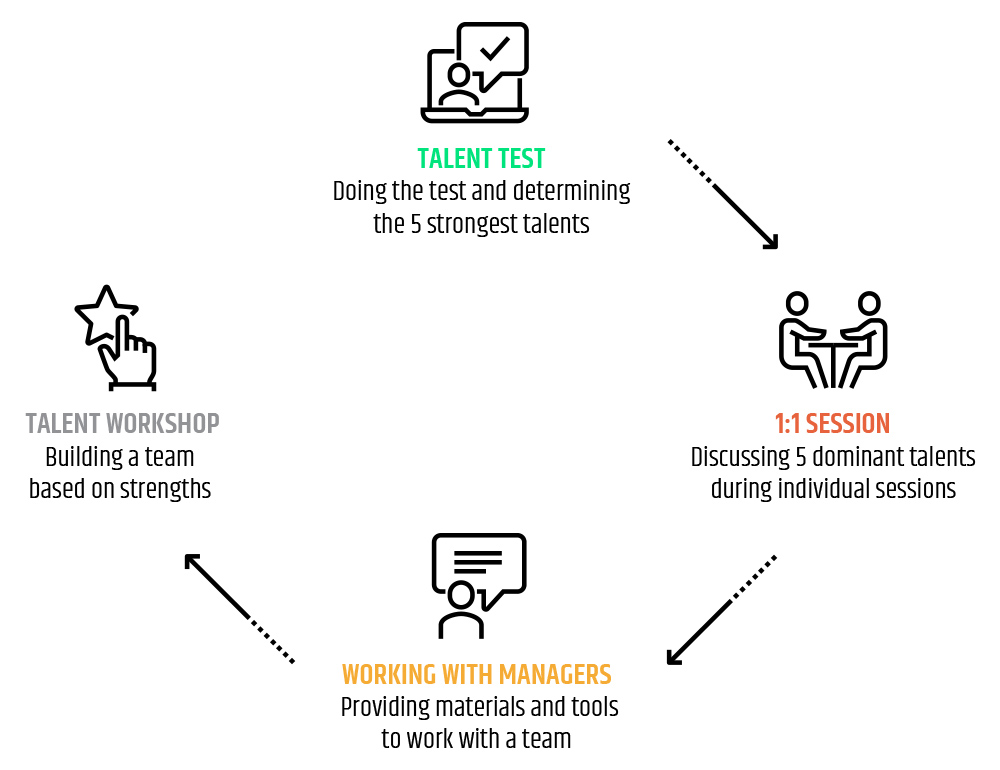 Each person at e-point is encouraged to take the Gallup (CliftonStrengths) test, which helps them discover their key talents. We then follow this up with personal sessions led by a Strengths Trainer. We also stage synergy workshops for teams, helping them to optimize task allocation and employ individual talents to build value for the entire group.
We take great care to ensure everyone at e-point can find a place where their individual talent can thrive. Vertical promotion may not always be the best growth path, so we encourage everyone to try new roles and expand their professional capabilities, taking them to new (and sometimes unexpectedly different) levels.
Talent and e-point's DNA
Part of our DNA is paying attention to each person and striving for the "perfect match", or the best possible correlation between a person and their role at e-point. We were facing rapid company growth, but we also had a shortage of team building tools and no real way to fully identify staff potential.
Time after time, we saw that human behaviour patterns tend to be repetitive. Additional insight arrived in the form of the ground-breaking book First, Break All the Rules. This book shows that people are more successful when they focus on what they are best at. This focus makes them more productive, effective, and engaged, as they employ their natural predispositions (talents), follow their passions, and are driven by intrinsic motivations. That is what makes StrengthsFinder an unparalleled tool for discovering employees' own most powerful motivators and for planning professional growth.
People who know and use their talents at work are six times more engaged, and teams focused on strengths are 12.5% more productive. Therefore, we have been employing the CliftonStrengths survey – and basing our management practice around strengths – ever since we discovered its power.

People who know and use their talents at work are six times more engaged, and teams focused on strengths are 12.5% more productive. Therefore, we have been employing the CliftonStrengths survey – and basing our management practice around strengths – ever since we discovered its power.
The power of talent
Our key goal was to create a unique management system that was focused on working with our employees' identified talents (based on the CliftonStrengths talent test). From the beginning, we recognized that this was going to be a long journey, one made up of a series of smaller steps.
We started by setting challenges that we wanted to meet by the end of 2018. These included:
Conducting educational outreach aimed at promoting the strengths approach and CliftonStrengths tools within the company.
Making the CliftonStrengths test available to all employees.
Understanding and applying strength-based management, starting initially with 10% of our managers.
Designing and conducting our first team synergy workshop.
Incorporating the concept of talents into our onboarding process.
Reaching everyone in the company
The talent project was aimed at all e-point employees, but we paid particular attention to our managers, as they have to motivate their team members on a daily basis. When our first employees took the Gallup test in 2016, we realised that this tool could precisely outline the qualities that determine how people work and what motivates them as individuals. This paved the way for a unique method of strength-based organization building.
These actions were supplemented by a pilot synergy workshop that was attended by 22 people. Attendees were divided into two teams:
Team 1: Six managers.
Team 2: The entire UX team (16 specialists).
The managers' team collected participants' opinions and encouraged them to promote talent-based management in their teams. Team 2 guided the UX team in the practical application of talent-based work.
Taking the next step
For our initiative to produce sustainable effects, we also needed to have some additional activities. One of them was Managers Meetup, an education and information panel that provided an opportunity for managers to discuss talent issues and share their own workshop experiences. During the panel, a Q&A session gave participants the chance to consolidate knowledge acquired during the workshop and get more helpful ideas.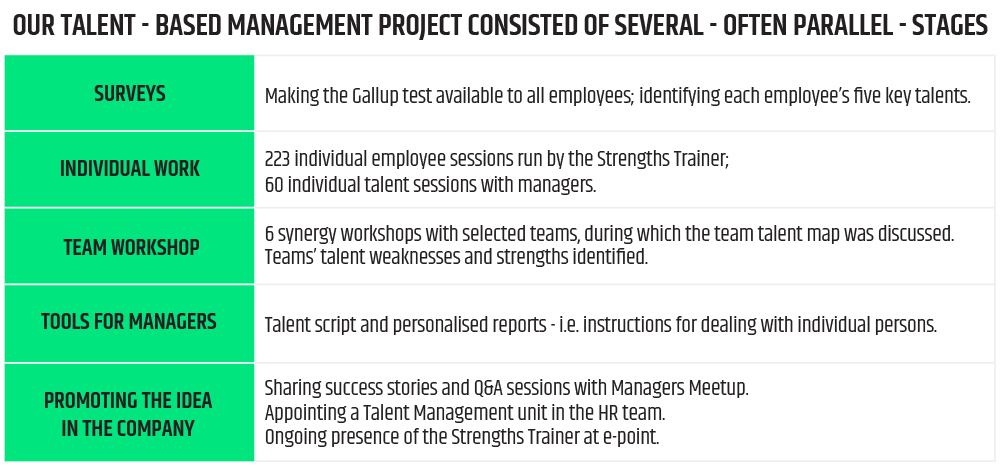 Additionally, we formed a Talent Management unit within our HR department. At the same time, we made sure that a Gallup-certified Strength Trainer remained regularly available. Thus, our talent initiative enjoys full internal support.
Goals achieved, goals planned
We have already met all the short-term goals we initially planned. Currently, about 30% of our managers use a strengths-based approach. After the pilot project had been completed, managers took part in a survey aimed at assessing the impact of the new management style. Survey findings show that many benefits have been obtained: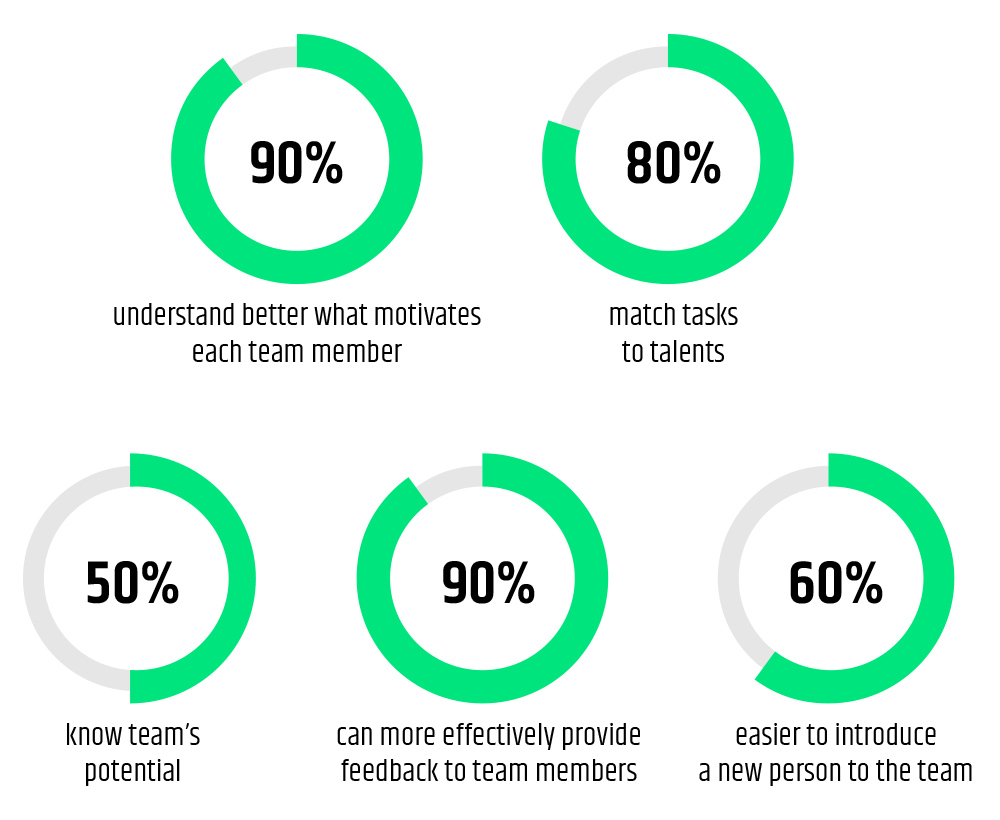 Managers now know their team's potential and can better understand what motivates each team member, match tasks to talents, and give more effective feedback to team members. It's also easier to introduce a new person to the team.
By the numbers, this is what we've achieved so far: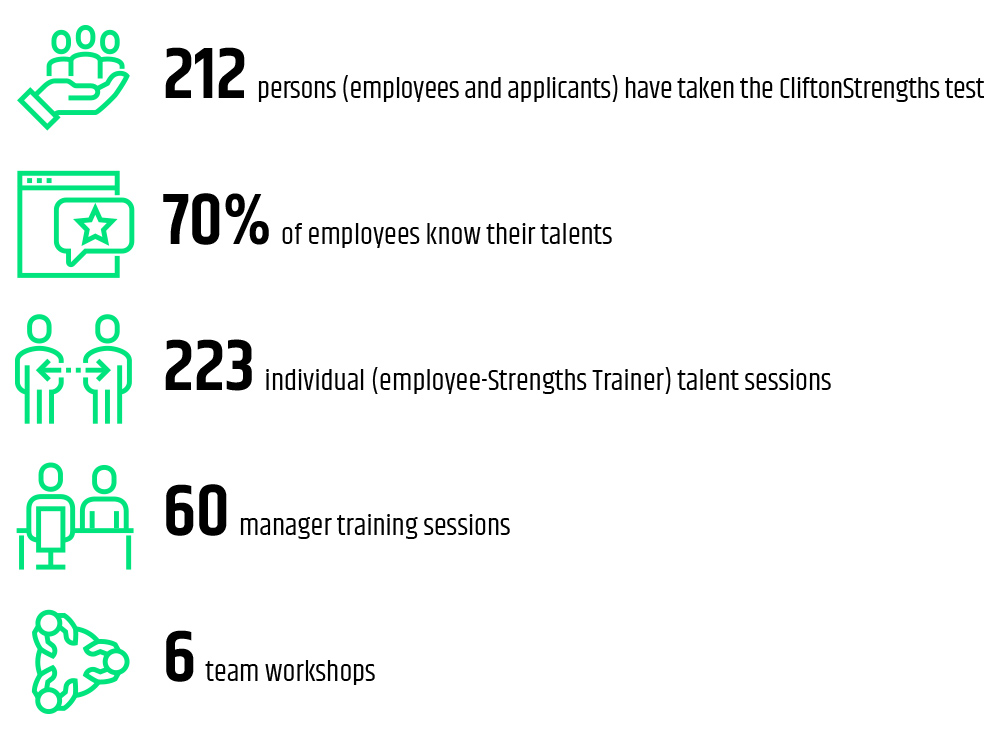 Nevertheless, we know that we've only begun to incorporate a talent-based approach into our company culture. At the moment, most of our efforts are centered on educating and engaging more of our managers, but we plan on launching new initiatives in this area.
Our talent adventure continues
We want everyone at e-point to find a place where their talents can thrive. This means implementing the right approach to company culture and processes – not just in management, but also in employer branding, recruitment, onboarding, career path planning, and project management.
Talents have become a vital element of daily work at e-point. A great majority of employees (over 70%) know and can discuss their strengths. Thanks to this, everyone is aware of where they excel and where they should ask for help from others. This allows teams to use individual talents daily and to enhance communication, task delegation, feedback, and planning.