Remote UX Testing Tools Overview
Since the Coronavirus lockdown, all of e-point has switched to teleworking (a.k.a. remote working). Naturally, we've done the same for our user tests. Although our research team very much appreciates contact with respondents, the current trying times have made remote applications our key UX testing tools.
UX test tool providers' response to the COVID situation was very agile; they immediately started sharing educational materials and organizing webinars on remote testing tools. So, we decided to take a really close look at the tools that support online UX research.
Why We Compiled a List of Top Remote Testing Tools
There are many services and applications which can be used to conduct remote user research. They often appear similar, but their multiple differences demonstrably impact researchers' jobs.
Of course, you can conduct surveys (live, with the help of a moderator), in-depth interviews, or focus groups via popular video conferencing tools like Zoom, Google Meet, and Whereby. However, if you need more specific functionality (e.g. options allowing the configuration of non-moderated task tests or sort cards), you may be better off trying some specialist UX testing tools, such as Lookback, UserTesting, UserZoom, etc.
We could not find a compilation clearly outlining remote user testing tools' key features, so we did our own search and compiled the results into one document. As a software house with a large UX share, we thoroughly understand that user tests are core to any design work. We hope to be able to help everyone engaged in design carry out their remote testing in a more efficient way.
How does e-point perform UX testing?
Our UX team runs the needs analyses and usability tests for most of our projects. During the preliminary stage, we mostly use in-depth individual interviews and card-sorting; to validate prototypes, we usually apply task tests or tree-testing. To verify the functionality of the implemented projects, we use online analytical tools.
Depending on each project's needs, we introduce additional tools to help us better achieve our UX research goals.
So far, we have conducted research for: Grupa PZU, Pekao SA, ING Bank Śląski, BNP Paribas, Bank Pocztowy, Biuro Informacji Kredytowej, Leifheit.
Desired Functionality in UX Test Tools
In our survey, we focused mainly on programs and platforms dedicated to research. We singled out 12 solutions. Our choices were guided by our own experience as well as the popularity and trust these solutions have commanded among researchers active in trade services, social media portals, and online forums.

Our study focuses on features we find important, such as the ability to:
Run moderated surveys.
Record and edit test videos.
Stream the survey (e.g. to the client).
Provide a simple installation process for survey takers.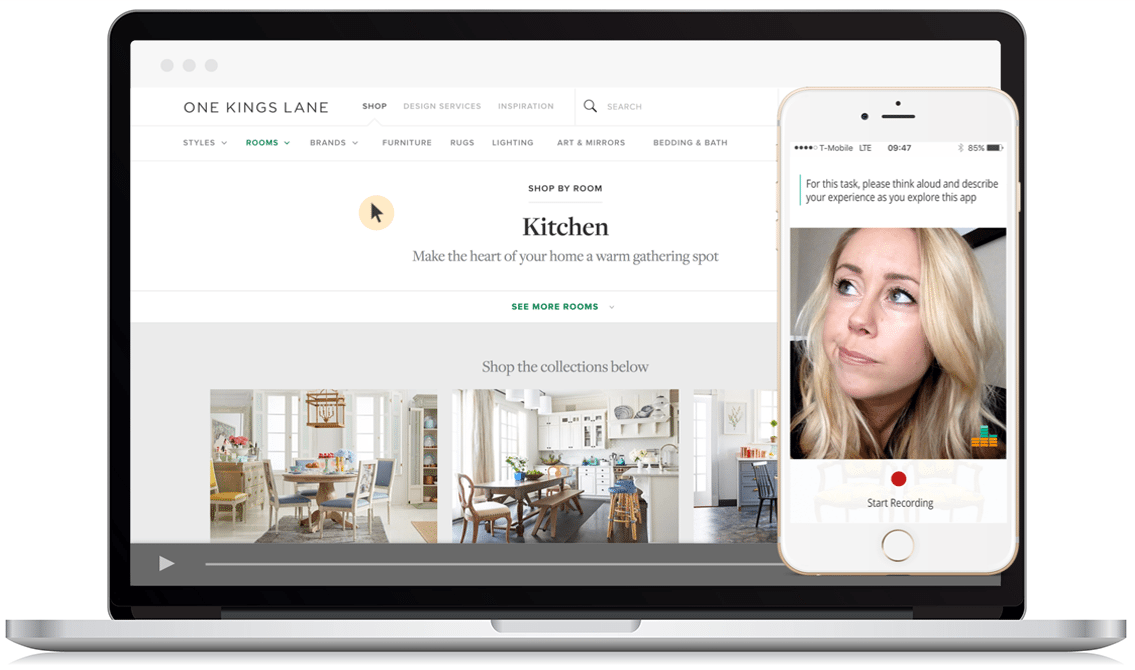 Unmoderated task tests. Source:https://www.userzoom.com/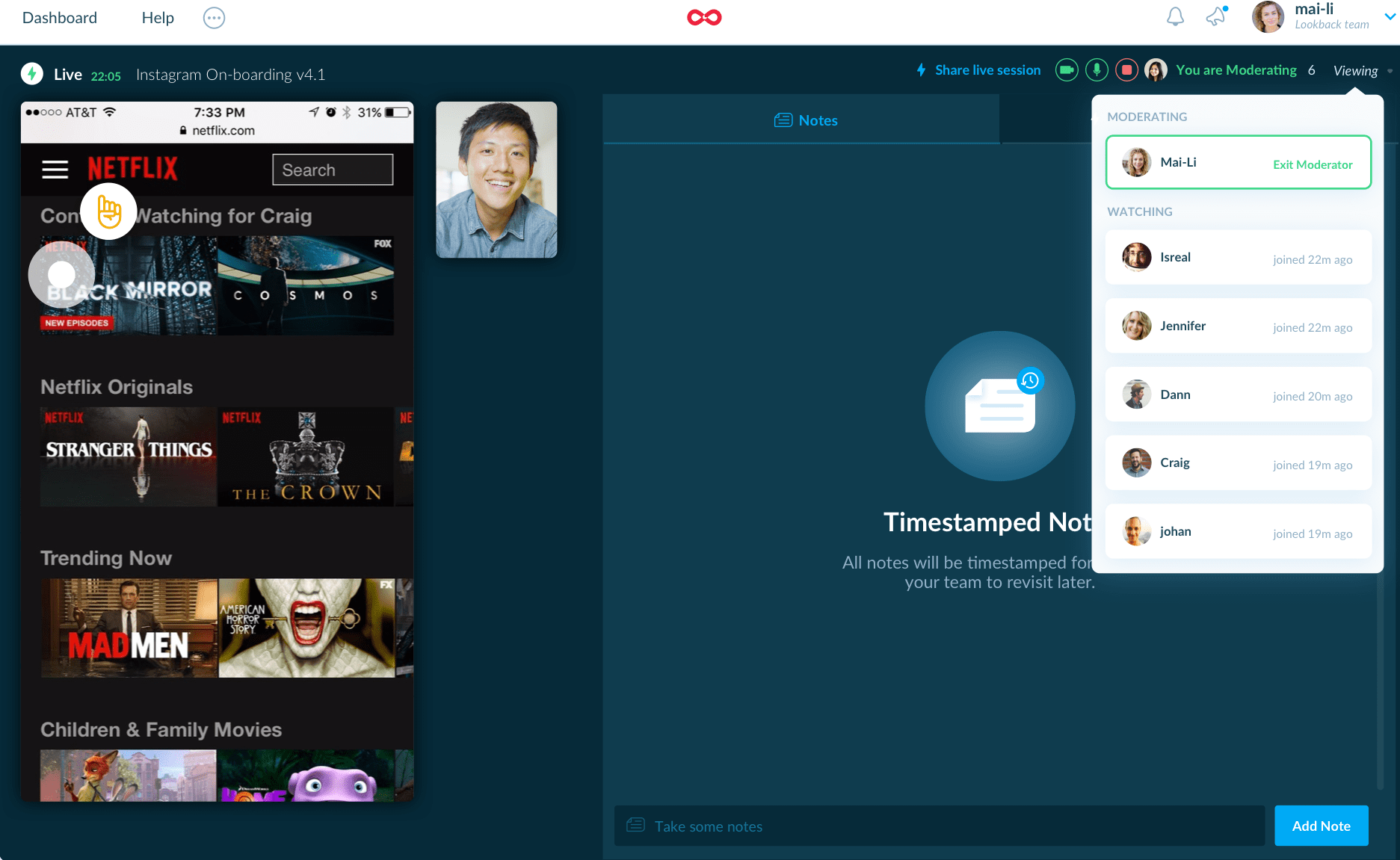 Live session streaming. Source: https://lookback.io/
Naturally, not all of these options are offered by every one of the applications we tested. Many of them possess specialized modules for conducting particular types of research (e.g. card sorting or free testing) or generating heatmaps. Instructions in Polish may also prove vital for tests done in the Polish market.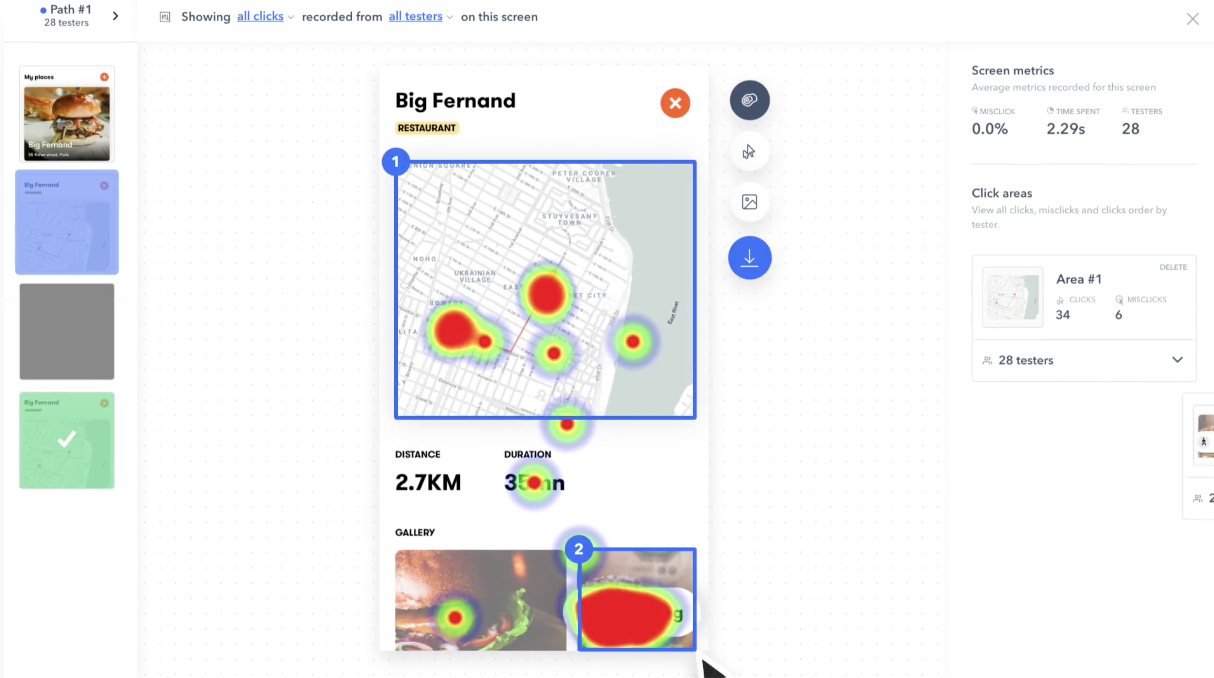 Research session heatmap. Source:https://maze.design/
Most of the selected solutions support respondent recruitment. If you need to quickly recruit users based on simple criteria – and the project tested is in English – such a function may prove really handy.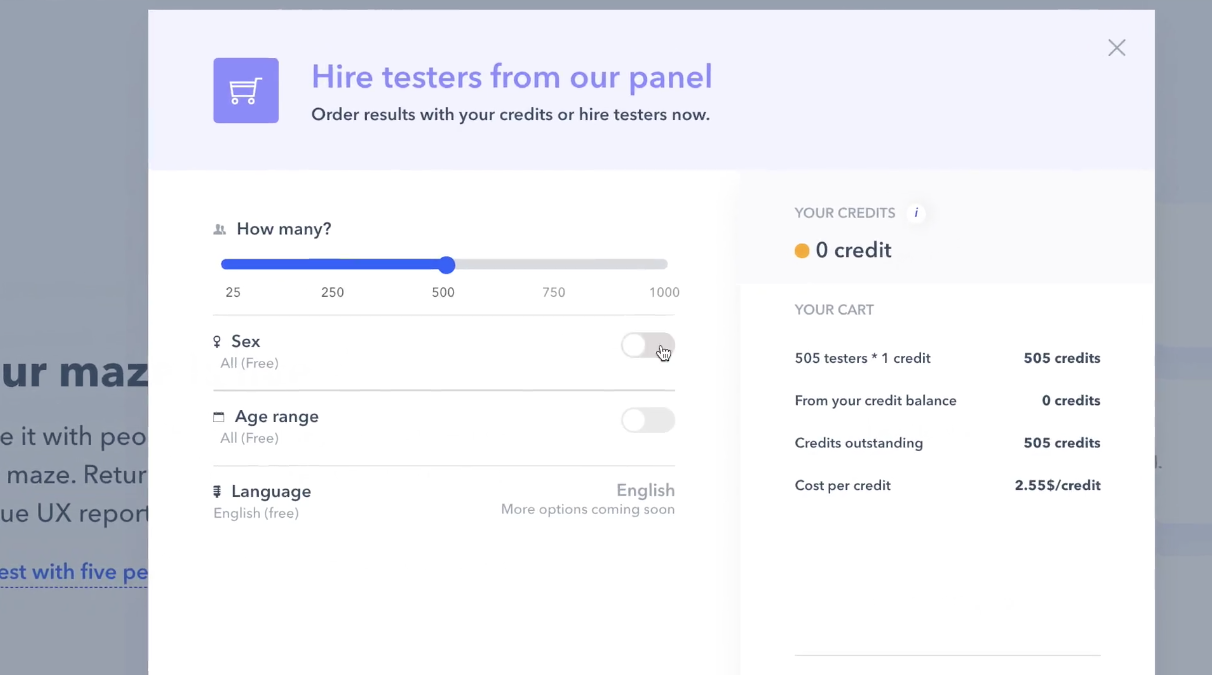 Recruitment panel. Source:https://maze.design/
Several tools have additional functions we have not accounted for; these can be very useful in some applications. I have in mind things like calendars of scheduled tests, recording transcripts, or integration with prototyping tools like Sketch, Figma, Axure RP, and InVision.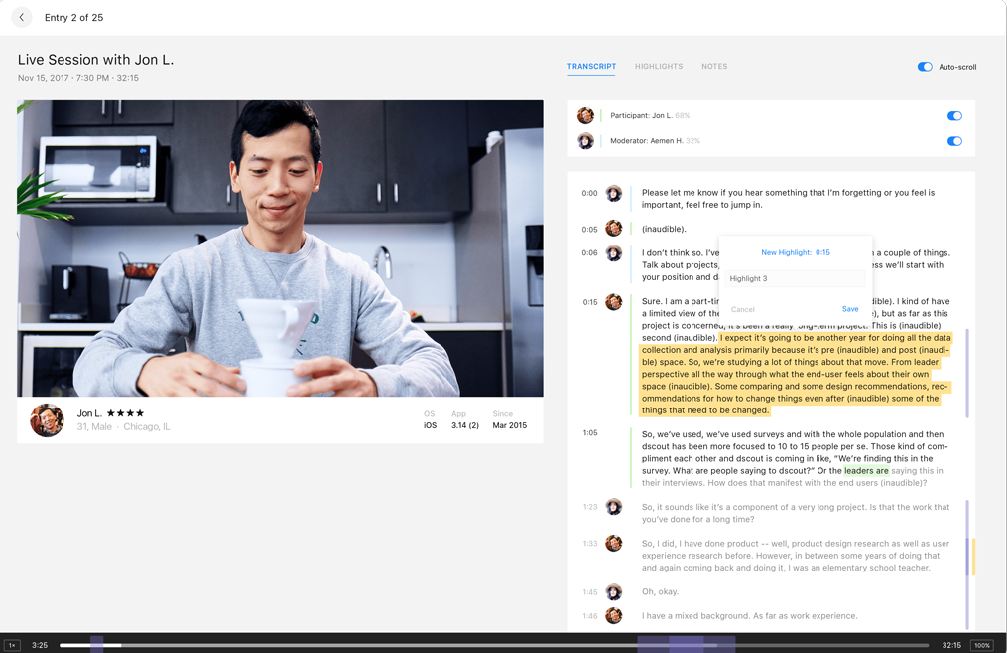 Panel with a transcript of the course of the study. Source:https://dscout.com/
We eventually decided on 18 comparative features which, in our opinion, were the most crucial and universal. Price, quite predictably, is one of them.
Who Will Find Our UX Remote Testing Compilation Useful?
We put the findings of our survey into a handy table which allows you to easily compare various tools according to their key features. This compilation may be helpful to companies just starting their remote UX testing journey. More advanced UX testers may also find some ways to expand their professional competence here as well.
We wish to stress that our intention was not to provide any recommendations or create rankings of these remote testing tools. Assessment of particular tools will always depend on testing goals and research hypotheses as much as on the preferred work methodology.
Hence, we recommend experimenting for yourselves – especially as many tools offer free trial periods that let you conduct repeated research sessions and get familiar with the available functions. We've also included some links to videos explaining different offerings, which will be helpful when you create your initial shortlist.
Will UX Testing Become Remote-First?
The current situation opens a very interesting perspective, as remote tests offer a promising alternative to traditional UX tests. Remote tests tend to be less expensive, faster, and possibly more efficient than traditional methods.
At this point, remote UX testing is the only option for conducting UX tests in a convenient and safe way for both researchers and respondents.