Why Product Information Management (PIM) Is Vital for the Food and Beverage Sector
Product Information Management (PIM) is crucial for food and beverage sector. However, when numerous products, regulations, and partners are involved, managing this data can be complicated. PIM solutions help food companies centralize and automate the management of product information, leading to increased competitiveness. Below, we will examine the use and benefits of PIM in the food industry.
What Is Product Information?
Product information refers to any data related to a product that's relevant to the product's marketing, sale, or use. This may include:
Product descriptions
Pictures
Videos
Product sheets
Weight
Unit of measurement
Composition
Barcodes (i.e. EAN, UPC)
Calorific value
Reference intake quantity
Allergen information
Certifications
Managing product information is challenging due to its utilization by various departments – marketing, trade marketing, sales, and purchasing. Moreover, such information is also used by external entities, such as:
Business partners (e.g. distributors): Business partners require product information to support their marketing and promotional activities. They use product descriptions, features, and pricing information to create effective campaigns and promotions to sell products to end customers.

IT systems: IT teams use product information to integrate product data across different systems. They may use product information to automate inventory management, order processing, and fulfillment processes.

End customers: End customers require detailed and accurate product information to make informed purchasing decisions. They use product information (such as descriptions, specifications, images, and reviews) to compare products and decide which to buy.
Effective product information management enables these stakeholders to access up-to-date product information. It leads to better decision-making and more efficient operations.
This is a complex web of connections. It is full of entities that consume, edit, and sometimes create information. Thus, there are significant risks for human error and process inefficiencies (e.g. correcting one piece of information in multiple places across multiple files and systems). And customers who end up with incorrect product information lose trust.
According to a study by Inriver, incorrect product information causes 53% of consumers to shop elsewhere. Furthermore, 94% of consumers believe that correct product information is important when shopping online.
How Companies Manage Product Information
Many companies rely on flat files (such as Excel spreadsheets) or their employees' knowledge. A PIM system provides a centralized repository for all product-related data. It improves accuracy and reduces the risk of errors, inconsistencies, and compliance issues. As a result, PIM systems have become popular among companies looking to stay competitive.
Such a decision is most often associated with an increase in the number of sales channels or with international expansion. Manually keeping all the data current in each channel becomes too cumbersome.
What Is a Product Information Management System (PIM)?
A PIM system is a software solution that collects and consolidates product information from various sources. It also enables its publication across multiple channels. This allows for the easy searching, verification, and enrichment of necessary data. Updating product information across all channels or adding new products to the portfolio takes much less time.
As a result, implementing a PIM system provides control over product information and reduces the associated management cost. By systematizing and unifying offerings, PIM serves as an excellent foundation for creating e-commerce or omnichannel sales. It is also beneficial for entering new markets.
PIM allows creating a culture of consistency in the company. Product information is stored and edited in one centralized place. This promotes standardization and saves a lot of error-prone manual work.
A central Product Information Management system also means more control over what product descriptions are provided to business partners and in what format.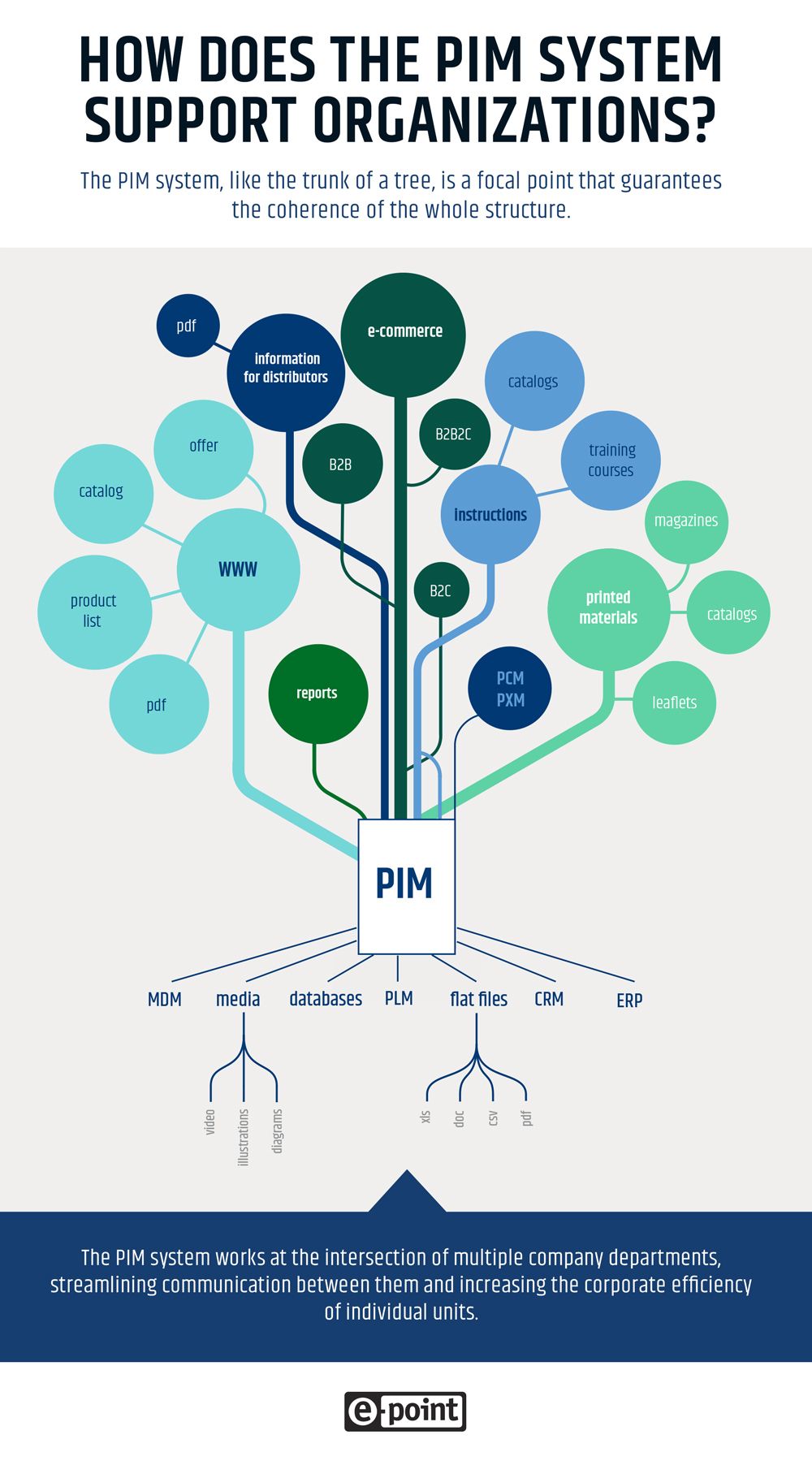 How the Food Industry Can Apply PIM
Product Information Management has a wide range of applications and benefits in the food industry. One of the main advantages is the ability to provide meaningful support to sales. PIM enables the creation of attractive offers in digital channels. Simultaneously, it provides a clear and practical source of knowledge for sales representatives. With access to this knowledge, salespeople can educate themselves and quickly personalize offers to the customer during the conversation.
In addition, organizing product information in an attractive format meets the needs of B2B customers. They require more data and information that's collected in one place and available in a convenient format. This streamlines the ordering process, which translates into larger orders and reduces the number of purchase errors.
Efficient product information management is also crucial from the perspective of accelerating the digitization and the growth of the e-grocery market. Even before the pandemic, Poles were experimenting with this form of shopping. Now it is becoming even more popular, taking various forms that include:
Online stores (including cross-border e-commerce).
Marketplaces.
Meal delivery.
Subscription-based sales.