Redesigning a Multinational Portal for Adamed
Adamed
Pharma leader's new site has better information architecture and a UX experience designed for diverse groups
Pursuing a new strategy for building global awareness, Adamed needed a complete makeover of its corporate website. The project required creating a suitable information architecture for vast amounts of content and ensuring a good user experience.
Adamed targets its message to the medical sector, patients, scientists, future co-workers, and recipients of their social and educational activities. This large and diverse audience means that web content needed to be properly planned and tailored to highly differentiated target groups. That's when we were invited to help create a totally new online image for Adamed.
About Adamed
Adamed is a Polish pharmaceutical and biotechnological company that was founded on Polish scientific thought and its own patents. The company manufactures almost 500 products and serves patients from 70 countries, including Poland.
Project Needs and Goals
Adamed's existing web portal did not align with its goals as a modern international organization. Finding appropriate content and managing language versions caused problems. Plus, their current technology did not effectively adapt the site to mobile devices. We were recruited to:
Develop a new information architecture that's tailored to the needs of each target group.
Create a visual conception aligned with the company's new branding (e.g. as used on drug packaging).
Craft a consistent image for Adamed that would account for local business, regulatory and cultural differences.
Provide support in working out an efficient management model for an online channel owned by a global brand.
Immersing Ourselves in the Pharmaceutical Industry
From the very start of our cooperation, gaining a thorough knowledge of Adamed's activities, products, and clients was key to our success.
Co-designing the portal with the client in a joint workshop was the most efficient method for such a complex project. We started with an intensive day-long workshop with representatives from all of Adamed's teams, from IT to R&D. This allowed us to quickly understand our client's business; meanwhile, the client could learn about our methods and the potential offered by e-point CMS. It was then that we set our joint (and very ambitious) goals and formulated the cornerstone assumptions behind the information architecture.
Later on, we continued working in smaller teams, getting to know their specific needs and expectations. Thanks to this, we were able to propose less standard website elements – including testimonials for the HR team, presenting work pipelines for new drugs for R&D, and hosting interactive presentations of the company history and international branches for the PR department.
The entire meeting process took over 50 hours and engaged almost all of Adamed's teams. This exchange of knowledge went in both directions; we also conducted two comprehensive training sessions, during which we discussed our CMS service, analyzed readers' needs, and talked about the creation of online-customized content.
This experience allowed us to better understand the specifics of the pharmaceutical market and raised our awareness of Adamed's company values, making it possible for us to deliver a truly customized project.
Building an Intuitive Information Structure
"During the first workshop, we created assumptions for the information macro-architecture, i.e. the entire portal structure and the connections between particular sites. We refined it in fast iterations, going down to the group level or site categories, then reaching the micro level of individual sites".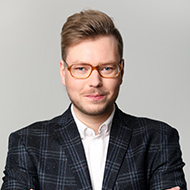 "We regularly verified content completeness in two dimensions: whether we said everything we had intended and whether users would be able to find everything they wanted to read."
On the main site, we have interesting content for various target groups; the homepage is treated as a showcase and a hub for traffic distribution. Area categories in the menu allow for people to get to their desired information with more precise navigation. In places with the highest content density (like the product catalogue), we applied a new and simple system of filters which helps visitors find the right information.
Particular pages were created according to the Pareto rule: 80% of key information is shown in the first 20% of the page length. This content presentation method shows users exactly as much as they need to see at a specific moment – while still encouraging them to read more and learn more about Adamed's range and activity.
e-point CMS
Adamed's website was launched on e-point CMS (formerly ActiveContent), a solution we authored especially for complex, multi-regional or multi-national projects. Thanks to this, we ensured flawless web design responsiveness, which creates a user-friendly experience that adapts to various sized screens (e.g. tablet, smartphone, laptop, and large-screen desktop).
Outcome
The entire project was created with an international expansion strategy in mind. So far, we have launched 10 language versions customized to various alphabets. Each of them has an autonomous edition option for particular branches. We have also developed 35 ready-made components which can be used by Adamed to independently build and develop new sites within the service.
35 components
supporting the development of new sites
10 language versions
customized to the needs of each market
We can also help your company. Write to us and we will analyze your business needs and determine how to improve the employee and customer experience.