Adding Voice Assistant to the PKO Bank Polski App
PKO Bank Polski
Helping the Polish banking leader add voice capabilities to their IKO app.
When PKO Bank Polski, an unquestioned leader in the Polish banking market, invited us to cooperate on designing a voice assistant for its mobile application, we were well aware it was a rare opportunity to create a ground-breaking innovation.
About the Client
PKO Bank Polski is Poland's largest domestic universal bank. In Q3 2020 alone, it served over 11 million clients and managed over 346 billion in assets.
PKO combines a vast scale of operations with an ambitious approach to digital challenges and innovation; this is proven by its top position among European banks in FinnoScore's 2020 report.
Challenges
At the time of our joining the project, PKO Bank Polski was preparing to implement a voice assistant in its mobile application (IKO) and in its telephone channel (specifically, in the service, sales and payment enforcement processes).
This assistant was supposed to handle basic processes like checking account balances and histories, issuing transfer instructions, and topping up phone cards. Additionally, it needed to be able to redirect customers to various areas within the app and provide information about helpful content.
The challenge we formulated together with PKO Bank Polski was:
We want to create a friendly and useful voice assistant which will help as many PKO BP clients as possible to independently use various financial services and perform their tasks faster.
"The idea of an interface usually brings to mind a graphical interface, not a voice interface. Voice produces a different kind of interaction – it is strictly "here and now"; it accompanies us rather than calling for full attention. Designing a voice assistant requires us to abandon certain habits and look for solutions which are better suited to this modality".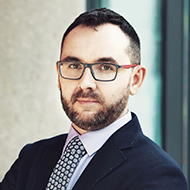 Project Progress
Formulating our outlined goal led us to identify three subsequent stages:
1
Planning and discovery
Sorting out knowledge, establishing the premise, understanding technological abilities, running agile analyses of users' needs, preparing the project brief and the action backlog.
2
Designing the assistant's identity
Collaborating in the development of the assistant's persona and personality and establishing tone of voice and branding elements, done in close cooperation with PKO Bank Polski's UX/UI development team.
3
Designing the onboarding process
Creating rules for the assistant's presentation to the clients, the user's activation process, and support strategies.
We employed our workshop techniques in collaboration with an interdisciplinary team from PKO Bank Polski. Bank representatives were present at all stages - the AI team staff, the design team, and marketing and PR personnel.
In short iterations, subsequent elements of the assistant's identity and the onboarding process were incrementally generated. These ranged from design principles to user journey options, examples of the voice assistant's spoken interactions, and the first screens showing the assistant in the IKO app.
Outcomes
As this was a consulting project, its main outcomes were encapsulated in two final documents:
Tone of Voice, which set guidelines for designing the assistant's communication with the user.
Assistant's Onboarding Process, which defined key steps in the onboarding process as well as establishing a communication framework for the new solution.
We contributed to the visual concept by rendering some of the voice assistant's iconography and collaborating on the design of other branding elements which were later developed by the bank's internal UX/UI designers. We also refined model dialogue replicas in key processes and prepared preliminary user-facing video tutorial scenarios.
Just a few months from its launch, PKO Bank Polski's clients have conducted 360,000 conversations with the IKO voice assistant. Transfer instructions, refilling phone cards, searching for app functions, and finding answers to banking product or service queries lead the list of its most popular uses.
The PKO Bank Polski voice assistant project may be one of the most exciting solutions on the domestic or even European banking market.
We can also help your company. Write to us and we will analyze your business needs and determine how to improve the employee and customer experience.