Migrating from Magento 1 to Magento 2
Support for Magento 1 stops at the end of June 2020. At that point, this version of the Magento platform will not receive new updates, which will quickly affect its security and performance. Now's the time to protect your company's investment and transfer your e-commerce platform to Magento 2.
What does migrating to Magento 2 look like?
Migration from Magento 1 to Magento 2 is a complex process. That is why we take specific steps to ensure that it is carried out correctly: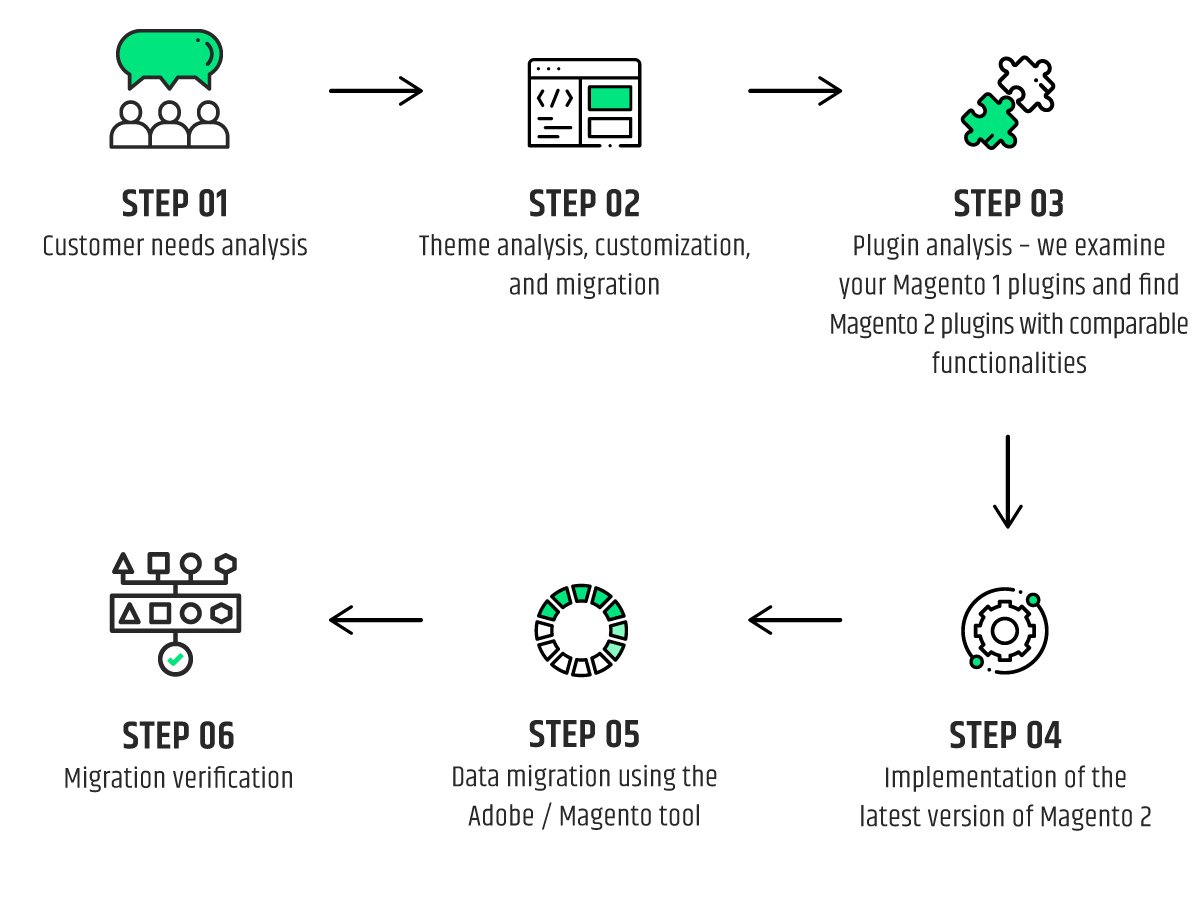 Why upgrade from Magento 1 to Magento 2?
Magento 2 provides new and improved features for your e-commerce platform.
Better performance and scalability.
Optimizes platform speed, which translates into faster server response time for all site activities.
Improved background processes.
Increased database flexibility and scalability, with better handling of peak loads.
The highest security standards
Enhanced password encryption using SHA-256 hash algorithms.
Two-factor authentication logins (optional).
Dynamic backups.
Advanced reporting capabilities that provide real-time insight into key business areas, including:
The number of orders processed.
Additional fees, e.g. shipping costs.
User accounts.
Best-selling products.
Full mobile support:
Improved customer experience for mobile device users.
Discover the benefits of PWAs (Progressive Web Apps) and use the full potential of mobile solutions. e-point's PWA Studio will adapt your Magento site to mobile requirements and solve the problem of building additional native apps.
Magento 2 Will take your e-commerce platform to a new level
Feature

Magento 1

Magento 2


Architecture

Doesn't support latest PHP version (affects everything below)

Supports latest PHP version (affects everything below)


Speed and performance

Standard performance and speed

Up to 39% more orders processed per hour
Up to 66% faster server responsiveness when adding an item to the cart
Up to 51% shorter check-out times.


Extensions

Code conflicts when several extensions are added

Extensions allow the code to overlap the base code instead of replacing it
New technologies: HTML5, CSS3, Require.js, React in PWA Studio


Dashboard

Interactive, clean design
More sales support tools


SEO

No duplicate content checking
No meta tag support

Canonical tag helps avoid duplicate content
Meta tags for individual pages supported


Security

Frequent updates
Enhanced password hash algorithms (SHA-256)


Mobile

No customization for mobile users

Adapted for mobile users (RWD)
Includes PWA Studio, the official PWA from the creators of Magento
Why choose e-point for the migration process?
We work with you to plan the entire process, taking into account your business needs and any external conditions that may affect it.
We strongly emphasize maintaining business continuity and reducing risk during the migration process.
We have lots of experience integrating many data sources
We minimize complexity by combining all areas into one coherent, working project.