Developing an International B2B Platform for Inter Cars
Inter Cars
Scalable SAP Hybris e-commerce platform lets car company support operations in 16 countries
e-point has developed a customized B2B e-commerce system based on SAP Hybris for Inter Cars, Eastern Europe's largest distributor of car parts, which was specifically tailored to meet the demanding needs of the company's sales department and its international business partners.
Client
Inter Cars
A platform covering 100 thousand automobile repair shops across 16 countries
Having selected e-point due to its experience in international e-commerce projects, Inter Cars plans to use the e-point customized SAP Hybris Commerce platform as a foundation underpinning its foreign expansion into new markets. More specifically, the system will be used by the employees of Inter Cars' more than 100 thousand car repair shop partners in 16 countries.
Exemplary B2B e-commerce based on SAP Hybris Commerce
Inter Cars chose SAP Hybris Commerce because it was considered the industry's most adaptable, scalable and stable e-commerce platform for highly complex business operations. e-point, in turn, customized the platform to suit Inter Cars' business needs (including a requirement for call center support), their partners' methodology of work and the demands of operation in a state-of-the-art technological and multinational environment.
Largest SAP Hybris Commerce Cloud project in Europe in 2017
The e-commerce system developed by e-point for Inter Cars leveraged the Cloud version of SAP Hybris Commerce. This allowed optimization of system efficiency and enhancement of key security parameters while maximizing cost effectiveness. Worth noting was that this was the largest SAP Hybris Commerce Cloud project developed in Europe in 2017.
See video: Maciej Oleksowicz about Inter Cars Digital Transformation
Inter Cars' objectives
In 2016 Inter Cars decided to replace several existing ordering systems with a single omnichannel platform (hence the name: Universal Sales Application) that once fully up and running will become a market benchmark.
Multiple systems replaced with single B2B omnichannel platform
Up 'til now Inter Cars had been using several different order placement systems, all of which differed depending on the country in which they were operating. However, these systems were severely limited with respect to further development and integration so Inter Cars determined it was necessary to create a single, universal e-commerce platform to handle the company's complex processes, ongoing foreign expansion, continuous partner growth and dynamically increasing orders.
The best tool in the automotive industry
Inter Cars set for itself the objective of developing the most intuitive and user-friendly catalog of car parts on the market. This was an enormous challenge due to the number of products in their database (1.7 million!), the automotive market data model used and the need to personalize prices on large scale.
This objective stemmed from a basic understanding of repair shop employees' key need: to quickly and precisely identify a part in question and then determine the delivery term and price level. By supplying a solution that dramatically improved this process, Inter Cars sought to improve the satisfaction and efficiency of each repair shop system user and thus ensure itself long term competitive advantage over competition.
Scale of the project
100 thousand automobile repair shops
1.7 million car part products
7 thousand product categories
16 European countries
170 billion individual prices (a unique price is determined for every one of Inter Cars' 1.7 million products at each of their partners' 100 thousand repair shops, based on individual partnership terms & conditions as well as current promotions, etc.)
70 million product and vehicle variants
30 thousand vehicle variants
2.4 thousand filter parameters
Foreign expansion support
Over a relatively short period of time Inter Cars has transformed from a local family-owned business to a major player in the international arena: 40% of its sales are currently generated in 16 international markets and the company is ranked 2nd in Europe in the distribution of car parts for both passenger cars and commercial vehicles. Currently, its objective is expand its presence in foreign markets while simultaneously strengthening its leadership position in Poland.
With these goals in mind, Inter Cars selected SAP Hybris Commerce as the foundation of its international expansion. The e-point customized Hybris platform will insure system maintenance cost optimization and accelerate the introduction of new products and services into partner repair shops across Europe. It will also serve as the basis for future company initiatives, such as the introduction of B2C and B2B2C models.
About Inter Cars
Inter Cars is the largest distributor of spare parts for passenger cars, light commercial vehicles and lorries in Central and Eastern Europe. The company also offers automobile repair shop equipment, in particular tools for tuning, servicing and repairing car and motorcycle parts.
Inter Cars in numbers:
On the market since 1990
240 branches in Poland and 258 branches abroad
2016 revenue: nearly PLN 6 billion – up 24.5% from previous year
Ranked 11 in the Forbes listing of the 100 Largest Private Companies in Poland (2017)
2016 export sales growth: 32%
How does the system work?
The project's objective was ambitious from the beginning: to create the best system for ordering spare parts in the automotive industry. A tool that a repair shop employee needs as much as a wrench or a lift.
Challenge: accessing 1.7 million catalog parts
When a customer arrives at a repair shop, the capability to find and order a necessary part is of paramount importance: only then can a mechanic decide when to begin work. For this reason, e-point put strong emphasis on ensuring convenient search capabilities.
Intuitive and fast search
In order for a search query to be quick and effective, e-point introduced the following:
Faceted filters (e.g. based on technical specifications or delivery time)
Replacement and complementary product suggestions
Landing pages with dedicated search engines for specific product categories
Graphical searching
Option to check the availability of goods in multiple places throughout purchasing process
Delivery time specification, accurate to the hour
Ability to place an order via any mobile device
The system was designed using the RWD standard, thus enabling the user to place an order via, besides a computer, a smartphone, tablet or other mobile device. This was particularly important for mechanics who do not always have easy access to a desktop computer during their work day: sometimes they need to place an order while working on a vehicle or talking to a customer.
State-of-the-Art Customer Experience in B2B
The Inter Cars e-commerce system offers business customers an exemplary Customer Experience known from the world's best B2C applications.
Functional tool used in day-to-day operations at the automobile repair shop
These solutions do more than just facilitate order placement and make the system more user-friendly. By making the correct part easy to find fast, they lower the number of returns and inquiries made to the call center.
Call Center support an an aid in B2B commerce
Although the system is very user-friendly, the ordering process in B2B is at times more complex than in B2C, so it is sometimes necessary for repair shop employees to speak with an Inter Cars consultant. For this purpose, e-point combined online and offline channels by applying a unique solution offered by SAP Hybris Commerce known as Assisted Service Module (ASM).
SAP Hybris ASM: Sales in the omnichannel mode
ASM is a tool dedicated for e-commerce, intended to actively support sales in the online channel by means of a call center. It enables a consultant, when contacted by a partner repair shop employee, to log in to the partner's system and view exactly what the partner employee is seeing. They can then assist the employee in whatever way is necessary, for example, to add products to their shopping cart, include an additional discount or place an order, all during a single phone exchange.
Larger volumes of online order
ASM combines the advantages of ordering online and direct contact with an Inter Cars customer service representative. This makes it possible for the company to finalize larger orders and enables its partners to conveniently learn how to use the system: they know that they can contact customer service at any time if they encounter a problem. Thanks to this, over time it will make it possible to successively increase the number of partner users who can competently order parts entirely in self-service mode.
Personal contact
ASM also allows the incorporation of direct contact into the online ordering process (for example for negotiations or consultations with the Inter Cars account manager). The solution delivered by e-point covers both the e-commerce system and the external environment enhancements, therefore it comprehensively addressed the needs of Inter Cars and its partners.
Marketing mechanisms in SAP Hybris Commerce
SAP Hybris Commerce offers a broad range of functionality to create and execute marketing campaigns. It enables Inter Cars to present products in new, personalized ways and improve the effectiveness of promotional activities. Thanks to these built-in tools it takes less time to plan and create a campaign and the promotion's effects can be easily measured, which allows optimization in future activities. There are 2 types of campaigns that are of particular importance to a marketing strategy.
Medium- and long-term campaigns
Campaigns aimed at improving customer engagement and building loyalty play an important role in Inter Cars communications. These are not one-off activities, but rather processes spread out over an extended period of time, including campaigns addressed to loyal customers or promotions organized by a specific manufacturer.
Data-based personalization
SAP Hybris Commerce allows Inter Cars to plan scenarios based on data and automation rules. In effect, a specific user receives marketing messages tailored to his or her current needs and context.
The choice of market leaders: SAP Hybris Commerce
SAP Hybris Commerce is a stable, safe and efficient solution used by industry leaders all over the world. It is also a mature platform that is being systematically developed by world-class specialists at the SAP Hybris Lab in Gliwice, Poland. So why did Inter Cars choose Hybris?
Forrester Wave Report Praise
Forrester Wave publishes highly respected "Commerce Suite" reports dealing with market opinion on leading software platforms used in the B2C and B2B environments. In their most recent editions SAP Hybris Commerce software was rated best-in-class in both B2C and B2B because it was the most readily adaptable to the specific needs of companies, regardless of their size or industry.
Foreign expansion support
In Inter Cars' case, it was particularly important for SAP Hybris Commerce to support the company's internationalization process and so particular focus was placed on:
Allowing an international partner create numerous, local online storefronts on the same platform
Enabling effective management of product catalogs as well as control of their availability on individual markets
Supporting numerous currencies, languages and local tax rates
Adapting to the specific needs of each business via platform add-ons, including some supplied by e-point, for example supporting localization-related processes, such as translation of content
Leveraging the Cloud to lower costs
A cloud solution offers greater cost-effectiveness and better infrastructure utilization. The Inter Cars e-commerce system developed by e-point was the largest SAP Hybris Commerce Cloud project in Europe in 2017.
Providing exceptional Customer Experience
SAP Hybris Commerce is a comprehensive tool for managing relations with partners and maximizing their customer experience. For Inter Cars, it was particularly important to include functions related to the personalization of communication and the utilization of Call Centers within ASM (Assisted Service Module).
Support for various business models
SAP Hybris Commerce supports B2B, B2C and B2B2C scenarios. Its flexible internal engine makes it possible to adapt to new circumstances faster and expand business activity into new areas. It also shortens Time to Market for new solutions.
Adapting SAP Hybris Commerce to Inter Cars' needs
Starting with the fact that SAP Hybris Commerce was a flexible platform that could be adapted to the specific needs of Inter Cars, e-point then focused on adding additional value by leveraging its 15 years of experience implementing Java EE projects. The result was a unique, fully functioning, high value solution.

Effective Digital Transformation Management
Thanks to long traditions in mathematics and science, Poland is considered one of the best countries in the world for software programmers. As a result, Polish developers and Polish software implementations are used in some of the world's most well known applications including those offered by SAP, Google, Intel and Amazon. So it's worth noting that in this very high performance environment e-point is among the Polish companies that have garnered a significant number of international awards for helping customers achieve state-of-the art digital transformation, particularly in its specialty areas- e-commerce and banking.
Project in numbers
The Inter Cars project involved 40 e-point employees broken into:
2 developer teams
Performance optimization team
Customer Experience (CX) and business team
Duration: 17 months
Work was divided into 12 four-week sprints preceded by the development of Proof of Concept and Foundation phases.
Project delivery
One key to success in the Inter Cars project was the leveraging of a methodology that's unique to e-point. It included:
Agile: the system was developed in stages, thus ensuring flexibility in the implementation of new ideas that emerged during the development process
Scrum components: the project was completed in 12 four-week sprints, with groomings and retrospectives. Sprints were preceded by Proof of Concept and Foundation phases which allowed e-point to gain an appropriate, in-depth understanding of the customer's needs
Close and continuous cooperation with the Customer Experience (CX) team
The use of unique, internally developed systems and processes (such as L10N)
"Solution delivery process was divided into 4-week sprints. At the end of each sprint we delivered complete functional modules integrated with external systems".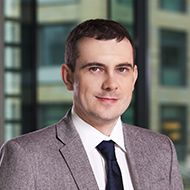 "Thanks to this approach we avoided dedicated integration phase and time-consuming recurrences, and production launch was performed seamlessly". - says Paweł Zabrowski
Synergy of CX and technical competencies
Another key differentiator in e-point's approach was that its CX team was present at all customer meetings throughout the entire project rather than – as is usually the case with most competing companies – only at the beginning. Thanks to this e-point's CX experts delivered concepts and updated models during every stage of the project. They also coordinated all front-end work which insured the best possible interaction between the end user and the application's graphical user interface. Taken together, CX team involvement enhanced Inter Cars-e-point communication, allowed participants to better visualize the outcome they were striving for and significantly raised the quality of the final system.
Capturing and incorporating the customer's business processes and development ambitions in the application is an ongoing process that doesn't stop once the system is brought on-line. For this reason, the e-point CX team is constantly monitoring system operations with an eye towards further optimization. The knowledge gained during this stage allows the team to verify the validity of their initial assumptions and support future projects with actual data that reflects the actions of actual system users.
Technological challenges
Although SAP Hybris Commerce is a ready-to-go e-commerce framework implemented in Java 8 and the popular Spring framework, e-point programmers had to write an additional 170,000 lines of custom code in order to achieve the final result. Along the way they nonetheless faced a number of unique challenges:
| | |
| --- | --- |
| Technological challenge | Solution |
| The type of data model used in the automotive market and the volume of data | For the system's final version, e-point created over 200 additional data types in the data model, utilizing a mixture of uniquely new as well standard type extensions, plus it created over 50 new enumerated data types and over 100 additional relations between types |
| Inability to use the standard integration mechanism applied in Hybris, i.e. Data Hub, due to the very large volume of data, its frequent changes and the inability to export differential data | A completely custom solution was created that consisted of the importation of data directly from the PIM system via the JDBC protocol using the QueryDSL library |
| Managing the order and parallelism of importing specific data types | A dedicated coordinator was used. Ultimately, the data importation solution included over 150 unique classes in the Java language (excluding automatically generated code) that was composed of over 20,000 lines of custom code plus additional unit test code |
| Creating an intuitive and user-friendly system for the specific needs of professional customer in line with modern trends familiar in B2C e-commerce | Single Page Application elements; dedicated product search engines, use of keyboard shortcuts in the ordering process, non-standard search, RWD |
| System efficiency in the face of an extremely large number of products, page views, simultaneous users and backend ERP integrations | Appointment of a dedicated team responsible for overall system efficiency, regular testing, identification of the slowest app components, code optimization, database model optimization, application of a data cache mechanism that changed rarely, etc. |
From the perspective of technical staff (programmers, front-end developers, architects, testers), this project proved the scale of Hybris's capabilities as regards the platforms ability to adapt to non-standard solutions, the volume of stored data and high speed operation.
Integration challenges
One of e-point's key challenges was to deliver a system that was integrated with Inter Cars pre-existing systems.
Product database Integration
One of the first tasks faced by the e-point team was to integrate data from Inter Cars database into SAP Hybris- a particularly difficult problem due to the scale and complexity of the data. To solve this, e-point developed a specialized tool capable of importing over 100 different data types.
ERP system integration
Due to the different ERP systems used by Inter Cars in the countries, all of which needed to be covered by a single integrational interface in the Hybris system, e-point successfully utilized a layer of middleware based on the Oracle Service Bus (OSB) databus.
As part of this work, e-point implemented 30 integrational methods that enabled the exchange of different types of data between each of the ERP systems and SAP Hybris over the Oracle Service Bus (OSB).
SSO Integration
To maximize platform ease of use and maximize security, e-point integrated into Hybris an external Single Sign-on (SSO) mechanism.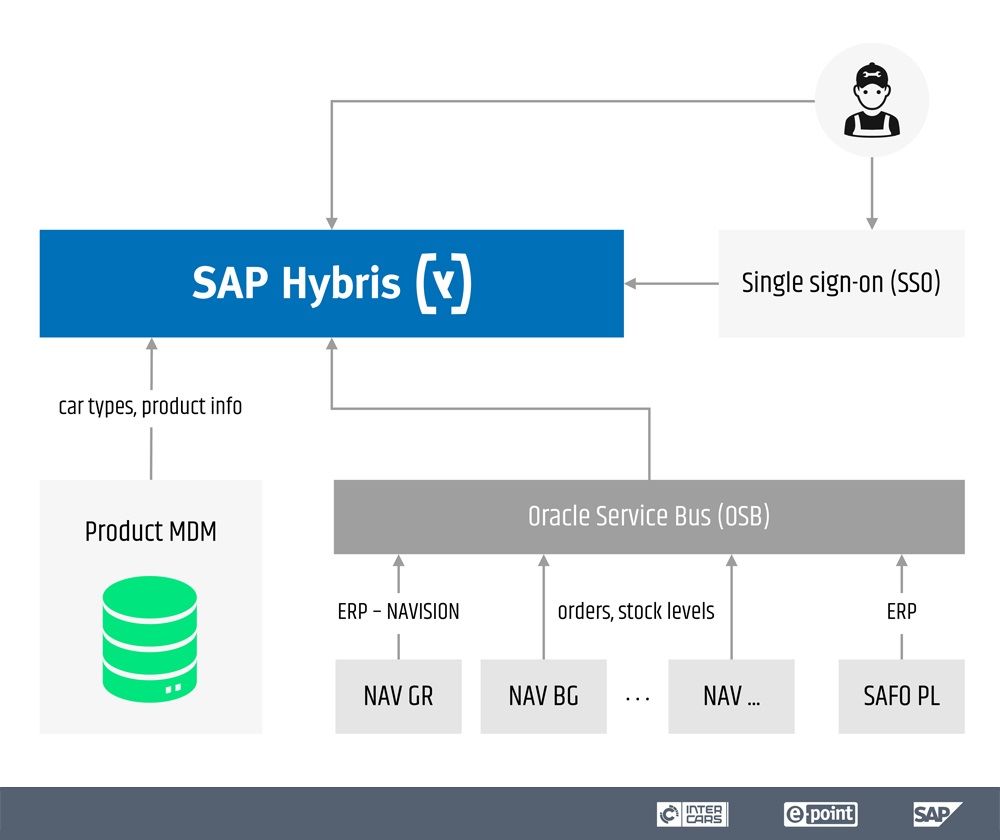 We can also help your company. Write to us and we will analyze your business needs and determine how to improve the employee and customer experience.