Protection against service attacks and other malicious activities requires infrastructure investments, which can be too expensive for single applications. Using an application firewall and protection package can provide a cost-effective solution.
When do you need a protection package for your applications?
You want to ensure continuous accessibility. Service interruptions damage your image and can cause actual financial loss, especially for e-commerce sites.
You need protection against software errors. Large and complex systems are hard to keep error-free – which can leave you vulnerable to unauthorized data access or denial of service (DoS) attacks.
Your system contains personal and/or sensitive data. Customers and companies alike put a premium on the safety and security of their data.
e-point is an authorized Imperva partner
Imperva Incapsula (Imperva Cloud Security) offers a comprehensive solution against Distributed Denial of Service (DDoS) attacks. Packaged with this protection is a dispersed content delivery network (CDN). This provides service protections that are compliant with international anti-DDoS standards. Plus, implementing Incapsula does not require application modification; depending on your product, its launch may be limited just to a DNS name modification.
e-point has carried out many Imperva Incapsula implementations. In addition to offering 24x7 Polish-language support, we can also manage or supervise the service on your behalf.
How does Imperva Incapsula work?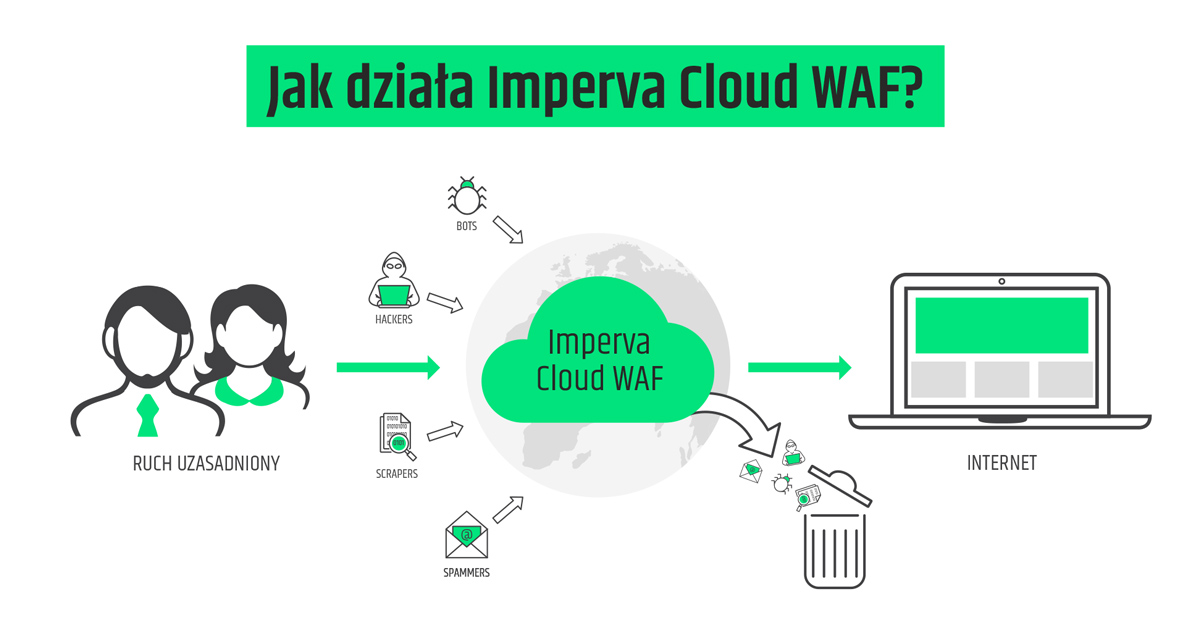 Services included in the package
This protection package provides a number of ways to secure your application and data against web-based attacks. We also offer continuous monitoring, which gives you more control over your resources' security procedures.
Thanks to Imperva's experience, completeness, and quality of service, Gartner awarded them the top ranking for all WAF solutions.

Key features
No need to install dedicated equipment or software.
24x7 support.
Automated attack detection and protection activation.
Near-zero false alerts.
Protection on multiple levels of the OSI network model (3, 4 and 7).
Instant implementation.
Annual subscription.
Optional 14-day trial.
PWe'll manage the complete service implementation.
We are a trusted and experienced Imperva Incapsula partner.
We can also provide comprehensive maintenance, such as adding and configuring new servers.