Learn how to create and develop international e-commerce systems with e-point's experts at SAP Forum!
The estimated value of the European online commerce market was € 509.9 billion in 2016. More and more companies are trying to compete at the level of the entire European Union and not just within individual member states.
Eurostat data indicates that for European companies, sales executed via electronic channels accounted for 16% of the companies' entire income . However, these indexes vary widely: from 7% for Romania and up to 30% for Ireland.
An Europe of many speeds
Online sales have seen a widespread distribution on the most developed markets. In the last year, 81% of UK residents have made at least one online purchase. For Denmark, this figure is 79%, whereas for Romania and Macedonia it's only 11%. For the entire European community, the index is 53%, which is slightly more than Poland's individual total, where 37% of residents made online purchases over the last year.
This data clearly translates into the degree of advancement and development of individual markets within the European Community. However, one should not confuse this index with an individual country's potential or the expansion feasibility. An excellent example can be illustrated by juxtaposing one of the most developed e-commerce markets, i.e. Germany, with the youngest member of the Community, i.e. Romania.
German reliability
German customers and sellers are accustomed to specific standards of service and market practices. The presence of strong local players (Zalando, Lidl) and international retailers (Amazon), forces smaller retailers to compete with the strongest brands. 89% of users in Germany have access to the internet already, and online commerce constitutes 14% of the total German retail turnover.
On the German market, building competitive advantage through predatory pricing will not suffice. In this respect it is difficult to compete with both Amazon and Lidl. Therefore, it is necessary to compete through quality and customer experience, which is much more difficult and creates a much greater entry barrier.
New markets
On the other hand, a company that launches its online business in Romania encounters a market that is largely undeveloped and extremely interesting in terms of potential growth. About 58% of the population have access to the internet and this number continues to grow. What's more, Romania possesses statistically the fastest internet in Europe. This means that while residents are still learning the benefits of being online, they are potentially a great customer base.
In Romania, the world's giants are (still) absent, and many companies have a chance to build their power based on the precedence effect that allowed, for example, Allegro to build its position on the Polish market.
Vertical reach
What differentiates e-commerce from traditional commerce is e-commerce's ability to define its own target group by omitting its geographical location. Although the importance of local searches for the success of online business is undisputed - already 50% of smartphone users and 35% of computer users are looking for services and goods locally - the store does not necessarily need to focus on this aspect.
Instead, e-commerce can address its services to a particular niche, present in many countries, whose needs may not necessarily be handled well by local players. The proof of the effectiveness of this approach is the success of specialized international offline retail networks. Ikea's international success does not mean that no furniture had been sold by local businesses on the markets which Ikea entered. It simply means that the segment of potential customers did not encounter the right offer.
Languages and currencies
With an international expansion, we will encounter differences in tax rates and systems as well as distinct features of the buying culture or currency exchange rates. Logistics also constitutes a challenge, both internationally and locally, for each of the countries. All of these aspects should be controlled by a suitable technological solution.
The basic aspect of expansion is the language of the target country. Although English is now more and more common in the European Union, it is important not to assume that users will be interested in an offer enough to ignore the fact that the website is not in their native language. This applies only to stores with an exceptionally rich or niche-oriented product portfolio. In Poland, for example, Amazon, which is still not fully operational on the Polish market, still attracts Poles who are eager to buy there. And with the launch of the Polish version of the German Amazon website, this buying frequency may increase even more.
When translating, it is necessary to take into account the length of words and the conciseness of the language. For example, words in Finnish and German can be much longer and may not fit in their respective frames when using the standard layout that works for English or Polish.
Translation, i.e. the matter of organization
All product descriptions must be translated, which can be both organizationally and financially challenging. On the one hand, stores have thousands of products on offer whose descriptions must be both SEO-tailored and written in a persuasive language that will sell them. While store owners have full control of descriptions written in their native language, it is an entirely different matter in case of foreign languages. Similarly, a level of complexity exists when the goods sold are highly specialized and require appropriate technical translations and each nuance can be of key significance to the buyer. Buying a backpack involves a completely different level of risk than buying spare parts for oil tanker engines.
Black Thursday vs. e-commerce
Apart from the description itself, it is also necessary to take into account the local currency. The e-commerce software must match product prices with current exchange rates on the fly. While truly spectacular changes are uncommon, the mechanism should be ready to introduce appropriate adjustments at any time. An example of a risky situation as far as exchange rates are concerned was the so-called Black Thursday of 15 January 2015, when the Swiss franc strengthened in a moment by a few to a dozen or so percent against other currencies.
Legal and tax aspects represent challenges, as well. Each country has its own legislation that needs to be taken into account when designing the return policy and the terms & conditions. Depending on the assortment, VAT rates may vary. If, additionally, a daughter company is established in the target country, there will be differences in corporate income tax and on-site employment.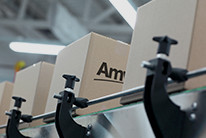 Amway
E-commerce platform for 31 countries
The importance of technology
Technology is essential. The SAP Hybris software deals with all of the above mentioned risks from the very beginning, and because of its great flexibility and numerous built-in features it allows businesses to alleviate and eliminate many of them immediately.
The strength of SAP Hybris is primarily an experienced, international institution that supports its development. Due to fierce competition in the enterprise-class solutions segment, SAP provides access to the latest and even emerging technologies that will lead to gaining the market advantage.
What's more, the modular and flexible design of the SAP software provides for a truly agile approach to gaining sales in other markets. Even if the company has exhaustively studied the target market, some of the assumptions may not work in practice or may work in an entirely different manner. For this reason, deploying a solution using agile methodology is much safer than the standard business approach based on a strong markret entry and counting on momentum to improve sales.
Would you like to learn more about expansion into foreign markets? Do you wonder how SAP Hybris can ensure your business' success? Sign up for the upcoming SAP Forum and join e-point's table of experts!