Pilot e-Com Project Helps Leifheit Enter Online B2C Market
Leifheit
Overcoming technical roadblocks to interacting directly with consumers
For decades, Leifheit – a home products manufacturer based in Germany – sold its products through distributors. Recently, they made the decision to sell directly to consumers via their branded online store. While this proved to be a profitable decision, there were some technical roadblocks that needed to be overcome.
Project Roadmap
Leifheit has been a leading provider of cleaning, ironing, drying, and kitchen goods for 60 years. They employ about 1,100 people and serve 80 countries worldwide. Their business model was focused on B2B sales, exclusively targeting partners and distributors. They did not get involved in B2C sales. However, changing consumer buying habits and fluctuating interest in their products led Leifheit to test the potential of online B2C sales. To gauge the potential of online sales made directly to consumers, Leifheit launched a pilot e-commerce platform in the Polish market.
Why Transfer an In-Progress Project?
This project was initially contracted to another supplier, but the scale and level of difficulty involved prompted Leifheit to transfer it to e-point. For us, not being in on the project from the start presented its own issues. We often did not know the context or bases for the decisions made by the former provider, and best practices and documentation procedures were lacking.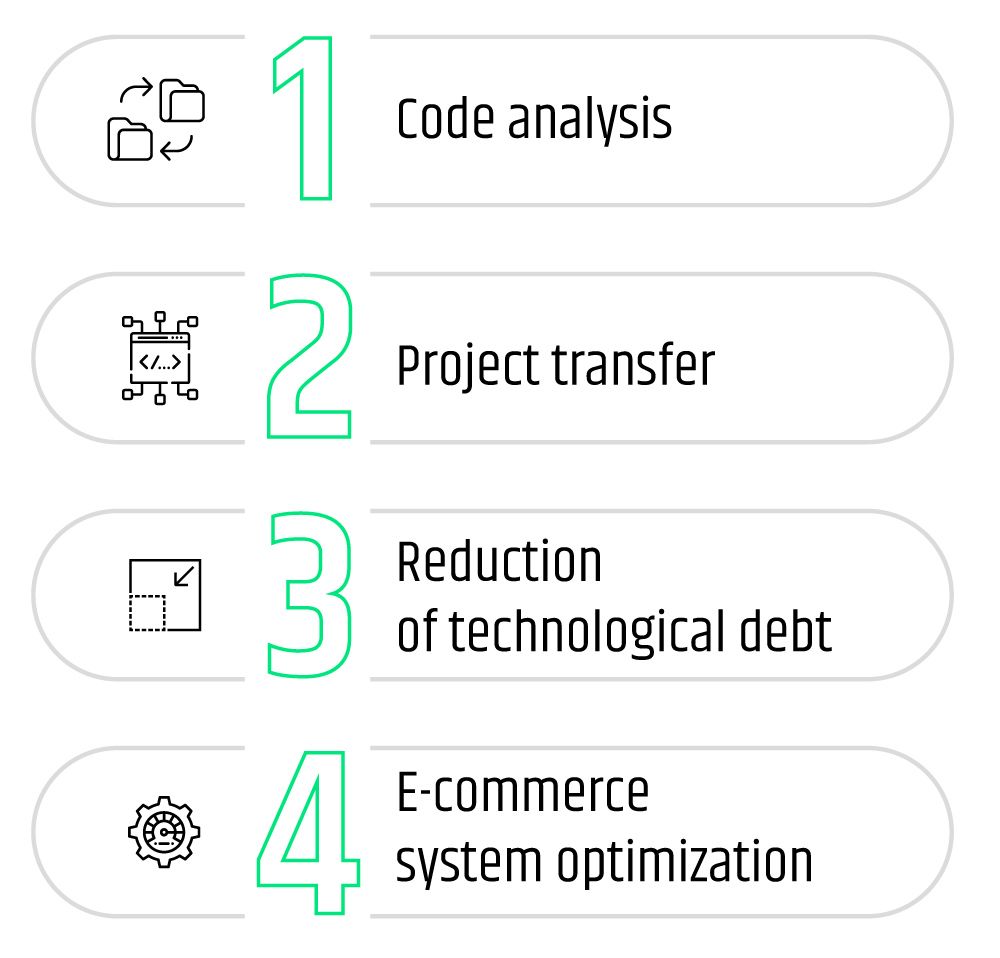 How We Handled the Leifheit E-Commerce Project
Keys to a Successful E-Commerce Pilot
Katarzyna Bronowska, Leifheit Polska's E-commerce and Marketing Manager, explains how the pilot project went:
"Changing our technological partner to e-point was a milestone for Leifheit's branded online store. We had a partner who made it possible for us to implement our planned actions and helped our e-commerce efforts quickly become successful".
What was key to this e-commerce pilot's success? Several things.
Key 1: Communication
In every project, communication is vital. Everyone involved should be able to see how the work is progressing. Because this project had several dispersed international teams, we had to think carefully about how to keep everyone connected. To facilitate such distributed communication, we decided to use Google Hangouts and Jira's project-tracking tools instead of email. Regular video conferences between us and Leifheit also enhanced our information exchange and allowed both sides to clarify any questions or uncertainties. Having a Project Coordinator in Leifheit Polska also provided us with a lot of great support.
Key 2: Cleanup
Our initial workload involved a thorough analysis of the existing code and a reduction in Leifheit's technological debt. In a two-month timeframe, we eliminated code errors and got the platform working correctly. We also removed ERP-to-e-commerce communication problems, e.g. issues with payment and product return procedures.
Key 3: Project Support
We made the project support process as transparent as possible. This meant regular status meetings, followed by lists of the actions and decisions necessary for us to meet the scheduled deadlines. Such openness and clarity allowed us to build confidence and partnership in the project.
Key 4: Choosing the Right Platform
Leifheit's online store was built on SAP Commerce, which provides stability and security and also supports international e-commerce. SAP Commerce allows the creation of local stores on a common platform and lets users manage product catalogues and product availability for particular markets. Plus, there is broad support for many currencies, tax rates, and languages.
Another great advantage of SAP Commerce is that it is not a scratch-built platform but a set of elements that can be assembled as desired. The time required for implementation is much less than that of a tailor-made platform. Further customization can be provided by various extensions, including those provided by e-point.
An additional factor was that Leifheit uses SAP ERP and SAP Marketing; an e-commerce solution in the same ecosystem was a natural choice. Plus, SAP has an excellent reputation for service and stability; it provides technical support to clients and is built on proven technologies like Java and Apache SOLR.
E-Commerce Success Requires UX Optimization
While a lot of this project was technical in nature – we cleaned up a lot of code and implemented various optimization techniques – true success required more than just coding. We also strove to improve the customer experience. Our design team and UX specialists put in some sterling work and helped craft a solution that increased both conversion and sales volume.
Overall, we think the results speak for themselves.
255% Sales Growth In 3 Months
At this point in the project, we concentrated on quick wins: accelerated optimization actions that produce great results over a short time. These are found by identifying problems or difficulties in the purchasing process.
Thanks to these actions, Leifheit saw the following results in just three months:

218% increase in purchasing process conversion (i.e. going all the way from shopping cart to checkout)

59% decrease in cart abandonment

30% increase in conversion from July (when we implemented changes) to October
Clearly, Leifheit's potential for e-commerce growth is impressive.
"A few months of cooperation produced such good results that we decided to continue developing this sales channel. Together with e-point, we're planning further optimization and growth for this platform, as well as roll-outs in other countries".