e2m storefront
Formerly PWA Commerce Accelerator
A powerful, state-of-the-art e-commerce storefront technology that can be integrated with any existing commerce engine.
The leaders of e-commerce are rapidly moving to a new class of high performance online storefront that is inherently safe and stable on the desktop while simultaneously offering a best-in-class mobile experience.
These next gen apps are categorized as PWAs (Progressive Web Applications). They operate to a standard introduced by Google which takes advantage of SEO (Search Engine Optimization)- a capability which enables much broader target customer reach and significantly better conversion rates.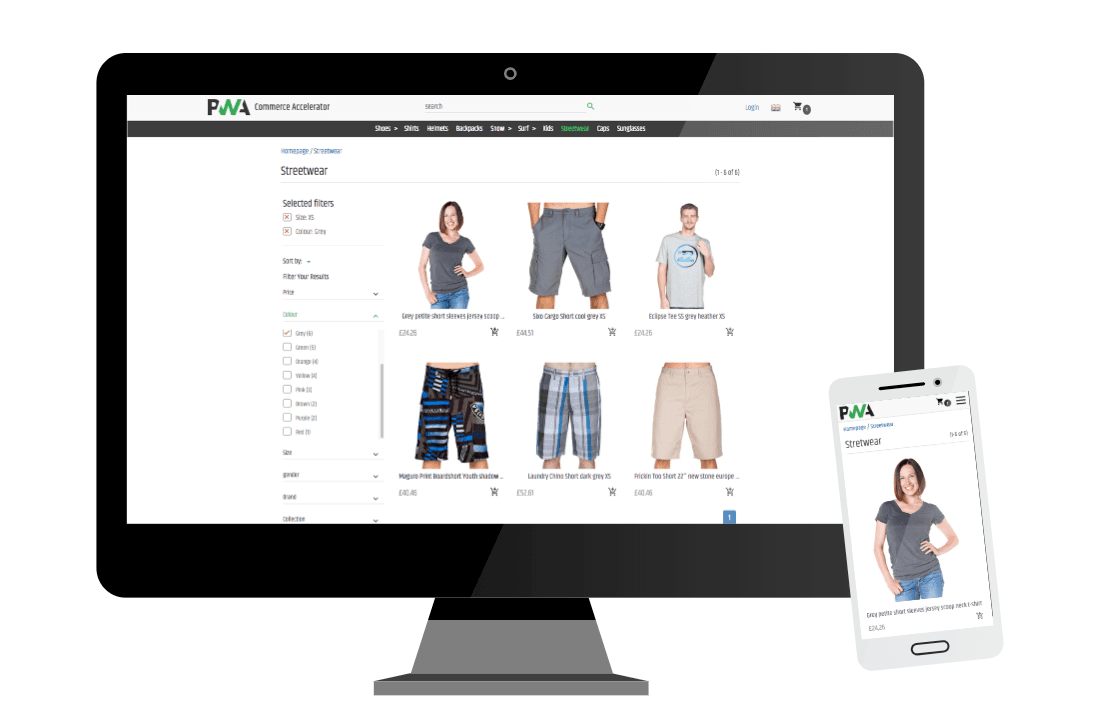 Worth noting, though, is that PWA is actually an ideal, a concept that needs to be put into action by a developer using specialized technology. And at e-point we've developed a flexible storefront framework based on the leading PWA toolbox, React.js to achieve the standard's potential. Our e2m storefront allows us to take a client's existing storefront and enhance performance to a completely new level. Or, alternatively, we can put together a new, state-of-art online store that contains the entire range of PWA capabilities.
Why use the e2m storefront for your online store?
Essential features:
One unified solution for both desktop and mobile shopping that can be adapted to suit the specific needs of both the online vendor and the end-user.
a fast, scalable and convenient platform that's independent from the system back-end (see diagram below)
fully SEO (Search Engine Optimized) according to the Google standard
can be set up and deployed ultra-fast (Time2Market). Key features are provided Out of the Box and ready to work once configured
pre-integrated B2C and B2B implementation scenarios already available for SAP Commerce and Broadleaf Commerce
Built using latest, cutting-edge technology from React.js (at customer request we can use other PWA toolboxes such as Redux, Express and Babel).
Advantageous in terms of TCO (Total Cost of Ownership) - no hidden/additional costs with flexible pricing based solely on customer requirements
Future changes & fixes doable easily - e2m storefront operates to a large degree independently from the underlying e-commerce engine.
e-point's approach to PWA
One big reason why e-point chose React.js, is because the technology is fully proven and used by some of the most potent forces in the online world, for example, Facebook.
As the Facebook model attests, applications built using React.js provide a flexible, rich and powerful experience. This is thanks to the toolbox's particularly comprehensive JavaScript library, one that lends itself to the widest possible range of projects, from microsites to powerful social media networks.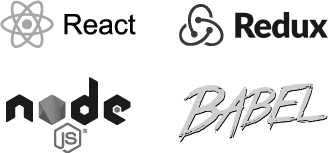 As noted earlier, e2m storefront can be implemented with whatever back-end solution you already have - whether it be Magento, Oracle Commerce Platform (ATG), PimCore, SAP/Hybris Commerce or Broadleaf Commerce.
And it's worth underlining that thanks to being a SAP strategic partner, e-point already has a fully integrated PWA storefront for the Hybris Commerce ecosystem - ready to be customized and deployed.
For other ecosystems e-point's turnaround time is still fast. Smaller stores with fewer customization requirements require only about 1 month to be upgraded to PWA-class. Larger shops with more complex requirements take about 2-4 months.
Do you need an e-commerce system?
Although e2m storefront works on top of your existing e-commerce platform. if you don't have a platform or aren't satisfied with your current solution, we can solve that problem too- we offer an entire range of end-to-end omnichannel e-commerce solutions based on whichever backoffice engine works best for you, including:

SAP Hybris Commerce Platform (B2B, B2C)

Magento

Custom commerce
Additional information about e-point services
If desired, and particularly when internal company regulations demand such, we can provide Product Development Services which feature:
full code access and rights transfer to your company
time & material project management and billing (you decide the amount of e-point resources to be used)
a BOT development model - Build, Operate & Transfer
high degree of flexibility regarding timeframes & where development work is done