Product Information Management (PIM)
PIM (Product Information Management) systems streamline and automate product information tasks. Such systems are primarily used by product managers, marketing teams, and sales departments to optimize offer management.
PIM systems consolidate product information from various sources, store them in one location, and enable brands to publish them across different channels. Data can easily be searched, verified, and enriched. Plus, updating data and adding new product information takes significantly less time.
PIM systems ensure control over product information and lead to lower service costs. They organize and structure offers, making them more coherent. If you're in e-commerce or omnichannel sales – or if you're thinking about entering new markets – consider investing in a PIM system.
PIM Architecture
PIM systems store key data for companies launching new sales channels or operating in multiple markets. Thanks to better offer management and online catalog management, they also enhance sharing such data with partners and clients.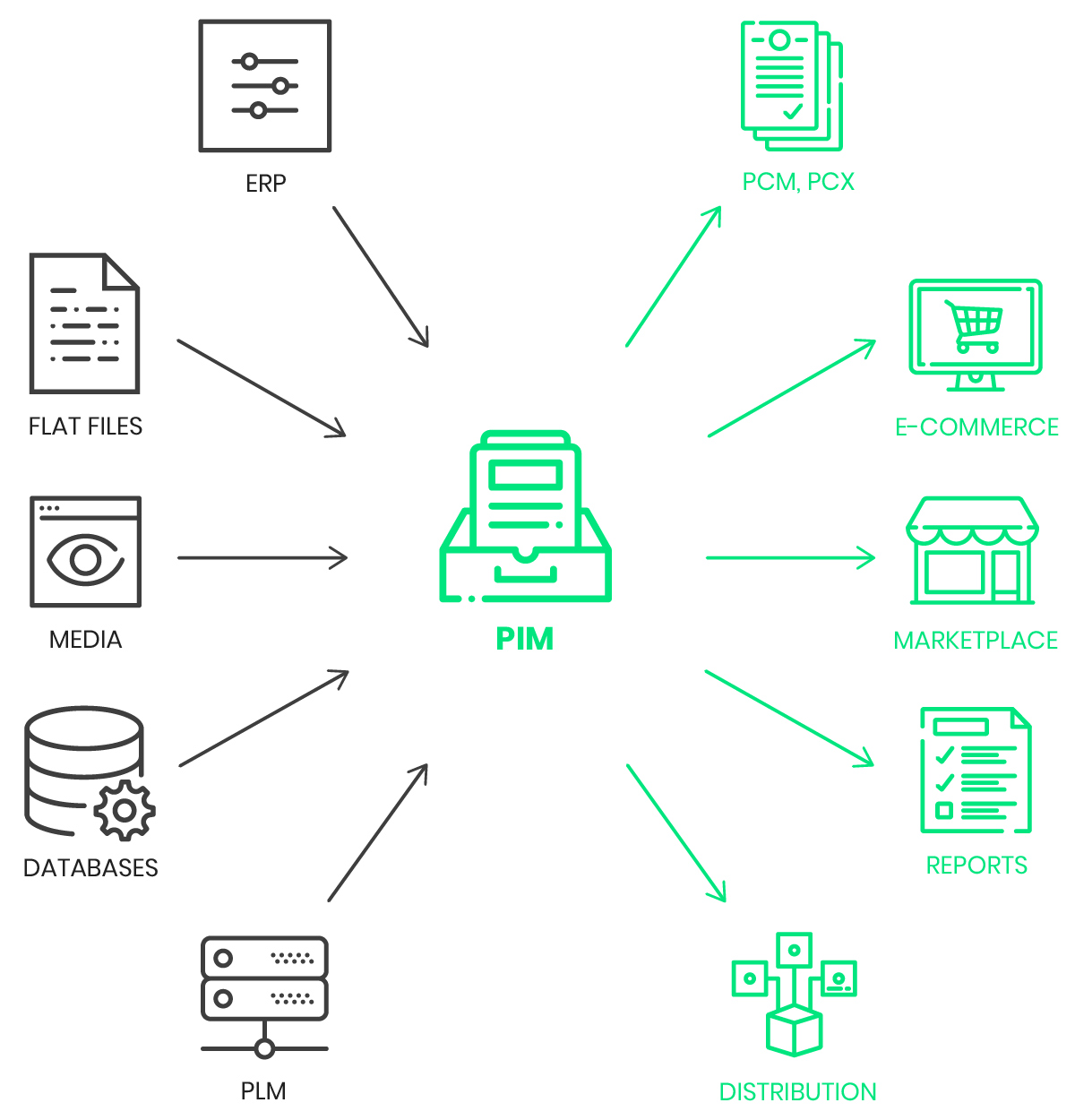 Who needs PIM solutions?
Your company should consider PIM if:

Product information is dispersed across many locations (e.g. ERP, marketing information, Excel files).

Your product range consists of many items or their variants.

Sales are made across several channels.

Sales are or will be conducted online.

You want to provide better quality information to your partners (e.g. distributors).

You want to reduce the time to new product offers.

You conduct operations in multiple countries and need better information coherence and improved information quality across markets.

You need better control over the flow of information,

Current efforts at keeping product data coherent and current across all locations are time-consuming and inefficient.

You need to streamline and optimize your existing information management system.

You don't have a defined and documented product life cycle.
e-point's holistic approach to product information management
We will:
Sort out your product life cycle process.
Build a single point for product data collection.
Install the PIM solution (customized or ready-made) that meets your needs.
Migrate and synchronize all necessary data.
Establish a suitable data publication API.
Provide information editing and enrichment tools.
Run workshops and training sessions.
Provide post-implementation support.

Why choose e-point?

We have over 20 years of experience in designing for large organizations

We provide dedicated and experienced IT specialists for every stage of the project.

We offer a complete service, handling the design, development, maintenance, and hosting of the system.

We have experience in managing vast product catalogs and products with multiple attributes.

We have a proven track record in integrating data from various sources.

We've performed many successful international PIM implementations. (References available)

We provide end-to-end project management, combining all aspects into a coherent and functional whole.