Customer Engagement Portals
A portal is the heart of corporate communications in the digital channel and the axis of customer relations. It is where customers seek information on products and services, ask questions and start the service and buying processes.
Therefore, a well-designed portal is of paramount importance to any business. It poses some challenges, though. Particularly, when the offer is sophisticated and complex, requiring the customer to acquire quite a bit of knowledge before the decision and the purchase can be made.
For 21 years we have been creating portals for leaders
At e-point we specialise in designing, implementing and developing portals offering a wide range of tools to support teams responsible for on-line sales and marketing. Our solutions have been employed by the leading banks and financial institutions in Poland and Europe.
Content-Driven Design
The multiple functions of portals are so vital that they deserve to be approached in a holistic manner. That is why we have applied a Content-Driven Design approach, in other words, the communication oriented UX process. We begin with understanding the end user (among others through research) and customer needs (his strategy, expertise and offer).
We tailor content to the customer context, to customer ways of searching information and the devices used. Thanks to this, users can easily navigate elaborate catalogues and always find the information they need.
We also develop pro-sales mechanisms around product catalogues such as: interactive tools and microinteraction forms. As a result a portal can actively support sales or allow for self-service, which helps to complement and decongest traditional channels: branches and call centres.
"We have ventured not only to design a modern portal which accounts for the latest trends in portal design, but first of all, to facilitate the process of banking product search and selection to our clients, thus making our service a vital sales tool".
The process: design sprints and close cooperation with the client
Large portals for big companies are undertakings that may take 8-12 months, engage 30-40 people and require relevant methodology. In 21 years we have created our original battle-tested process which incorporates all portal building aspects: from the creative idea, through information architecture, communication strategy, working out target content, UX project and graphic projects and research, right to implementation, own CMS, optimisation and development.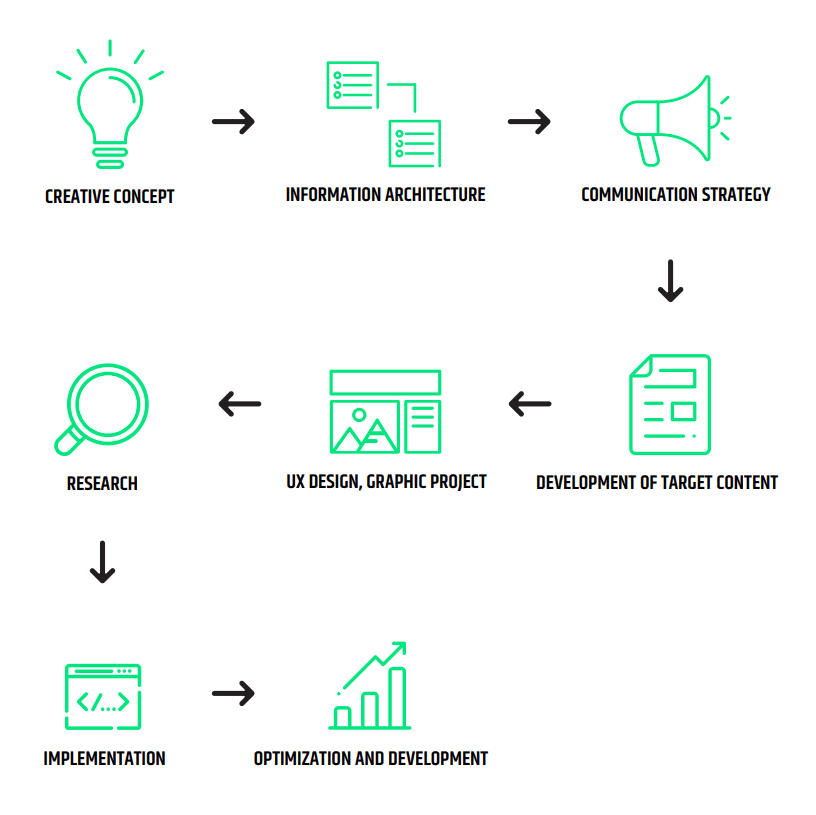 We have been actively engaging customers in the process. Regular cooperation with business representatives allows us to gain knowledge, verify ideas and together arrive at solutions which frequently reach beyond the project framework.
"e-point made us realise that our virtual product shelf was too convoluted. They persuaded us to focus on key points, so that now we no longer talk of five different personal accounts. Instead, we have built their benefits into one joint brand and differentiated only the variable features. Today we are sure it works!".
We employ the method of project sprints tailored to the project specifics. It has allowed us to easily identify new challenges in developing a portal and to continuously monitor progress. It has become a guarantee of implementation on time and on budget.
CMS ActiveContent - the special task force
A portal is not only about a great idea, sales and fancy interface for the customer. To ensure smooth operation, it must offer a range of tools to support the teams responsible for sales and on-line marketing. Our original e-point CMS delivers on these needs. Its key benefits are:

Managing document structure

Creating landing pages

Managing SEO and tracking scripts

WYS/WYG editors allowing to edit all website elements

Dedicated components for the management of pro-sales mechanisms, graphs, calculators and outlet maps

Document versioning

Change tracking

Publication time management

Expanded authorisation system allowing to commission tasks to external agencies