Benefits of Java Web Developer Training by e-point
Java Web Developer Training is a professional training program for Web application programmers (at all skill levels) aimed at improving developer programming skills in Java, JavaScript, and HTML.
Training entails:
kickoff training at e-point facilities in Warsaw, Poland;
follow-on workshops and lectures done via video conferencing tools, and
e-point instructor visits and mentoring at the trainee's home facilities.
Workshops and lectures are led by senior e-point developers who first cover theoretical material and then guide trainees during hands-on work on simulated, real-time IT projects. Topics covered include:
Java SE and Java EE;
modern development standards;
quality control and code reviews;
state-of-the-art development tools;
techniques for Continuous Delivery;
essentials of teamwork and the SCRUM Methodology.
During training, the progress of each developer is monitored, assessed, reviewed and recorded.
Who can benefit from Java Web Developer Training?
e-point Java Web Developer Training is a specialized service that will appeal to two categories of companies:
large companies that employ internal IT teams for the purpose of building and maintaining mission-critical software platforms;
fast-growing independent software houses which need to rapidly increase the size and skills of their development teams.
Prior to commencement of a program, e-point can also undertake the recruitment of new Web developers on behalf of clients - either from the Polish market or other countries.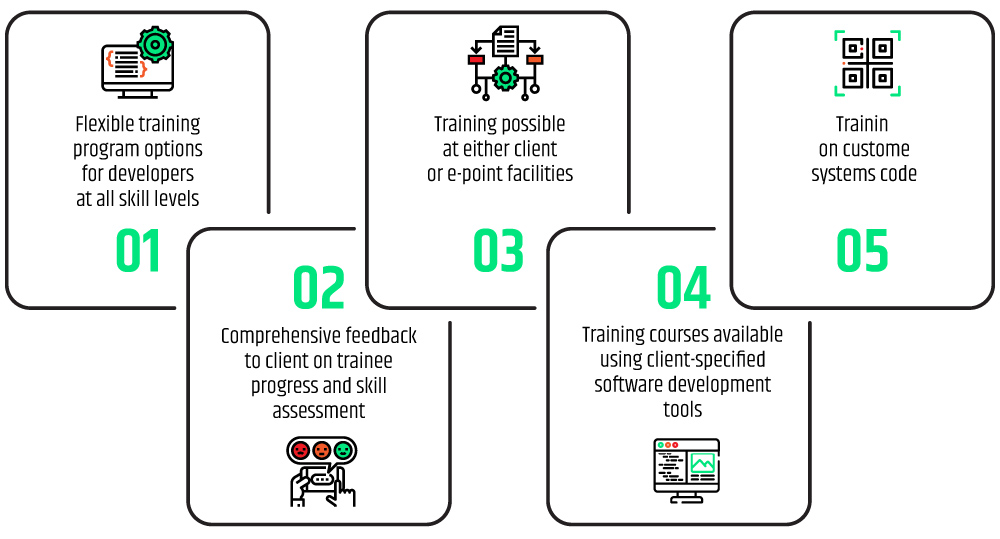 Recruiting in Poland & e-point Java Web Development Credentials
Poland is considered one of Europe's best centers for recruiting and employing software engineering talent. The country hosts a large number of technical universities known for providing students solid preparation in math, science, and engineering and as a result, Poles frequently win top honors in TopCoder, ICPC, Google Jam, and other programming competitions. Many global IT giants, including Google, SAP, Intel, and Microsoft, have established corporate software development centers in Polish academic hubs. Besides the quality of the talent, investors are attracted by the possibility of Polish government support as well as the Polish programmer price-to-performance ratio - a metric which stands out particularly favorably when compared to the salary levels of Western Europe and the United States.
Warsaw-based e-point SA is one of Poland's leading software houses with over two hundred programmers, UX designers, architects and project managers. It has strong relationships with Poland's best technical universities and during its 20+ year history has recruited many of the country's top graduates. Thanks to this, e-point has a reputation for completing projects on time and on the budget, something exemplified in over 500 high profile cases for multinationals such as Uber, Amway, ING Bank, and Inter Cars. Its work quality is reflected in the awards it has received from independent institutions, which include the 2018 International Project Management Association Execution Award, the 2018 SAP Gold Medal for Quality and the 2017 SAP Achievement Award.