How Can Akeneo Drive Success in Cross-Border Commerce?
Globally, the value of the e-commerce market amounted to 16.6 trillion USD in 2022. It's projected to reach $70.9 trillion by 2028, showing a CAGR of 27.43% from 2023 to 20281. To claim their share of that market, e-commerce retailers must effectively manage product data, adapting it to local preferences and requirements.
1 eCommerce Statistic for 2022
In this article, we will discuss how the functionalities of the Akeneo PIM platform contribute to reducing returns, enhancing customer experience (CX), and improving conversions.
Cross-Border Commerce with PIM: Optimizing Product Information Management for Global Success
Expanding operations across multiple markets brings its own set of challenges – especially regarding managing and distributing accurate and consistent product information. This is where a Product Information Management (PIM) system plays a crucial role in facilitating effective cross-border commerce.
A PIM system is a centralized hub for organizing, enriching, and disseminating product data across various channels and markets. It enables businesses to efficiently manage large volumes of product information, including attributes, descriptions, images, and specifications. By centralizing all product-related data in a single repository, a PIM system ensures consistency and eliminates discrepancies that may arise when dealing with multiple systems or spreadsheets.
In the context of cross-border commerce, where products need to be localized for different markets, a PIM system:
Provides the necessary tools to adapt product information to meet local preferences, regulations, and language requirements.
Allows for easier translation and localization of product descriptions, pricing, and other information.
Enables the efficient management of multiple currencies, units of measurement, and regional variations; this ensures that product data is accurate and tailored to specific markets.
Streamlines cross-border operations, reducing time-to-market and promoting consistency in product data across sales channels.
Enhances the customer experience by delivering accurate and relevant information to potential buyers in their preferred language and currency.
Scales business operations effectively, efficiently managing product data as companies expand into new markets or introduce a new product line.
Simplify Global Product Management with Akeneo
Akeneo is a leading Product Information Management (PIM) platform. It provides a complete and composable SaaS-based solution for managing, orchestrating, activating, and optimizing the entire product record. It drives compelling and consistent product experiences across all owned channels and routes-to-market.
With its open platform, leading PIM for product data and asset management, and ecosystem connectivity with Akeneo App Store, Akeneo Product Cloud empowers commerce businesses to deliver world-class product experiences that unlock growth.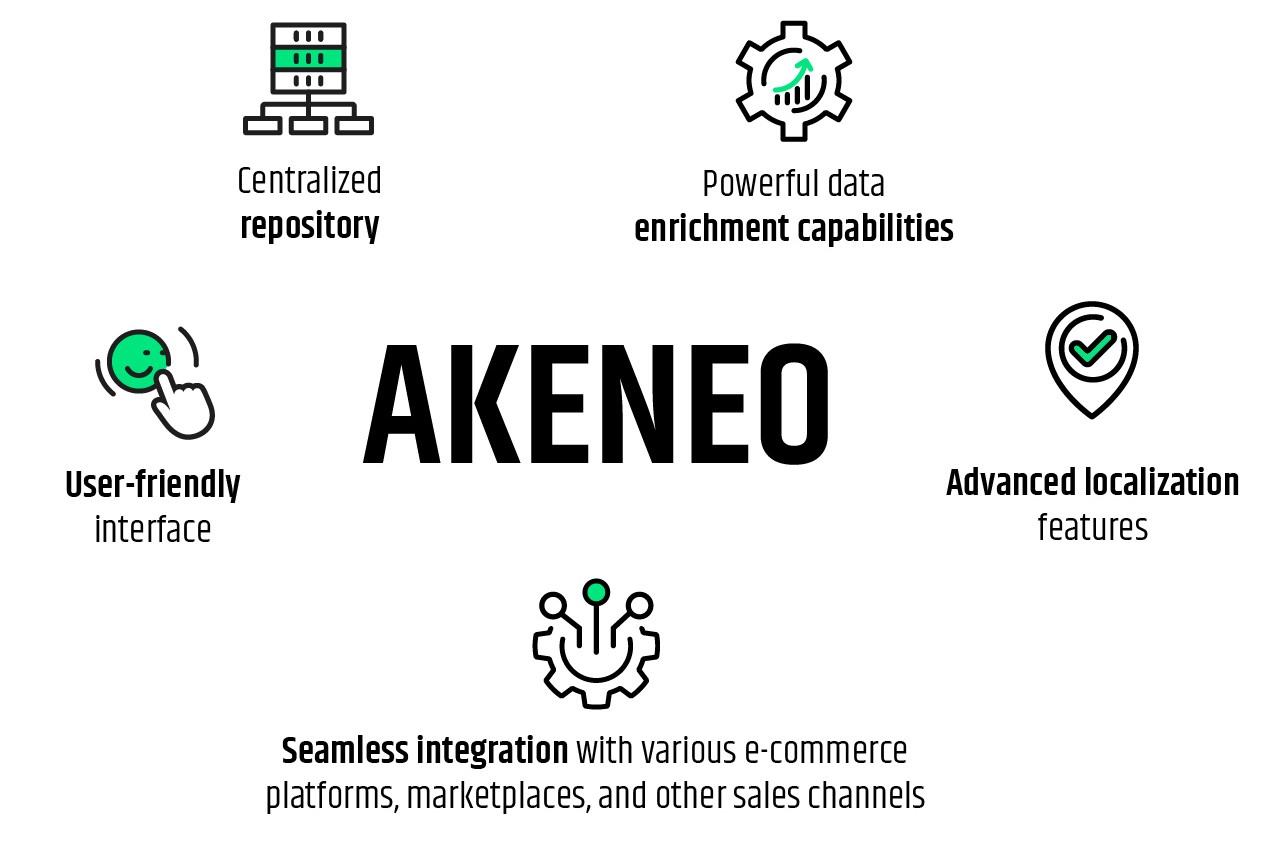 Key Akeneo functionalities that support business' international expansion include:
User-friendly interface. This allows businesses to create a single source of truth for their product data.
Centralized repository. Product managers can easily organize and maintain comprehensive product catalogs, including attributes, descriptions, images, and other relevant data.
Powerful data enrichment capabilities. Users can enhance product information by adding additional attributes, translations, and marketing-specific details. This ensures businesses can tailor their product data to meet the specific requirements of different markets, languages, and customer segments.
Advanced localization features. This makes it easier for businesses to manage product data for multiple countries or regions. It supports localized content creation and allows for the easy translation of product descriptions, marketing messages, and pricing information. Using this functionality, businesses can deliver a consistent and personalized experience to customers worldwide.
Seamless integration with various e-commerce platforms, marketplaces, and other sales channels. This allows businesses to easily distribute accurate and up-to-date product information across different channels, ensuring consistency in product messaging and reducing time-to-market.
How Akeneo Helps Businesses Navigate Cross-Border Challenges
Reducing Return Rates
Returns can be a significant challenge for e-commerce retailers, particularly when operating in a cross-border context. However, Akeneo's powerful product information management functionalities can effectively address this issue and minimize return rates.
Product returns cost sellers more than $600 billion worldwide each year. Meanwhile, PIM users report a 40% decrease in product returns, thanks to features such as automated enrichment rules, product completeness monitoring, and validation. These ensure that shoppers are more informed before making a purchase.
Source: https://www.akeneo.com/blog/minimizing-product-returns-pim/
Improved Customer Experience
Akeneo also plays a crucial role in elevating the overall customer experience (CX) in cross-border commerce. By providing businesses with advanced product information management capabilities, Akeneo ensures that customers receive consistent, accurate, and relevant information across various touchpoints.
Supercharged Conversion Rates
Increasing conversion rates in cross-border commerce is also Akeneo superpower. With robust product information management features, Akeneo enables companies to optimize product data and create engaging experiences that drive purchase decisions.
Customers expect instant access to consistent product information across platforms. Akeneo's flexible and scalable PIM helps businesses manage rich product information across multiple channels and languages, which can increase conversions by 20-50%.
In the context of cross-border commerce, Akeneo supports the following important areas:
Centralized product data management.
Providing detailed descriptions, high-quality photos and additional marketing content.
Localization capabilities.
Seamless integration with various sales channels.
How Akeneo Functionalities Optimize Cross Border Commerce

Game-Changing Cross-Border Commerce: The Power of Akeneo's PIM Platform
Akeneo is a game-changer in cross-border commerce. By reducing returns, enhancing the customer experience, and boosting conversions, it empowers businesses to navigate the challenges of global markets effectively. Its advanced product information management capabilities enable businesses to streamline operations, deliver personalized experiences, and achieve higher conversion rates.
Embracing Akeneo as a PIM platform equips businesses with the tools they need to succeed in the competitive landscape of cross-border commerce and drive growth and customer satisfaction.